Has anyone else seen spikes in their heart rate? Well, many Apple iWatch 6 owners are complaining of random but weird spikes and drops in heart rate, giving them sufficient reason to worry. Occasionally they notice that at times their apple watch shows a heart rate too High up to 150 bpm to 160 bpm. This is not new to Apple. Such complaints have been doing rounds in several forums and threads for the past few years.
Normally these high heart rates wouldn't be of much concern if someone was running or exercising. But people wrote that their Apple iWatch 6 recorded their heart rate while they were sitting down, or even sleeping. What freaks them out is they never observed any other models of iWatch. This rings all the wrong bells! Now the Question is apple iwatch 6 misread heart rate?
Others have complained about the accuracy, but they always report the heart rate measurement to be too low. Whereas in many cases it spikes to a value that is way too high. Some have even said that the unusual Heart Rate spike of 150+ is observed when training using iWatch 6. It usually happens when warming up, walking on a treadmill, or sometimes while mild running. At times a single reading goes high, other times it covers two minutes of it. Either way, it returns to a reasonable value of 60-90.
A user on Apple's website wrote that his heartbeat jumped from 120 bpm to an alarming 167 bpm on iWatch 6. Sometimes a weird spike of 150-210. However, he didn't feel anything different. Others have also reported similar complaints on different threads of the Apple forum.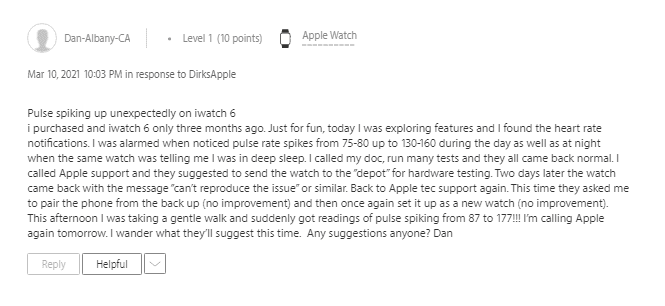 Many users got alarmed with the readings that they set appointments with their doctors. Expectedly the reports came out normal and when they sent the iWatch 6 sent to the Apple Service center, they couldn't help out. Apparently, they couldn't 'identify' the issue. 

Not only this, but some users have also complained that their Apple iWatch misses readings at times. It is no longer model-specific. There are gaps in their heart monitor which made them anxious and ran to the doctor immediately. But all their test results came back normal. This convinced them that the problem was, indeed, with their Apple Watch. 
Few cautious users even went to the extent of comparing Fitbit with the Apple Watch. They found that there were discrepancies with the Apple watch, maybe an issue with the algorithm. When the Apple watch was recording a heart spike of 198, Fitbit was at 80 and the manual count of the pulse was 82.
This is a blot on Apple's state-of-the-art technology. These complaints don't sit well with their 'holier-than-thou image of the brand. Even if the complaints are few far and few in between, Apple should at least acknowledge them.
Is There Any Workaround to Skewed Heart Rates?
Many solved the problem by tightening the watch band and moving it about an inch above the knuckle. They discovered that the spike was coming from the watch losing contact while bending the wrist.
Some discovered that if they begin exercise without a warm-up, they see spikes in heart rate at the beginning of a workout. For correct readings, they found that warmups before runs have helped in no unusual spikes.
Recently, Apple has issued an advisory for people who are using pacemakers against their products. The magnet used in iPhone 12 series, AirPods and Apple Watch have been found to interfere with the working of pacemakers. Users of these devices need to discuss with their physicians and keep them away.
However, it's a fact that the complaints remain very less in numbers. So if your Apple iWatch 6 is showing higher heart rates, it'd be good to go for a medical checkup. Do not presume that your Apple Watch is broken or has a bug. This can lead to some serious health issues. 
But if indeed your iWatch 6 is broken, you can keep an eye on our website. We'd be tracking all the developments in this case.