In the last few days, there have been increasing complaints of a spike in CPU usage on flagship smartphones. One such brand was Asus. The Asus Rog Phone 2 users had also started complaining about high temperatures, abnormal CPU usage, and battery drain after updating to version 2009.47. On troubleshooting, the devs have attributed the "latest version of Google Play Store" as the main culprit.
Users started multiple threads on ROG Phone 2 battery drain issues and a few more in their community forum. The moderator, Gustav_ASUS gave a concrete reply to "Rog phone 2 new updates 17.0240.2009.47" and came forward with an explanation. He confirmed that the reason behind CPU hogging away resources was due to the latest version of Google PlayStore.
The common issues reported by Asus Rog Phone 2 users after updating to the latest ROM- 17.0240.2009.47 were
CPU got stuck at a frequency of 2.84/2.96 MHz in idle
High Temperatures with the phone overheating itself
ROG Phone 2 battery drains out fast enough and takes a longer time to charge up
"Android System" gorging up battery usage from the Battery page
During gaming sessions, the volume automatically turns down itself while using earphones
Flashed Tencent devices
It was observed from the running processes that "Google Play Service" always popped up, which never happened in the old firmware. Some even tried to fix the ROG Phone 2 battery drain issues after troubleshooting it. They wiped away all the data inclusive of the cache for Google Play service and Armoury Crate. Success was achieved with CPU clocking again 826 Hz. However, it was short-lived. On restart the device, it went back to 2.84/2.96 Hz all the time.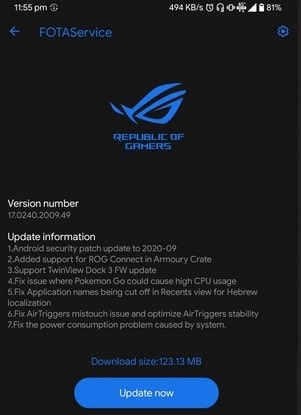 Asus Rog 2 owners were lucky enough with the devs releasing the new FOTA – 17.0240.2009.49 update. It has addressed the most critical issue of CPU spikes and ROG Phone 2 battery drain. The users who had upgraded to the 2009.47 version will be the first ones to receive the hotfix.
Similar issues have also been reported with other models of Rog after the A10 update. The devs need to work on them too.
There are few more flagships like OnePlus, Samsung, and OPPO who have yet not provided a solution to it. Earlier it was assumed that the solution lies with Google. However, with Asus resolving the battery drain bug after the Google Play Store update, it appears that the solution lies with the devs of individual brands.