There has been a shift in smartphone manufacturing over the years, from phones with small screens, small battery packs, massive panels, and phones with enormous sizes, to the current mid-range and flagship models, which have ergonomically designed components.
It doesn't matter how well these phones are built; even if the screen is cracked (read: why do phone screens crack so easily) or the battery is depleted, the phone is still unusable. When your smartphone is damaged, it will no longer function as it did when you initially bought it. Sliding over pages on a shattered screen is unpleasant, and you run the risk of cutting your fingers.
Fortunately, even if you're faced with this problem on a regular basis, you can always find a phone repair business to take care of your broken phone.
However, finding the best phone repair shop isn't as easy as when you're shopping for a new one. Regrettably, you may end up in a phone shop where they utterly ruin your phone while trying to fix it. In order to help you choose the finest cell phone repair business for your device, we've put together the following guide:
Service specialization
An online mobile repair shop's first and most important consideration should be its service specialty. Before making a choice, make careful to learn about the services that the repair business offers.
Find out if they specialize in mobile device repair, such as smartphones, or if they're just a computer store that repairs mobile devices of all kinds. Doing so will give you a better idea as to whether or not they can repair your phone.
Of course, a computer and a smartphone are two very different things. Smartphone repairs are the only focus of the employees at any good mobile repair store.
Experience
Whether you think it matters or not, experience does! As previously stated, smartphones are constantly evolving. This is why you should never DIY repair your smartphone screen.
Mobile device manufacturers occasionally provide new features, necessitating the need for skilled maintenance personnel.
Your phone is more likely to be damaged if the person repairing it is incompetent or unfamiliar with the phone's parts.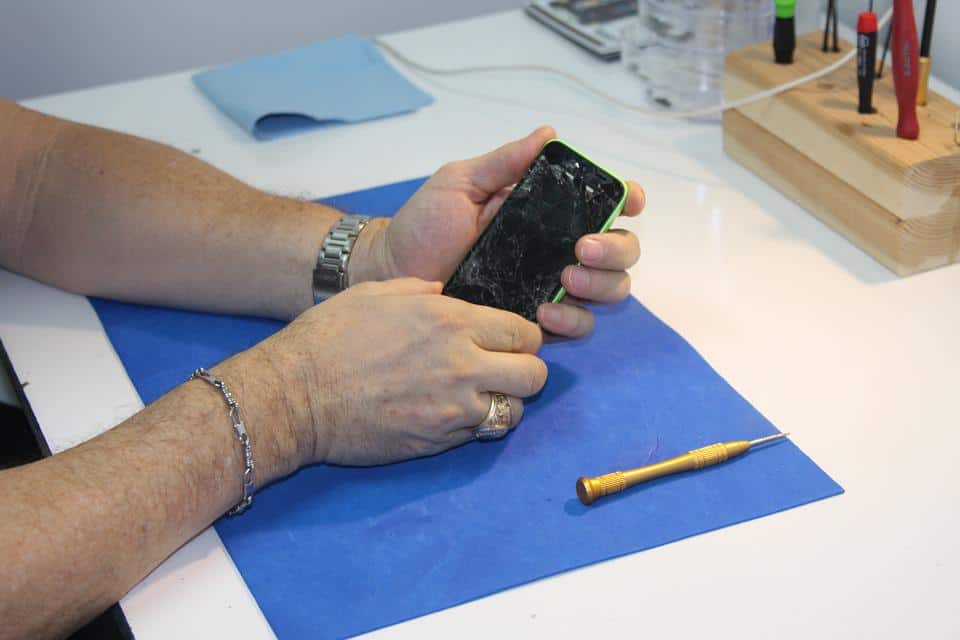 Genuine replacement parts
You're wasting your money if you use cheap replacement parts. As a result, it is imperative that you find a mobile repair service that employs only original parts.
There must have been an issue with the replacement part if you recently repaired one and it stopped working after a short period of time.
It is critical to verify that the repair shop obtains all of its replacement parts from a well-known manufacturer.
Warranty
Warranties are absolutely essential! Additionally, a reputable mobile repair service will guarantee the quality of the parts they use to fix your device.
Coverage for warranties is essential! Your phone may need repair again if something goes awry with it soon after it has been repaired.
Getting your phone fixed at a place without a guarantee is strongly discouraged. No way to know definitively if there will be a problem following the fix.
Repair time
There is no denying the fact that mobile phones have become an indispensable component of our life. There are many who run their whole company from their mobile devices.
Even salespeople complete the majority of their transactions over the phone. In such a scenario, if your phone suddenly stops working, how do you plan to handle the situation?
You will unquestionably require a mobile service provider that is capable of repairing your phone immediately or inside a few hours' time. Therefore, it is imperative that you pick the service provider that can complete the work within the allowed time frame.
It is in no way desirable for you to be unable to use your phone for a period of several days or even weeks. If your phone is having problems that aren't too serious, getting them fixed should take less than an hour.
Doorstep service
In this day and age, repairing your smartphone shouldn't cause you to feel more stressed out than you already are. You should search for a repair firm that offers value-added services such as on-site repair service at your location when you are choosing one.
Not only does this help you save money on the costs of transportation, but it also makes the experience easier and more comfortable for you. You will be able to devote more of your attention to your job or your family because the time you would have spent traveling to and waiting at a mobile center will no longer be necessary.
Reputation
You won't believe it, but the reputation of the company providing the service is important! Therefore, you shouldn't simply choose any mobile repair business in the surrounding neighborhood. Learn as much as you can about the organization by perusing the testimonials and reviews posted on its website.
Research on what experiences their previous customers have had. If at all feasible, make an effort to get in touch with some of their previous customers so you can receive some first-hand feedback. A warning sign is a situation in which there are more unfavorable evaluations than positive ones. Just take your phone to a different place to get it fixed!
Cost
Whether or not you believe it, the cost of repairs also plays a considerable effect in the outcome. You should always go with a company that has prices that are comparable to those of its competitors. It is a deciding factor for whether you should repair or replace a damaged mobile phone.
Before deciding on one, it is a good idea to do some research on the different internet businesses that offer mobile device repair and to compare the prices of these services.
You should not make your choice solely on the basis of the cost, as doing so can result in you receiving services that are not up to par. A professional repair shop will always provide prices that are comparable to those offered by other shops.
They will not charge prices that are either incredibly low or extremely high! They are going to offer services of the highest possible quality at the lowest possible cost.
Summary
Now that you have access to all of this information, you are able to make a well-informed decision when it comes to selecting the best repair center for your phone.