If you're looking for the best VPN service in 2022, you've come to the right place. In this iTop VPN review, we'll look at all the features offered by this top-rated provider and see if it's the right choice for you. Whether you're looking for a VPN to keep your data safe while browsing or unblock websites and streaming services, iTop has you covered. Keep reading to find out more!
What is iTop VPN?
iTop VPN is a Virtual Private Network service that allows you to connect to the internet and browse the web anonymously and securely. iTop VPN encrypts your traffic and hides your IP address, protecting your identity and activities from online criminals, hackers, and ISPs.
iTop VPN is one of the market's most popular and trusted VPN services. iTop VPN has servers in over 50 countries, so you can always find a fast and reliable connection.
How to Use It?
The best way to use iTop VPN is to install the app on your computer or mobile device and connect to a server in the country of your choice.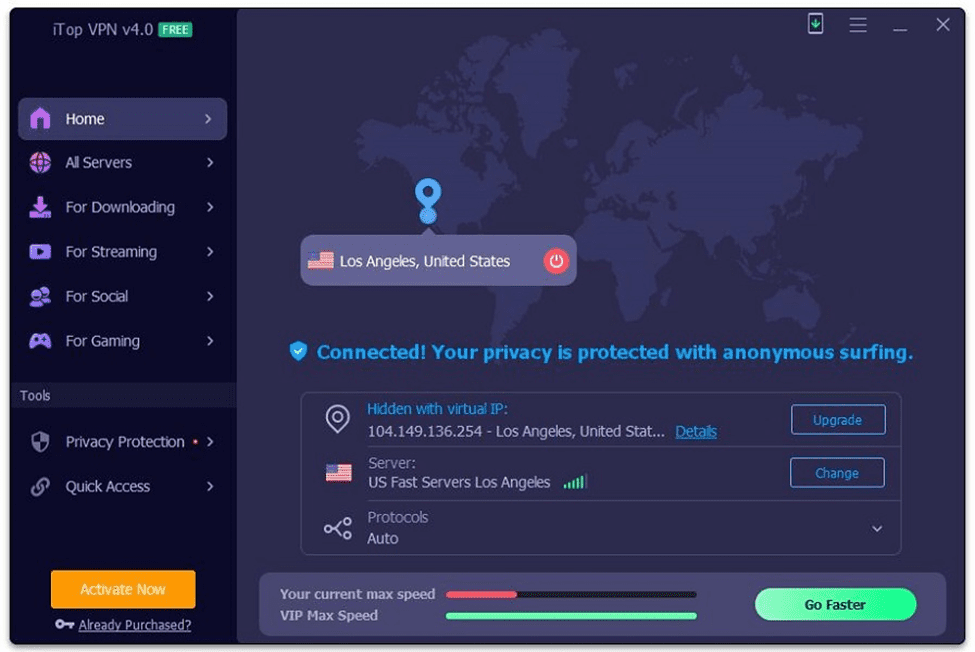 iTop VPN encrypts your traffic and routes it through a secure tunnel. This tunnel is created by combining it with a VPN server. All your traffic is then routed through this server, making it appear that you are browsing from that location.
Best Features of iTop VPN?
If you're looking for a VPN to keep your data safe while browsing or unblocking websites and streaming services, iTop VPN has you covered. It has several essential features:
Ease of use
iTop VPN provides a user-friendly interface that is simple to use and doesn't require any technical knowledge. The software is self-explanatory, so users can get started immediately without reviewing much documentation.
iTop VPN uses the most advanced AES-256 encryption to protect your data from hackers, government surveillance, and other online threats.
This VPN does not track or keep logs of its users' activity. It means that your identity and location are always confidential with iTop VPN.
iTop is a reliable VPN service that provides fast and consistent connections. Users can always expect to enjoy stable speeds and reliable access to their favorite websites and online services.
With iTop VPN, users can rest assured that their data is safe and secure. The software uses the latest encryption technologies to protect users' information from being intercepted by third parties. Additionally, iTop VPN offers a kill switch feature that ensures that all internet traffic is halted if the VPN connection is lost, preventing any sensitive data from being exposed.
Compatible with all major operating systems
iTop VPN service is compatible with all major operating systems and devices so that you can use it on your computer, smartphone, or tablet.
Unlimited bandwidth and speed
With iTop VPN, you can enjoy unlimited bandwidth and speed for the ultimate streaming and gaming experience.
Pricing and Customer support
iTop VPN provides a free VPN service as well as an affordable VIP VPN service that offers a variety of subscription plans to suit different budgets and needs. A free trial is available so that users can try out the service before committing to a paid subscription.
iTop VPN offers excellent customer support, with knowledgeable and friendly staff always ready to help. Whether users need assistance with installation, configuration, or troubleshooting, the iTop team is always happy to help.
Final Words
Overall, iTop VPN is an excellent choice for anyone looking for a secure and reliable VPN provider. Their features are top-notch, and their customer support is always available to help you with any problems. So, what are you waiting for? Try iTop VPN today!