Are you having trouble finding a video repairing tool compatible with macOS Ventura? When a new update or its beta version comes into the market or is about to be released, the app developers also update their applications in time to work with the new versions accordingly.
Most video repair applications are not quick at updating their programs, making it difficult for you to repair your corrupted videos. Fortunately, Wondershare Repairit is a life saver for Mac users as it is compatible with the latest macOS.
Part 1: Premium Features of macOS 13 you Should Look Out For
The latest macOS Ventura will hit the market later in the fall, according to the announcement made at WWDC 2022. Its public beta version is already available if you want to try Ventura. The new macOS 13 has many improved features; let's look at some of them:
1. FaceTime
FaceTime calls have gotten better than ever before. In the new update, FaceTime calls can be handed over to another device of yours so smoothly without lag. Whether it's your iPad or iPhone, calls can also be transferred to your Mac very easily. The connection of your Bluetooth is also immediately handed over to the other device.
FaceTime calls can be started right away, even if you're collaborating on any other app. The beta version of the new update can also generate automatic transcribed captions that can be shown on the screen so you can follow up easily.
2. Continuity Camera
The camera features of the new Macs are unbelievably cool, but you can use your iPhone camera as the webcam now; how? Just bring your iPhone closer to Mac as an input camera, and the new macOS will make the iPhone's camera your Mac webcam. The same can be done for the microphone. Isn't it cool?
Moreover, the portrait mode will also be available in the new macOS. Not just that, you can adjust the frame with the center stage feature, and for good lighting, you can adjust everything with studio lights.
3. Accessibility
macOS 13 accessibility features are developed keeping in mind the needs of people living in today's world. The background noise can distract you from your work. To focus more, Apple has introduced the background sounds for Mac, and these are mostly calming sounds that can help you focus more. To save time, you can now end your FaceTime call with voice control just by saying "Hang Up."
With the text checker, you can examine the mistakes in a document or see if there are any other formatting blunders. This will save you from sending an embarrassing email to your workplace.
4. Photos
To keep your hidden or deleted photos even more secured, you can secure them with your MacBook password or Touch ID. macOS Ventura allows you to copy the editing you have done to one photo and paste the same settings on any other picture. If you're an organized person, say no more because now you can even organize the "People" album alphabetically.
In case there is any photo in your gallery saved by you twice, the duplicate detection will automatically detect the picture for you. The videos can be played without interrupting your music anytime you play, and you can directly add music from Apple Music to enjoy on your device.
5. Mail
The mailing experience will become a whole lot better with the new macOS Ventura features. You don't have to use any grammar or spelling checking app to write an impressive email. The smart search corrections of the new Mail app will check all your text and remove all mistakes.
If you're someone who often forgets a lot of things, you need to turn on the reminders to add the important attachment or part of your email. The improved system can now remind you of such things. Moreover, the sent mail can be unsent in case you have changed your mind, or there is still something that you need to add.
Wondershare Repairit is one of the amazing tools that updates itself with the new operating systems and provides you with all the services. This tool is made to repair videos within seconds; no matter which video format is used; it supports all the popular video formats. The videos can get corrupted anytime, and there are many reasons they can get corrupted, such the system errors. With Wondershare Repairit coupon, you can also save money on it.
Maybe some virus or technical glitches can also make your videos corrupt. Whatever the reason is, Repairit will fix the problem and provide authentic results so you can play your video without any issues. This tool can repair a batch of your videos, even if they have variations in their format. You can fix a video in HD, 8K, or 4K; Repairit supports all video qualities and provides excellent results without affecting the quality of your video.
After repairing, you can preview the video to see if it's fixed and export it if you're satisfied with the result. This app is known to provide outstanding results and is used by many video makers and editors to repair their corrupted files.
Part 3: How Can You Repair Your Video with Repairit on macOS Ventura?
Wondershare Repairit provides authentic results and is very easy to use. Look at the quick guide below and repair your video right away!
How to repair Video on macOS Ventura?
Step 1: Choose & Add Corrupted Video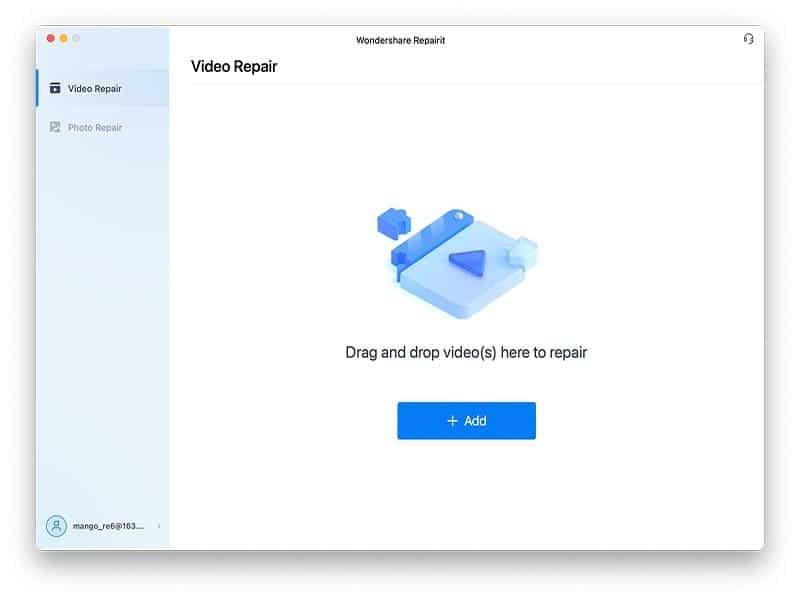 Choose the video you want to add; you can do it by clicking on the "Add" button or using the drag and drop feature after selecting "Video Repair" from the side. The system will show you the file size, location, path, and other information when your video is successfully uploaded.
Step 2: Start Video Repairing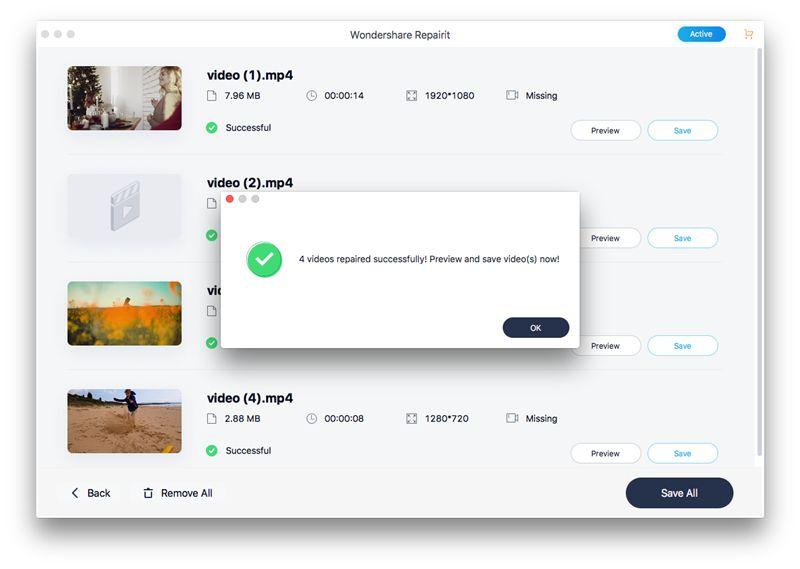 Begin the repairing by clicking on "Repair." The process will be completed soon, and once it is done, you will be asked to preview or save your video. It's better to preview your video before saving and if you're not satisfied with the result, then go for advance repair; otherwise, there is no need.
Step 3: Advance Repair (Additional Option)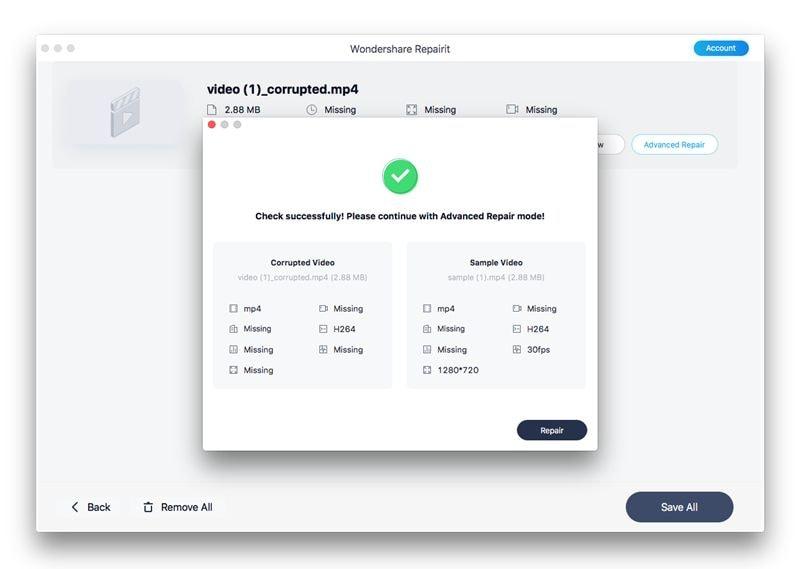 If your video has been damaged badly, an advanced repair can help you repair it. To start it, add a sample video that has been shot on the same device as your corrupted video. The smart system will check if your damaged video is usable for the Advance Repair Function. After that, click on "Repair" again to repair your video. 
Step 4: Preview Again & Save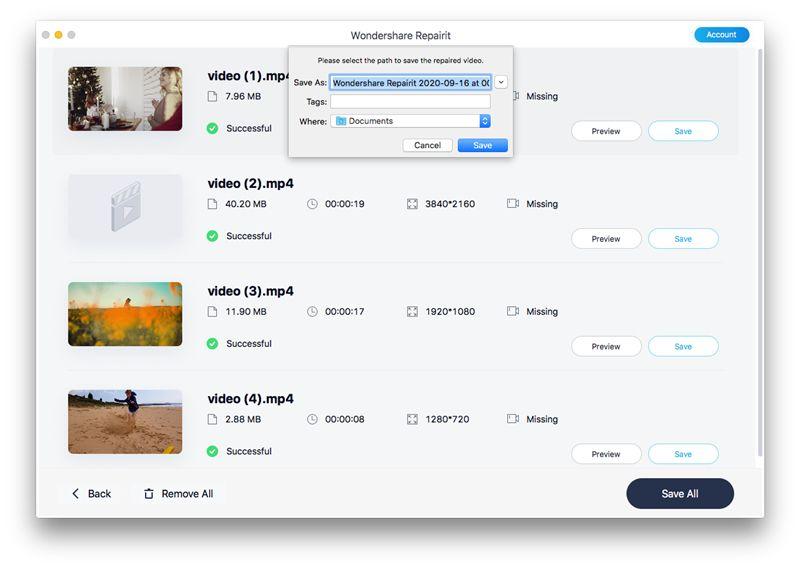 Preview your repaired video just in case, and then save it on your device by clicking "Save." Do not save the repaired file in the exact location as the corrupted file. Choose a different path for your fixed video and save it.
Conclusion
Have you ever come back to look at a video and found that it's corrupt? Seeing that is very disheartening, and it's even more important for video professionals to get the videos back. This article is especially dedicated to Mac users that find it difficult to get a video repair tool that works on the latest macOS versions.