Finding yourself with a hacked Facebook account can be greatly unsettling. The modern Digital Age has seen rapid growth in the number of data-stealing crimes and hacking activities. Losing access to your Facebook account in such a scenario can have dire consequences if you don't know how to recover it.
Even Facebook – one of the world's largest social media platforms – is not devoid of vulnerabilities through which some can hack your account. Major platforms like TikTok and Instagram are also suffering from the same. In fact, the latest statistics also reflect a huge rise in the number of people reporting their hacked Facebook accounts along with other social media handles.
Today, hackers are waiting for the most minimal opportunity to hack Facebook accounts. They have not only come up with really innovative schemes but also focus on taking advantage of every minimal opportunity.
If you end up with a hacked Facebook account, all hope is not lost. Today, we have compiled the best and easiest ways in which you can recover your hacked Facebook account in 2022. But first, let's shed light on how hackers target and hack Facebook accounts.
How your Facebook account can get hacked
Hackers usually rely on two main ways, both dealing with data breaches, to hack Facebook accounts. The first way usually involves scenarios where the data breach occurs on Facebook itself. Such an incident occurred last year, leading to the loss of personal info from the accounts of more than 530 million users. A normal individual has very less scope of protecting his account during such a breach.
The second way involves the usage of easily guessable passwords. Your hacked Facebook account can be the potential result of keeping a reused, lazy password. This makes it relatively easy for hackers to target your account by just breaching the data of one small platform. Unlike Facebook, they are not aided by world-class security systems.
However, this means you do have control over such circumstances. You can use alphanumeric passwords to prevent your Facebook account since they are very hard for hackers to crack.
How will I know whether my Facebook Account is hacked or compromised?
Facebook guides its users to always look out for the following signs if they think their Facebook account got hacked. Facebook doesn't message to report a hack but there are different ways that hint at a compromised account.
If you have the slightest hint, the first step is to check for unauthorised access to your Facebook account. Follow teh given steps:
Head to your Facebook profile. Tap on the hamburger menu at the top-right.
Click on Settings>Security>Login
Check out the logged-in devices to your Facebook account
In case of any suspicion, tap on the 'Not You? Log Out' option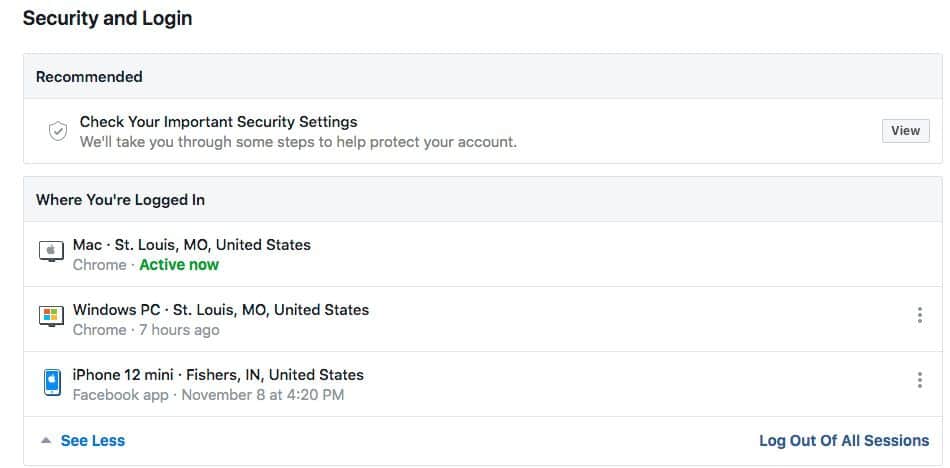 Apart from the above, the following are a few more ways that can hint at a hacked Facebook account.
Posts in your feed that were not made by you
Changes to your e-mail, password,
Name, birthday and other credentials are altered
Friend Requests that you did not send
Messages sent to people not written by you
Apart from hacked Facebook accounts, you should also remain aware of fake accounts. If the visibility settings of your Facebook account are set to public, anyone can use your photo and name to set up a new account.
How to Recover a Hacked Facebook Account?
Never panic if you ever see that you have a hacked Facebook account. Without wasting a moment, follow the steps we discuss carefully for any chances of recovering your hacked Facebook account.
Immediately change FB password
Changing the password of your Facebook account is a fast and hassle-free procedure. Even if a hacker manages to gain access to your Facebook account, resetting your password will log you out from all devices.
First, log in to your Facebook account on a trusted device.
Now go to "Settings" and select "Privacy Shortcuts". Mobile phone users can find this option listed as "Password and Security".
Select "Account Security" and proceed to tap on the "Change your password" option.
You can now easily change your password if Facebook recognizes your devices.
Remember to select the "Save Changes" or "Update Password" option to reset the password of your Facebook account.
Hackers are sometimes able to change the passwords of hacked Facebook accounts to completely snatch away access from the original user. If you see someone has changed your password, follow these next set of steps to recover your account.
Open the Facebook login page and tap on "Forgot Password".
Enter the linked email address or mobile number and select "Search".
You can choose where you want to receive the reset code from Facebook (phone or email).
Enter the verification code and tap on "Continue".
Now type in your new password and check the box below to log out of your Facebook accounts from all other devices.
Checking devices where Facebook account is logged in
Never let an unrecognized device slip by your attention if you don't want to end up with a hacked Facebook account. The "Password and Security" page on the platform also includes an option to see "Where you're logged in". In case you find your Facebook account logged in from a device you don't recognize, do the following.
Click on the suspicious-looking login.
Choose the "Secure Account" option.
Simply follow the on-screen steps that Facebook will show to you now. These steps will guide you into how you can recover your hacked Facebook account.
Logout from FB logged in apps and websites
Many times, we log in to third-party apps, websites, and business integrations using Facebook credentials. To protect oneself, run a check and remove the credentials. Here is where you can find out the logged in apps and websites.
Check for any payment methods added to your Facebook account
This is for people who have configured their FB account with a payment method added to it. Usually, people do it to run Facebook ads for their businesses or to donate to a cause or to an individual. It is always safe than to be sorry, hence run a check if you added a payment method.
In order to check, open the Facebook Pay page where you can set up any credit cards. The other place where it can be checked is the Facebook ad payment methods. In case any ad campaign is scheduled, halt it.
How to report a Hacked Facebook Account?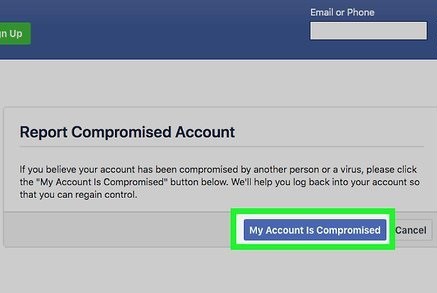 Whether or not you can change your password, you should always prioritize reporting a hacked Facebook account without any delay. Facebook has a dedicated page for anyone noticing suspicious activity in their account. Go to this page and Facebook will give you all the options using which you might be able to regain access to your hacked Facebook account.
How can I protect my Facebook Account from hackers?
It is crucial to stay ahead of pesky hackers trying to hack into Facebook accounts to avoid any loss of valuable personal information. Follow these tips to avoid ever ending up with a hacked Facebook account in your hands.
Remember to use a strong password with a minimum of 16 characters to secure your login details.
Don't disclose or share FB credentials

Boost the privacy and security settings of your Facebook account using the settings in the "Privacy Shortcuts" option present under "Settings & Privacy".

Always add a second contact email for Facebook to send any notifications in case the main email address becomes compromised.
Always use the latest and updated version of the Facebook app on your android or iOS device. This ensures better security as old versions often contain vulnerabilities that hackers can breakthrough.
Always check out for Malware or Viruses on the device
Log out from the Facebook Account when using a different platform – Android/iOS/PC/Mac. This will minimize the chances of hackers accessing your account.
Apart from carrying out the above steps, the following are suggested ones.

Get Alerts About Unrecognised Logins
In a step towards providing extra security, Facebook allows its users to get alerts about unrecognized logins. One will receive a message when someone tries to break into the account from a device or a browser that Facebook doesn't recognize as yours. The alerts give the details of the location and the device from where the login attempt was made. Here is how one can activate it:
Head to Settings> Login Settings
Scroll down to 'Get alerts about unrecognised logins'. Tap on Edit
Select the option of the email account or Facebook notification where you want to receive an alert.
Click on Save
Set up Two-Factor Authentication
To make an account on the internet secure it is advisable to add Two-Factor Authentication. This includes banking as well as credit card sites. You can also set up additional security using two-factor authenticator apps like Google Authenticator.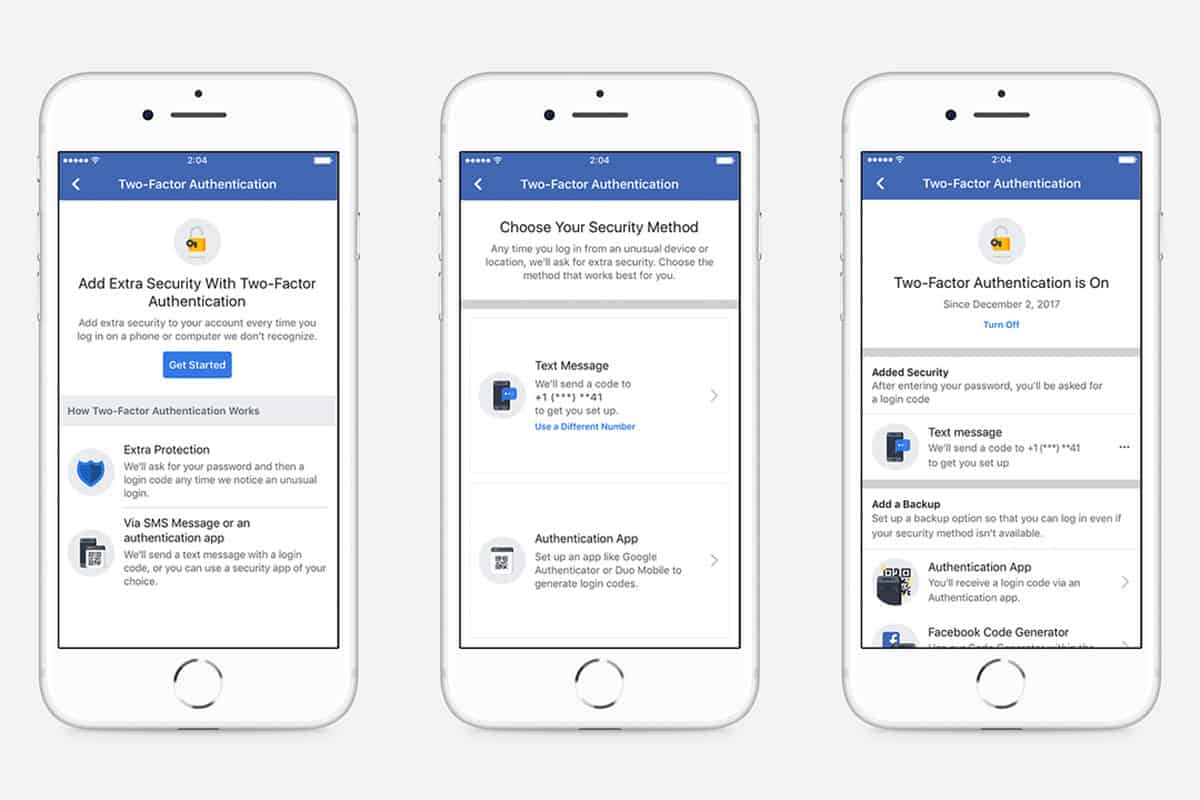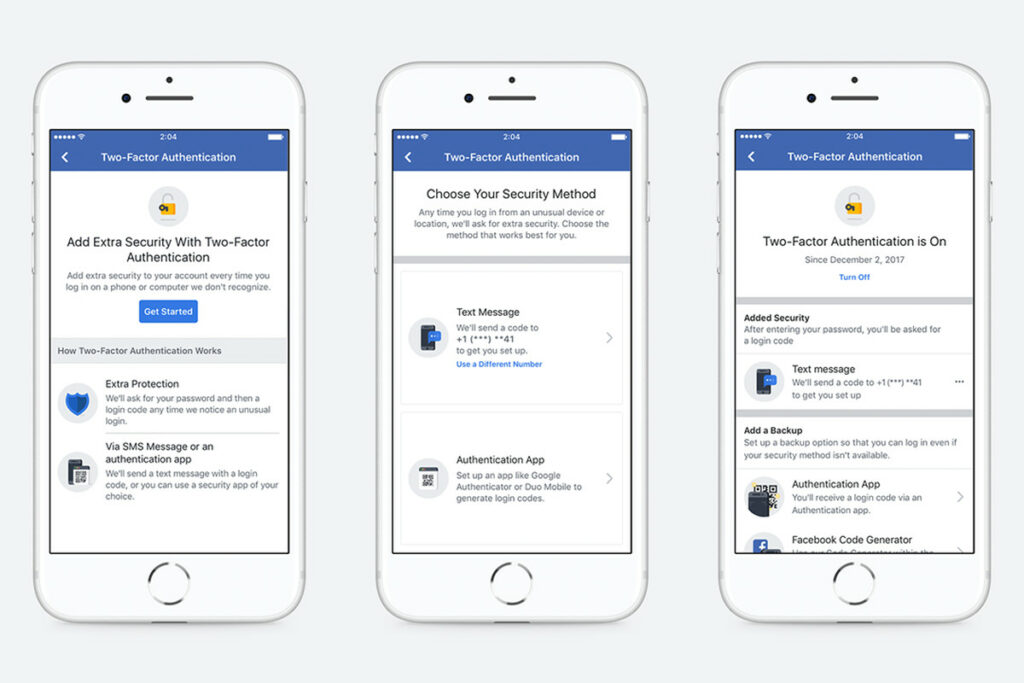 Two-factor authentication (also known as 2FA) works on the Android or iOS Facebook app in the login procedure. One has the option to select a Text message or Authentication app option to receive the code. It is only after entering your username and password, Facebook sends the 6 digit code generated by the app to either the mobile SMS or Authenticator app.
Facebook Business Page Settings
For Facebook business owners and having a page, it is advisable to assign admin rights to two people via Page Settings > Page Roles. Remember that if a business FB account gets hacked and you are the only admin, it is almost next to impossible to retrieve it.
Conclusion
There's only so much you can do if you find yourself with a hacked Facebook account. In today's world, one cannot afford to remain ignorant of the ongoing digital crimes anymore. Your social media account is the holder of all your valuable personal info like name, address, credit card details, etc. It is better to act wisely when using a Facebook account, think before clicking any number or website, a message takes you.
Also, stay alert for messages you didn't post, friends you did not add, send money or made a purchase. As Bruce Schneier says, "Amateurs hack systems, professionals hack people".