PUBG Mobile gamers are deep into playing PUBG Mobile Season 21. But players are more excited for the upcoming Season 22, aka Cycle 1 Season 2(C1S2) update of the game. With only a few days to go for PUBG Mobile Season 22, leaks are floating on the internet, and they appear promising.
India based PUBG Mobile players are getting tuned to monthly updates and new terminology related to Season and cycle. Krafton had introduced a season update every month. Earlier, the period between the two seasons was 2 months, but now Krafton has overhauled the concept. A cycle with three consecutive season updates from July was designed. It has become all the more exciting for gamers as they will now have to fight tooth and nail to remain at the top.
The PUBG Mobile India season 22 is only a few days away from its launch, and we have collected information and update leaks from various reliable leaksters.
Let's go right ahead and discuss at length some of the most exciting features of the PUBG Mobile India Season 22 Royal Pass.
PUBG Mobile M3 Release Date
Earlier, every season lasted for about 2 months. This practice was discontinued by Krafton Inc. recently. They announced that from now on, PUBG Mobile would see a new Season every month.
Therefore with PUBG Mobile Season 21 (C1S1), releasing on August 14, the current Royale Pass will expire on September 16th. With a rewards lock-in period of 2 days, the new PUBG Mobile Cycle 1 Season 2 (C1S2) or M3 Royale Pass will be available to play from 17th September at 2 am (UTC +0).
The RPs of past games will continue to apply in M3, at 360 UC for Elite Royal Pass and 960 UC for Elite Plus Royal Pass.
Unlike the PUBG Mobile 1.7 update, PUBG C1S2 cannot be downloaded from Google Play Store or Apple App Store. Instead, the latest version will get automatically downloaded. 
Another thing to be noted in the PUBG Mobile is that players won't be able to use Royal pass of one season in another season. This means that players will have to exhaust their Royal Pass before the release of next season. This again is a part of the new ranking system by Krafton Inc.
So if everything goes according to the plan, PUBG Mobile India Season 22 will release on the 18th of September 2021. The day's not very far, so get excited about cool skins, weapons, tier rewards, and more. Get hold of reliable leaks in Royale Pass M3 below until the actual game M3 gets loaded in your mobile.
PUBG Mobile Season 22 RP Leaks
PUBG Mobile India's biggest feature is the Battle Royale game mode. Players love participating in the true multiplayer gameplay and push their rankings in the game. With each succeeding season, the game introduces new Battle Royale maps and modes. All this pushes players to rank high in the game.
All this makes sure the game doesn't fall behind its competitors. PUBG Mobile Season 22 will be no different from this. The company has promised new modes, weapons, maps, skins, weapons, themes, gadgets, etc.
M3 is likely to see Krafton tie-up with another supercar manufacturer Koenigsegg from Sweden. Players will get the advantage of at least 1 new skin for the car models Dacia and Coupe RB. Car Dacia i srumored to get a Legendary Koenigsegg Gemera skin while the Coupe RB will get a Mythic Koenigsegg Jesko skin. 
We have curated a list of anticipated features of the PUBG Mobile M3 Royal Pass. Let's have a look.
PUBG Mobile M3 Theme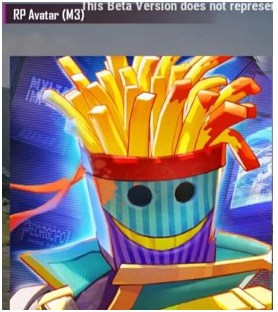 M3 is rumored to be themed around something exciting and different. The pictures shared revolve around fast food items discovered in the RP avatar and Royale Pass outfits. For players who have access to free RPs will be entitled to one confirmed gun skin like every season. M3 promises a free Groza, a fan-favourite weapon skin.
The RP outfit can be won at RP Level 50 after buying Season 22's Royal Pass. It is also themed around Fast Food.
PUBG Mobile M3 Skins
In this upcoming C1S2 M3, PUBG Mobile is speculated to launch more than one upgradeable gun skin. With the upgrade of skins, the new guns will unlock special effects. Players can gain when opting to kill the enemy either in the form of a death note or a particular kill effect. Here, check out different upgradeable futuristic gun skins of M3
M416– TechnoCore (4 levels to upgrade)
QBZ– Fatal Strike (4 levels to upgrade)
M762– Deadly Precision
M24 Gun Skin
Pan Skin
Vector Gun Skin
Groza Gun Skin
MK14 Gun Skin
PUBG Mobile M3 Features
Pubg Mobile has added significant additions such as new crosshair color and damage color, hit effect, control optimization, and new punch animation and hit the mark. Krafton has also introduced Anti-Aliasing which makes the texture much smoother. Another notable feature that is rumored is Highlight moments. It will automatically record the player's gameplay enabling him to review gameplay later.
PUBG Mobile M3 New Mode
The new season introduces a new mode known as "Flora Menance," available on Erangel, Livik, and Sanhok. Flora Menance revolves around an abandoned theme. The mode offers a rejuvenation zone that regenerates the character's health when not in combat.
Erangel also features 3 spaceships floating around the sky which can be accessed by space stations (spaceships aren't available in Livik and Sanhok). Once teleported in the spaceship, players are set to battle out with a limit of three respawns.
A currency by the name "Nacores" is featured in the spacecraft, which can be obtained by defeating enemies or picking them, which can be used to buy supplies from the DynaHex supply shop on the surface. This season also marks the comeback of modes like Payload 2.0, Infection mode, and Survival Till Dawn.
PUBG Mobile M3 Tier Rewards
PUBG Mobile leaksters have highlighted the following tier rewards for M3
Bronze Tier reward- 200 silver fragments
Silver Tier reward- 400 silver fragments
Diamond Tier Reward- Groza skin + 1000 silver fragments
There is no official confirmation on any of the leaks shared. However, all PUBG players expect an exciting and engaging gaming season in the PUBG Mobile India Season 22. As the release date of PUBG Mobile Season 22, aka Cycle 1 Season 2(C1S2), comes nearer, we will get concrete information. Keep coming here for all the news regarding the Season 22 update.