OnePlus entered the smartphone market as a "flagship killer" but if you have a glance over the recent changes in the smartphone's pricing. It has become yet another flagship. Forget Apple and their iPhones, if someone wishes to have an Android flagship, there are limited brands that hold a share in the market: Samsung, Google Pixel, and "Never Settle" OnePlus. OnePlus 7 series have pushed out the Android 12 update to the erstwhile flagships – OnePlus 7, OnePlus 7 Pro, OnePlus 7T, and OnePlus 7T Pro.
Although the phones were released in the market, back in 2019 – as promised 2 major updates and 3 years of security fixes, the OnePlus handsets are still receiving the latest software update running on Android 12. Popularly known as OxygenOS 12 in OnePlus' lexicon, the software is based on Android 12. OnePlus 7 series rocked the market at the time of launch. We will discuss the brief specs of each smartphone below. But, the reason as to why a series launched 3 years earlier is still making headlines is the software update received recently. Let's discuss it below.
OnePlus 7 series
OnePlus 7 was released on May 14, 2019. It came running OxygenOS 9 based on Android 9 and now the phone has received the latest update of Android 12-based OxygenOS 12. The phone sports a 6.41 inches AMOLED display with a 90Hz refresh rate with a protective coating of Corning Gorilla Glass 6. Under the hood, the phone packs Qualcomm Snapdragon 855. It was released in three variants – 128GB internal storage and 6GB RAM, 256GB internal storage and 8GB RAM and 512GB internal storage, and 12GB RAM.
OnePlus 7 Pro was released on the same date as its standard version. The phone, at that time, came with the same software as the OnePlus 7 – Oxygen 9. However, both devices are now upgradable to OxygenOS 12. OnePlus 7 Pro feels slightly bigger in hands in comparison to its standard variant. It flaunts a 6.67 inches AMOLED display with refresh up to 90Hz. There's also an additional protective glass coating installed. OnePlus 7 Pro comes with Qualcomm Snapdragon 855 in three storage variants – 128GB of internal storage with 6GB of RAM, 256GB of internal storage with 8GB of RAM, and 512GB of internal storage with 12GB of RAM.
Similarly, after a short break OnePlus came with two other phones in the OnePlus 7 lineup – OnePlus 7T and the OnePlus 7T Pro. Both phones feature a Qualcomm Snapdragon 855+ with Adreno 640 GPU and an AMOLED display with support for a 90HZ refresh rate.
What are OnePlus 7 series Android 12 Update bugs?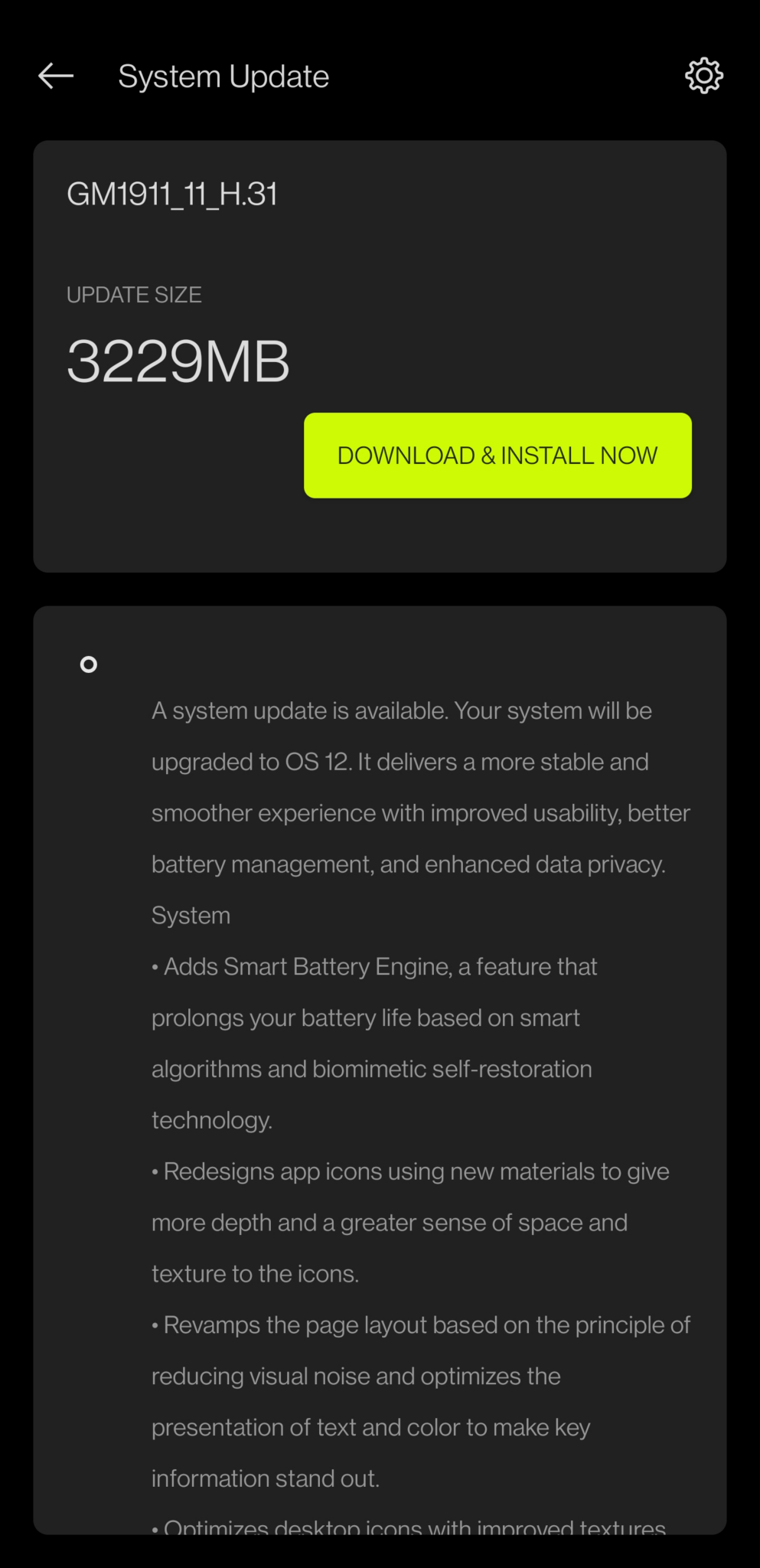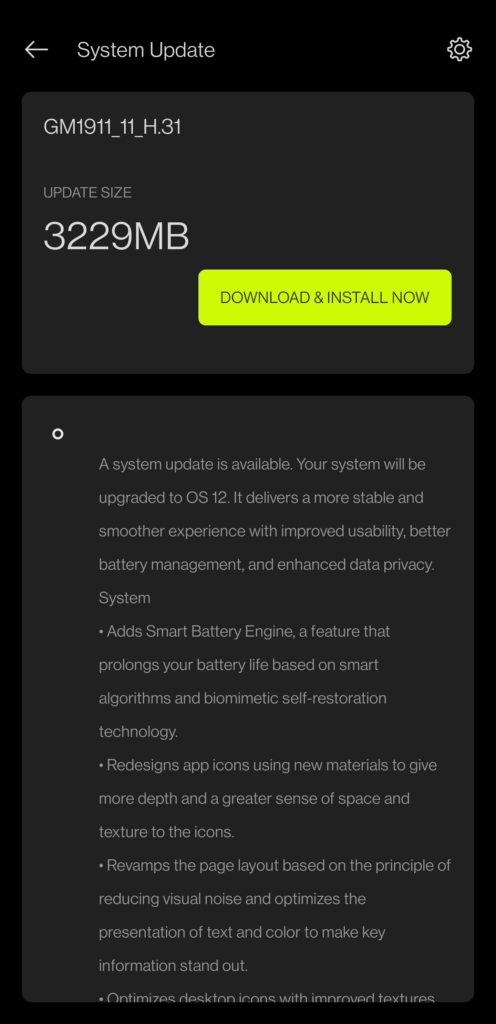 OnePlus 7 series Android 12 Update received mixed reactions from users, who shared their opinions on several social media platforms. While some praise the brand for caring about its consumers to push the latest Android update. Another section chooses to blame the company for making the device function even worse. The reactions come bluntly from this section. Some also claim to have downgraded from the latest software update and switch back to erstwhile OxygenOS 11, which is of course based on Android 11.
Another user on Reddit calls out the company for pushing the update. They further call the update "embarrassing" for the brand and also ask others for a custom ROM suggestion, "I recently updated to OOS 12, and it's really bad. Very embarrassing for Oneplus. I wanted to ask you what should I do next. Should I go for the Pixel Experience Android 13 custom ROM? Or should I downgrade back to OOS 11?" as per the Reddit post.
Also Read | Best budget-friendly Vivo smartphones to purchase
In a similar instance, another user on the same platform writes, "Android 12 on 7 Pro Is a steaming pile of crap. That's all I have to say about this update." On the post, another user pointed out that the update has caused a mobile network malfunction. "Lol, my mobile network keeps going in and out…," as per the comment section.
"Everytime I freshly open the gallery app, it freezes after a few seconds and I have to wait several minutes (unreliable) for the app to start moving and let me look at my photos. I've tried clearing and resetting stuff—everything except factory resetting the phone, which I do not want to do, but am aware may fix the problem"

Source
With that being said, some users have noticed issues with the refresh rate of the screen. Following the update, it appears to be arbitrarily switching between 60Hz and 90Hz. Others reported having to charge their phones many times a day after receiving the update due to significant battery depletion. For some, the Live wallpaper is not showing up after the Android 12 update.


Let's not waste any other method and switch to the potential workaround to fix the issue.
Potential Workarounds to fix OnePlus 7 series Android 12 Update bugs
Repair OOS by using the Reset System Settings
Consider repairing OOS by using the Reset System Settings Only option in Settings>System Settings>Backup and Reset>Reset Phone
This will reset Android only while keeping data and apps on the phone intact. It's always a good practice to have a backup of your data before fixing it.
Factory Reset
If the above doesn't fix the issue, you might want to consider taking a backup of your Data, and do a full Erase All Data factory reset to refresh your current installation of OOS on the phone. Don't restore any apps. Then check if everything is working. If it is, then add your apps back in.
Contact OnePlus support
You can also contact OnePlus support directly to see if they have more information on your issue. Email, Phone contact, and online Chat details are available at https://www.oneplus.com/support Or https://service.oneplus.com/contact
Downgrade from OxygenOS 12 to OxygenOS 11
Unfortunately, OnePlus is yet to acknowledge the issue publicly. However, we discovered a potential workaround to help some people address the problem. One could attempt to restore their smartphones to OxygenOS 11 – in easy words, users can downgrade from Oxygen OS 12 to Oxygen OS 11.
However, it should be mentioned that using this approach is entirely at one's own risk, as all data on the phone would be lost throughout the rewind process. As a result, it is recommended that you back up any important data before starting with the rollback.
WHAT TO KNOW: Please keep in mind that this rollback approach will erase all of the phone's contents, so make a backup first.
How to downgrade from OxygenOS 12 to OxygenOS 11?
Download the correct rollback package after checking the phone model number and region.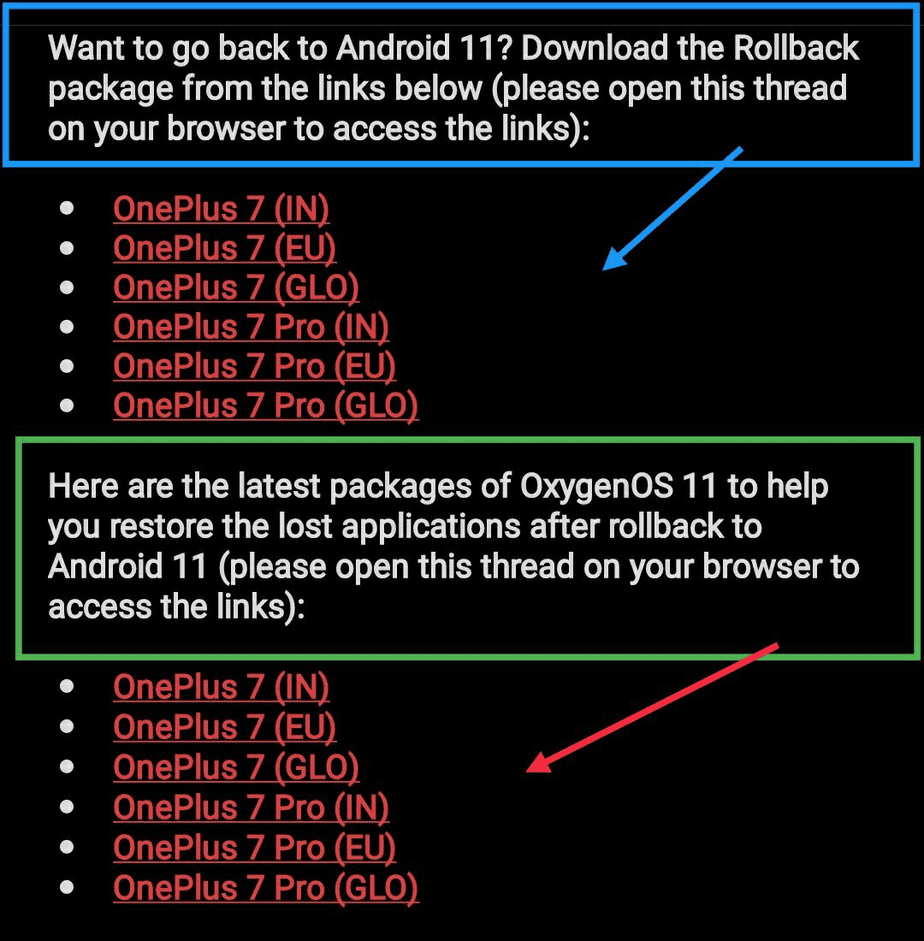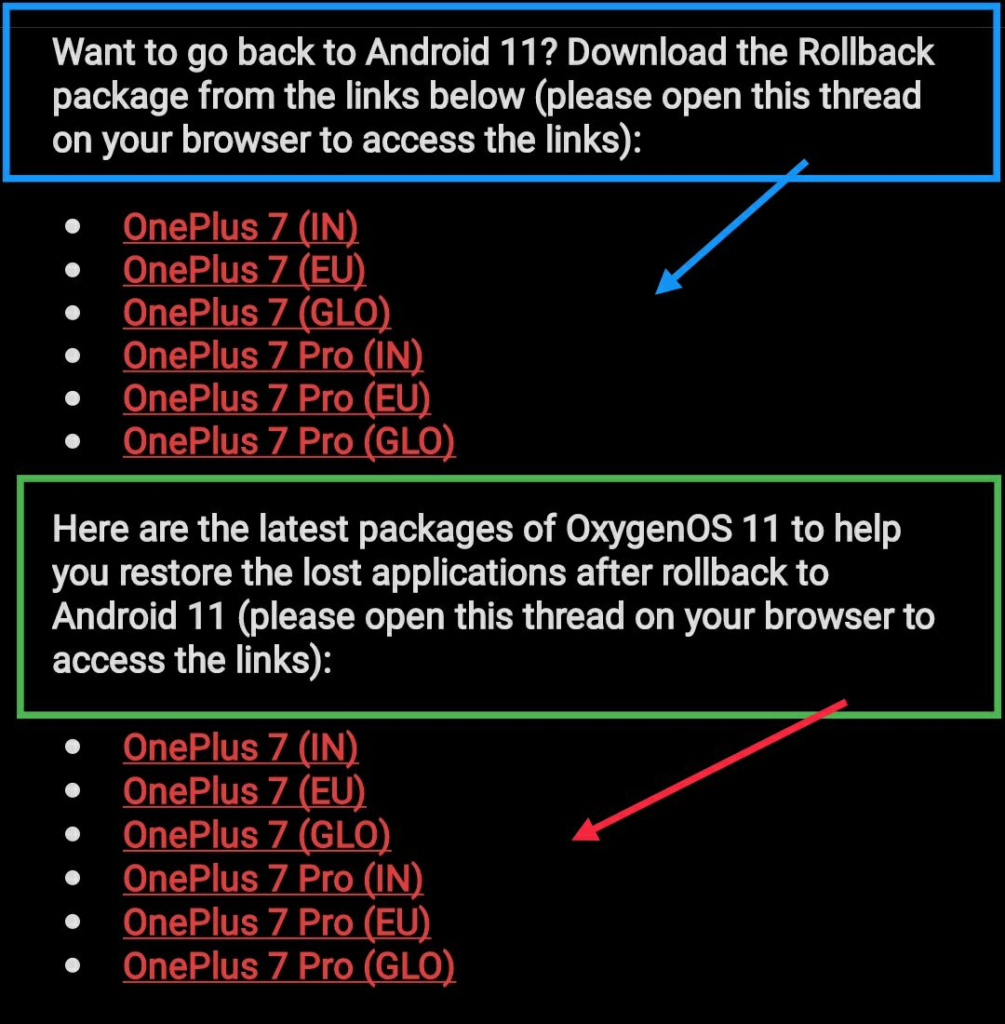 Make a complete backup with the OnePlus Switch app and save it to your PC.
Download Oxygen OS 11 using this link or check out here https://community.oneplus.com/thread/1181167844348919809 [OxygenOS 12 MP2 for OnePlus 7/7 Pro]
Remove the *.jar at the end of the downloaded file and place it in the root directory.
Navigate to Settings > System > System Updates.
Select the gear symbol > Go to Local Upgrade > Install the file you just downloaded.
After installation, go to the official OnePlus website and download Oxygen OS 11.
Using the OnePlus Switch app, restore the backup from your PC to your phone.
One thing to remember, the rollback package doesn't contain all the pre-installed system apps like OnePlus Buds, Shot one OnePlus, etc. To restore those apps you need to flash another file (under green box in the picture) but only after rollback to OOS 11.
FAQs
1. When was the OnePlus 7 series launched?
2. How many phones are there in OnePlus 7 series?
There are four phones in the OnePlus 7 series which includes OnePlus 7, OnePlus 7 Pro, OnePlus 7T, and OnePlus 7T Pro.
3. Is downgrading the phone's software safe?
It is considered safe as long as you make sure to download the ROM from a reliable source and keep all the important data safe.
4. What is the latest phone from OnePlus?
5. Who are the founders of OnePlus?
Summing It Up
Here is feedback from a Reddit user on the OnePLus 7 series Android 12 update.
The rollback OTA package can be downloaded from this OnePlus' website. Follow the link and select your device. Download the available OxygenOS firmware. It is thus said that downgrading the phone's operating software might fix the issues.
Alternatively, one could go to one of the company's official service centers in their area and request the team to downgrade the device's operating system. With that being said, PhonesWiki.com will continue to monitor the OnePlus 7 series Android 12 update issues and will update this article as new information becomes available.
Also Read | Is your iPhone 14 and iPhone 14 Pro battery losing 100% capacity? Know the reasons and potential workarounds