On the 4th of July, a TikTok trend emerged where some users participated in a controversial challenge known as the "my pronouns are USA" trend. This trend was inspired by a video that was initially intended as an anti-woke comedy, featuring clips of conservatives such as Ted Cruz mocking liberal "woke" culture.
The TikTok challenge aims to ridicule the LGBTQ+ community, who often express their gender identities through various pronouns. By using "USA" as pronouns, participants seek to undermine and belittle the importance of recognizing and respecting diverse gender identities.
What is the 'My Pronouns are USA' trend?
The "My Pronouns Are USA" trend originated from a viral video and audio clip that featured several American conservative politicians making sarcastic jokes about their preferred pronouns. This video was uploaded to TikTok in February 2023. In April, a new version of the video was posted, which added eagle sounds after each politician stated their pronouns. This sound quickly gained popularity and became a viral trend on the platform.
The original video was uploaded to TikTok on February 16th, 2021, by the Comedy Central TV show The Daily Show. It was titled "Conservatives Have One Joke" and showcased American politicians using gender pronouns as the subject of sarcastic jokes. One example featured conservative political commentator Michelle Malkin saying, "My pronouns are U-S-A" during the 2019 Conservative Political Action Conference. The video also included Senator Ted Cruz stating, "My pronouns are: kiss my ass." This compilation video gained significant attention, accumulating millions of views and likes over a span of four months.
On April 30th, 2023, a TikTok user named @saraadimaggio uploaded a new version of the sound, adding eagle sounds to each pronoun statement made by the politicians. Her video quickly gained traction, amassing hundreds of thousands of plays and likes within a month.
Throughout May 2023, the sound gained even more popularity, inspiring thousands of TikTok users to create videos using it. On May 4th, a TikToker named @notesther08 posted a video in a school bathroom, lip-dubbing the sound alongside friends, with one friend dressed as a bald eagle. This video gained millions of plays and likes within two weeks. Another user, @nawalz, joined friends to lip-dub the sound while in a department store, garnering hundreds of thousands of plays and likes within the same time frame.
Where can I find video of original 'my pronouns are USA' trend
The video that sparked the "My Pronouns Are USA" trend was initially shared in 2021 on the TikTok account of The Daily Show, a Comedy Central TV program. The video compilation, titled "Conservatives Have One Joke," featured American politicians mocking gender pronouns by humorously identifying themselves as "USA." One clip included Ted Cruz stating, "My pronouns are: kiss my a**." on reports
While the video gained significant attention and started a TikTok trend, it has since been deleted from The Daily Show's TikTok account. The video's content drew criticism from the liberal community, who accused it of mocking the LGBTQ+ community and the values associated with it.
The deleted video from The Daily Show's TikTok account did manage to initiate a trend before it was removed. The content of the video, where conservative politicians humorously identified themselves as "USA" when referring to their pronouns, inspired users on TikTok to create their own videos as part of the trend. The trend gained traction and participation from TikTok users before the original video was taken down from The Daily Show's account.
Despite the video's removal, it had already initiated a trend that spread across TikTok before its deletion.
'my pronouns are USA' trend on TikTok
TikTok users have modified the original video and turned it into a trend. The trend involves users lip-syncing to the audio "My pronouns are USA" followed by eagle sounds. Some participants dress up as eagles or in American flag attire, while a few even include live eagles in their videos.
The primary intention behind this trend is to mock the concept of individuals using different pronouns to identify themselves. By utilizing conservatives' humor about gender pronouns, some participants express a sense of patriotism on the occasion of the United States' Independence Day.
It's important to note that trends and challenges on social media platforms can have various interpretations and implications. While some individuals may participate in the trend with harmless intentions, others may find it offensive or disrespectful towards the LGBTQ+ community and the importance of respecting diverse gender identities.
LSU gymnast Olivia Dunne stirs up a debate
Olivia Dunne, an LSU gymnast and popular social media influencer, recently made headlines when she participated in the TikTok trend we discussed earlier. She attended the Nashville Superspeedway and filmed a video where she stood between two American soldiers while lip-syncing to the controversial audio that mocks "wokeism" or the culture of being overly politically correct.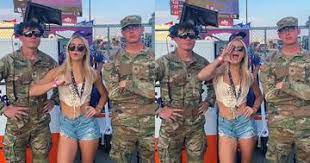 The viral video featuring Olivia Dunne has garnered over six million views. She also posted another video featuring the same trend on the 4th of July. In the video, she can be seen wearing a white tube top, unbuttoned blue denim, and a hat while twirling and mouthing the words, "My pronouns are USA" standing in between two soldiers.
As an accomplished gymnast at LSU and a social media personality, Olivia Dunne has a significant following. She became especially famous on TikTok after joining the platform in 2020, and she currently has over seven million followers on TikTok and four million on Instagram, making her the most followed NCAA athlete on social media.
The video sparked a debate on social media, with some praising Dunne for her show of patriotism and support for the troops. They appreciated seeing a well-known figure, particularly a female, openly expressing support for the United States and its military. However, others criticized the video, arguing that it was a controversial way to show patriotism and that using the term "pronouns" in this manner was a misuse of the concept. Some commenters expressed concerns that the video could upset people.