September 25th, 2021, marked the end of My Hero Academia Season 5, leaving us to wonder and obsess over what's coming next. Of course, it's My Hero Academia season 6! Well, isn't this the time when we bring you My Hero Academia Season 6 spoilers, its release date, trailer? Yes, it is.
Based on the 326 chapter manga series by Kohei Horikoshi, My Hero Academia season 6 will be covering the longest arc of the manga- The Paranormal Liberation War arc. Fans have been awaiting this arc for a long time now, and finally, after covering 257 chapters in five seasons, it is here.   
What is the storyline of My Hero Academia?
For the newbies who stumbled upon this article, here's a quick summary of the storyline. The plot revolves around a fictitious world where everybody is born with superpowers(or quirks, as called in the anime). Deku, however, is born without one, yet wants to become a superhero.
Seeing Deku's potential, Japan's greatest hero, All Might, lends him his quirk. He soon starts his training at a prestigious heroes training institution. Thus, the epic journey begins.
When will My Hero Academia Season 6 release?
The year 2016 marked the premiere of the first season of this masterpiece. Since then, the release of the successive seasons has maintained a smooth consistency. The first season was premiered in April 2016 and continued till the last of June 2016. Maintaining the flow, season 2 was released immediately the next year on the same month of the 1st season's premiere. My Hero Academia Season 3 followed the same pattern. 
MHA season 4, however, deviated from the trend and premiered in October instead of April, in 2019. It concluded the following year in April 2020. Entering the trend again, the fifth and the latest season started to air from late March 2021. September 2021 marked the ending of season 5.  
Based on previous records, we were expecting the premiere of My Hero Academia Season 6 in the coming spring or by the Summer of 2022. However, in the recent concluded Jump Festa '22 event by Shonen Jump, the anime My Hero Academia Season 6 will go live in October 2022. Yep, we admit, that's a long wait. We can take peace in the fact that at least we now have a date!
My Hero Academia Season 6 key visual
The franchise has revealed the first set of key visuals of MHA Season 6. Needless to say that the looks are all ominous, giving a brewing "all-out war" hint.
One can see the protagonist Izuku Midoriya and antagonist Shigaraki Tomura with intense looks on their face in the poster. The tagline reads "All-out war draws near," with Deku stating "I'll give everything I have to stop you," with Shigaraki hitting back with "I'll just break it."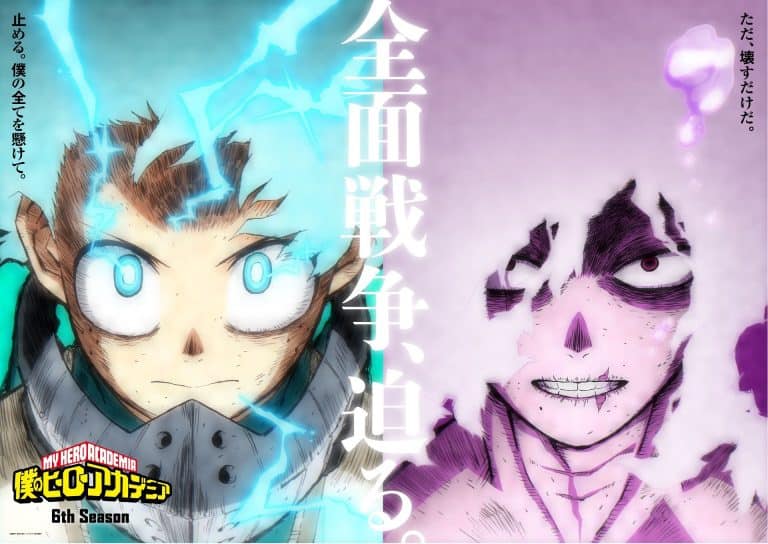 My Hero Academia Season 6 Trailer
At a stage event dedicated to discussing the conclusion of the manga of My Hero Academia, alongside the showcase of a few unpublished artworks, the makers presented a short 45 seconds teaser trailer for the upcoming season of My Hero Academia. 
MHA 6 teaser trailer narration is in Japanese with English subs. One can make out that MHA Season 6 episodes will be "DARK"
Watch the first official My Hero Academia Season 6 trailer below. One can see it opening up with Izuku Midoriya running through a forest. One can hear in the background "decisive battle was approaching" between the Heros and The Paranormal Liberation Front led by Shigarakiu Tomura.
The small teaser gave enough of a hint that something major's coming up this 2022. Unlike season 5, season 6 will be more intense and action-packed. So, MHA fans, get ready to experience a rollercoaster ride of adrenaline this season!
My Hero Academia Season 6 Spoilers: What could be the potential plot of this season?
Season 6 will continue from where season 5 concluded. As it is crystal clear from season 5, Paranormal Liberation Front is all set to attack under their new commander-Tomura Shigaraki. No new card is left to turn to prove that Shigaraki is a major threat to our protagonist and will give a tough fight.
Being the longest arc of the manga, it will take the anime two cours to conclude season 6. Therefore mates, get ready to experience the greatest war of this century in all its gory details, this new season!
Where to watch My Hero Academia season 6?
Funimation has been streaming all the episodes of My Hero Academia since its first premiere in 2016. My Hero Academia season 6 won't be an exception. Apart from Funimation, Netflix also has all the episodes updated on their platform, and will probably keep updating them with every new season.
When will My Hero Academia Season 6 English Dub release?
Like every other time, the English-dubbed version will shortly release after the original Japanese version of MHA drops in. 
Currently, English subbed and dubbed versions of all the 113 episodes of the MHA anime are streaming on Funimation. It would be a good idea to revisit them before October comes.
Voice cast of My Hero Academia season 6
Though there's no official announcement on whether the old cast will return this season or not, however, there's a very small chance that the makers will get them replaced. Here's a list of all the members who can be returning with their usual character in My Hero Academia season 6:
Christopher R.Sabat and Kenta Miyake as All Might
Justin Briner and Daiki Yamashita as Izuku Midoriya
Yuki Kaji and David Matranga as Todoroki
Clifford Chapin and Nobuhiko Okamoto as Katsuki Bakugo
Ayane Sakura and Luci Christian as Ochaco Uraraka
Colleen Clinkenbeard and Marina Inoue as Momo Yaoyorozu
Toshiki Matsuda and Justin Cook as Kirishima
Koki Uchiyama and Eric Vale as Tomura Shigarika
Monica Rial and Aoi Yuki as Tsuyu Asui
Wrapping-up
So, that's enough information, for now, we guess. We will meet again once more information on My Hero Academia season 6 is out. Till then, stay in touch with us.