Earlier in April 2020, Redmi Note 6 Pro users had come to know that their devices will not be receiving Android 10. However, the device had found its way into the product lineup of the MIUI 12 roadmap. The MIUI 12 update for Redmi Note 6 Pro appeared to be a distant dream at that point in time.
In the absence of communication from the brand on the MIUI 12 update, it led to further disappointment. However, Redmi Note 6 Pro users have some news to cheer about today. A note from Super Moderator on Xiaomi's Mi Community Forum gives a peek into Xiaomi's future plans of MIUI 12 update for Redmi Note 6 Pro.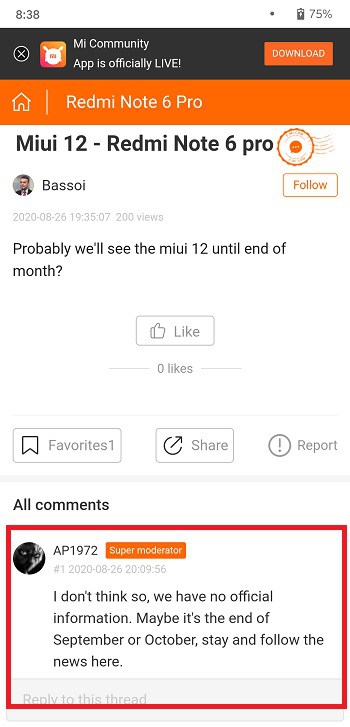 When someone asked in the Mi Community meant for Note 6 Pro about the possibility of the device getting an MIUI 12 update by the end of August, the Super Moderator replied with:
I don't think so, we have no official information. Maybe it's the end of September or October, stay and follow the news here.
Now, with this news Note 6 Pro users are confirmed that they will be receiving the update in the coming days. Though Xiaomi has not officially announced its plans regarding Redmi Note 6 Pro MIUI 12 update date in India. However, we can hold on to the comforting news of a possible update arriving later in September or sometime early next month.
The brand has remained mum about Redmi Note 6 Pro MIUI 12 update date. In fact, the device bagged another MIUI 11-based firmware with optimizations around 15 days ago. The new update rolled out was 11.0.5.0.PEKMIXM based on Android Pie. The device originally ran on Android 8.1 Oreo out of the box, Later on, it was upgraded to MIUI 11 on top of Android 9 Pie. For the uninitiated, Redmi Note 6 Pro will not be receiving an Android 10 update from Xiaomi.
Update as on 6th January 2021
Redmi Note 6 Pro MIUI 12 update date is almost there. Xiaomi has started pushing global variant of stable Redmi Note 6 Pro MIUI 12. The version is labelled as 12.0.1.0.PEKMIXM. The rollout has been planned for the global variant that excludes the Russian variant.
The changelog reads as:
It is a phased rollout hence it will take some time before every unit gets global MIUI 12 for Redmi Note 6 Pro. Manually it can be downloaded from the link here.
Note 6 Pro had been launched in the budget smartphone category, way back in October 2018. It was powered by a Qualcomm Snapdragon 636 processor, an octa-core clocking at 1.8GHz.
Update as of 25th January 2021
In the first cut of the MIUI 12 eligible list, Xiaomi had included Redmi 6/6A/7 and the Redmi Y3. However, as the days progressed, the OEM realized that Redmi 6 MIUI 12 update cannot be rolled out. The grounds cited were compatibility & performance challenges.
Surprisingly, Xiaomi rolled out the MIUI 12 update (China build) for Redmi 7 with no hints of earlier beta testing. This has undoubtedly rekindled hopes for Redmi 6/6A/Y3 users. Since these models do not differ much in terms of technology, they can expect an announcement in near future.
Do keep visiting us, will keep you updated on the latest developments.