The viral McDonald's training game on TikTok has garnered attention and popularity among users. Originally designed by McDonald's to assist their employees in learning how to use the cash registers, the game is now available for anyone to download and play.
If you're curious about experiencing the role of a McDonald's cashier and handling orders, this simulator can offer you a glimpse into the job. Through the game, you can familiarize yourself with the processes involved in taking orders and managing items like the Big Mac, McCrispy, and Fillet-O-Fish.
What is the McDonald's Training Game trend?
McDonald's has a history of releasing video games, including those for retro consoles like the NES and SEGA Genesis, as well as the popular Nintendo DS. In 2021, they released a game that has gained attention on TikTok recently. Although it is a training simulator intended to teach McDonald's employees how to use the ordering system, it is available as a free download for iPad and Android users to try.
The game, titled "McDonald's POS Training," offers a multitasking experience similar to games like Overcooked. It features an Android companion called the "McDonald's POS Training" that guides players through various challenges and mini-games while teaching them how to navigate the menu items. The goal is to accurately and quickly process the detailed orders displayed at the top of the screen. The game provides an opportunity to practice ringing up orders and testing accuracy without dealing with actual customers.
McDonald's Training Game is a simulation that replicates the experience of using a McDonald's cash register to take customer orders. It presents an order bubble at the top of the screen, providing specific requests from customers, such as "I would like a Big Mac with extra pickles. I'll take that to go."
To complete the order correctly, the game guides players by showing which buttons to select on the virtual cash register. The game includes three different levels for players to progress through. It features popular menu items and drinks readily available on the screen, and there are additional buttons to access more specific or lesser-known food options and customize orders.
Many players have found the game to be a helpful tool for learning the ropes of working at McDonald's, similar to how some McDonald's locations have implemented robot employees to assist with certain tasks.
If you're a casual gamer interested in experiencing the role of a McDonald's cashier and testing your skills, you might find this game worth checking out. It offers a unique combination of training and gaming elements, providing an immersive experience within the fast-food industry.
The game, McDonald's POS Training, gained viral attention, particularly following the Grimace Shake trend. This trend involved users utilizing a McDonald's milkshake to create a visually striking purple scene, reminiscent of a crime scene. The popularity of the trend likely contributed to the increased interest and engagement with the McDonald's POS Training game.
Overall, the McDonald's POS Training game offers an interactive and educational experience that allows players to familiarize themselves with the process of taking orders at McDonald's.
How to play McDonald's Training Game?
To play the McDonald's POS Training game, you will need an iPad or Mac device, as it is only compatible with Apple tablets and computers. It cannot be downloaded on an iPhone or Android device. Here are the steps to download the game:
Visit the Apple Store or Google Play Store to download
On the website, select the "Free on iTunes" option.
Tap on "View in App Store" to be redirected to the App Store.
Press the "Get" button, followed by "Install," to download and install the game on your device.
It's important to note that the McDonald's Training game is primarily a training simulator and may not offer an extensive number of levels like games such as Candy Crush. It gained popularity on TikTok after being posted by @allbotthings. Users expressed their desire for more levels beyond the third and final challenge showcased in the video.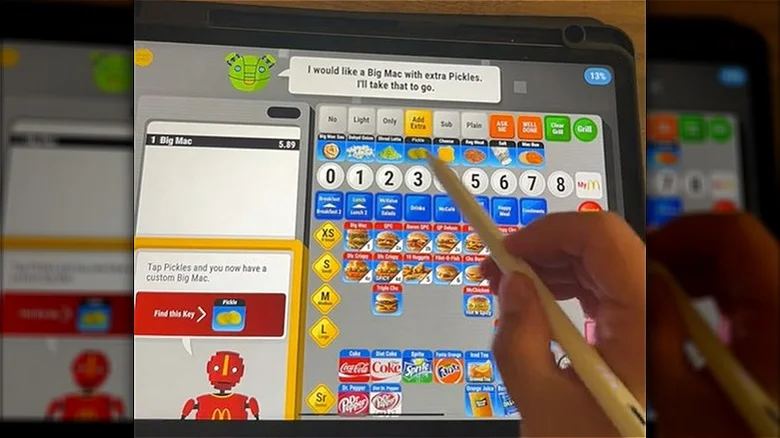 The clip-on TikTok demonstrates the player navigating the third level, Advanced Order Taking, where the robot instructor provides guidance on handling customized orders, adjusting item quantities, and adding extra pickles to a Big Mac. While many users are eager to play the game based on what they've seen, some employees who have experience working at McDonald's expressed mixed feelings. Some commented that they do this job for hours at work, while others mentioned they experienced PTSD and wouldn't want to play the game. However, some viewers found the game intriguing and even felt inspired to apply for a job at McDonald's after seeing it in action.
The McDonald's Training game serves as an entertaining way for new and aspiring employees to become familiar with popular McDonald's menu items and the ordering system. It's worth noting that the fast-food industry involves more than just pressing buttons correctly, and customer interactions can vary significantly from the game's robots' behavior.
Overall, the McDonald's POS Training game provides an engaging and educational experience for individuals interested in learning about McDonald's operations and the role of a cashier.