Apple's latest release of macOS 12.2 has drawn in great critique especially after it started causing MacBook Battery Drain issues. A large number of MacBook users are complaining about significant battery loss while their MacBooks when in Sleep Mode. The second milestone upgrade for macOS Monterey is certainly letting Apple's loyal customers down with its glitches and issues. In this regard, it's a must for Mac users to know about this MacBook Battery Drain bug and how to fix the glitch.
The milestone release of macOS Monterey 12.2 carried several bug fixes and security patches on board. But the update rendered a series of problems for many Mac owners. A small search in any social media platform would pop up unending problems about installation issues, UI lag, issues with first and third-party apps, unusual battery drainage, Wi-Fi problems, crashes, freezes and more!
Apparently, Apple is already working on a new version of macOS Monterey which we are expecting to roll out later this year. macOS 12.3 is under beta testing at the moment and we are waiting for the announcement of a confirmed release date.
But this does render no effect on the Mac users who have been hit with the MacBook Battery Drain Problem. After updating to the latest macOS, many users are reporting excessive battery drain during sleep mode. Seemingly, wireless Bluetooth accessories keep on frequently waking up the computer. One user even had the terrible experience of suffering a battery life drop from 100% to 0% overnight while they kept their MacBook in sleep mode!
What is the macOS 12.2 Battery Drain bug?
Have you ever opened your MacBook, MacBook Pro or MacBook Air after it has been asleep for a while only to discover that its battery has gone down significantly from the last time you checked? You're definitely not alone if you said yes to it.
It was around a week ago that Apple rolled out the latest macOS 12.2. Users who installed it are reporting abnormal battery drain when kept in idle/sleep mode. They found that their Mac's battery life suddenly drained from 100% to 0% while in sleep mode overnight. Many reported that the full battery drainage took only two hours, from 100% to 0 with the lid closed and the MacBook getting really hot.
The MacBook Battery Drain Problem has probable roots in software issues rather than hardware. MacBook does use several battery-consuming processes even in Sleep Mode, but they don't usually drain the battery percentage to a concerning level.
A few users tried to identify a cause in Terminal and found that Bluetooth accessories are frequently causing a "DarkWake from Deep Idle" that results in the Mac repeatedly waking from sleep, which drains the battery. The issue appears to be affecting both Intel-based Macs and M1-based Macs.
Some found that the Logitech mouse and keyboard are the real culprits behind Mac not going to sleep at all. Turning off the keyboard and mouse helped in defecting the battery drain.
Trillion Dollar tech giant Apple is yet to acknowledge or release any fix for the ongoing MacBook battery Drain problem. According to MacRumors, both the Intel-based and the newer M1-powered models are receiving complaints of MacBook battery drain problems.
Some users on the Internet even took to trying to identify the cause of the concerning issue. According to them, the Bluetooth accessories are continuously causing a "DarkWake from Deep Idle". This results in the computer device waking repeatedly from the Sleep Mode and reduces a lot of battery. The number of complaints of the MacBook battery Drain problem is increasing with every quick look into Reddit, Twitter or MacRumors.
How to resolve MacBook Battery Drain bug after macOS 12.2 update?
There is no surefire fix to the MacBook Battery Drain problem. However, since Bluetooth devices are the primary suspects of causing the malfunction, we recommend you disconnect any wireless Bluetooth devices that are connected to your Mac. You should also disable Bluetooth whenever your MacBook sleeps.
In most cases, it should resolve the sudden MacBook battery drain problem in your device. Follow these next set of steps if the issue persists in your MacBook-
Unplug USB Devices from your MacBook
USB devices that you connect to your Mac might continue to draw power from the device while it's asleep. A few examples of such devices would include wireless mouse or keyboards that users often forget to disconnect when putting their MacBook into Sleep Mode. Make sure you unplug any USB devices to avoid the unexpected MacBook battery drain problem.
Scan your MacBook for viruses and malware
Trojans, adware, viruses and other malware are common causes of sudden battery drops in computers. The malicious virus often runs in the background and decreases your Mac's battery life. Use Anti-Virus software and scan your MacBook to make sure if any malware is causing the battery issue. We recommend using the app CleanMyMac X. It is free and very effective and easy to use.
Close unnecessary background processes in your MacBook
You might be experiencing the MacBook battery drain problem when the device sleeps because of unknown processes running in the background. Yes! There are often programs and applications initiated by login items that get automatically opened whenever you log in. Such programs and apps consume a lot of CPU resources on your MacBook so make sure to close them. In order to do so, follow these easy steps: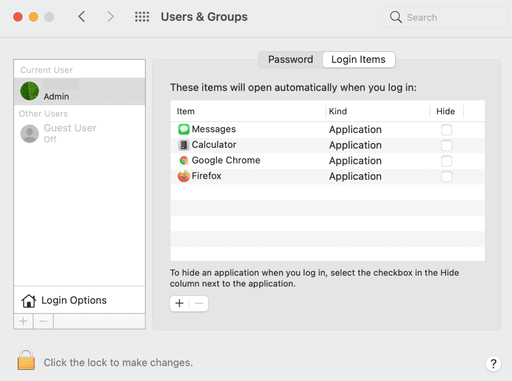 Open System Preferences and go to User & Groups.
Click on your account and switch to the Login Items tab.
Select the login items that you want to close and click the "-" sign underneath.
Turn Off Power Nap on your Mac
macOS offers a feature called Power Nap that allows your MacBook to continue checking for new emails, Calendar and iCloud updates and more. Connecting to iCloud results in consumption of battery power which is a contributor to your MacBook battery drain problem. Turn Power Nap off on your Mac to eliminate unnecessary consumption of charge.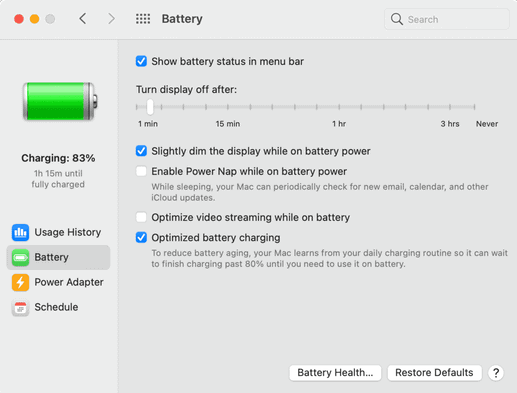 Open System preferences and choose Battery.
Select Battery in the left-side menu now and un-check the box beside "Enable Power Nap while on battery power."
If nothing else works, check this one out
If your MacBook battery drain problem remains unsolvable by all the above methods, try setting up your Mac's System Management Controller (SMC). The SMC is responsible for managing a multitude of hardware processes, including how the battery works.
Better still, shut down Mac when you call it a day.
Resetting the SMC in your MacBook should not do it any harm, but you should always consider it as a last-resort solution, only for circumstances that can't be fixed by simpler solutions.
Apple's take on the MacBook battery drain issue:
Apple is yet to make any official acknowledgement of the ongoing issue post macOS 12.2 update. Since we know that the company is working on the macOS 12.3 update, there are chances of it resolving the MacBook battery drain problem. However, in the event of any more serious software or hardware issue, we are sure of Apple to take action as they are well-regarded for their dedicated customer service.
Are you also one of the troubled MacBook users from battery drain after the latest macOS 12.2 installation. Share with us your experiences.