When you have a new iPhone 12, 12 mini, iPhone 12 Pro, Pro Mac, or other iPhone models, you may want to perform the iPhone-to-iPhone transferring process because you don't want to lose the data on the old iPhone.
Usually, during the setup process, the program asks you if you need to transfer data from your old phone, you can use the available methods to perform iPhone data migration. But it depends on if you have backup your iPhone or have enough iCloud storage.
Next, we will focus on 3 common methods of how to send data from an iPhone to another and help you to figure out which one is better for you.
Tips to transfer data from one iPhone to another?
Before the process, we suggest you update your iOS version to lower the possibility of transferring failure because of incompatibility or system bugs.
Method 1. Transfer iPhone data via iCloud
iCloud is a cloud-based service providing 5 GB free storage for an Apple account. And it supports 2 TB plan for each month. If you have enough iCloud space, you can back up your old iPhone and restore data to the new iPhone.
Step 1. Open your old iPhone, and go to "Settings" app > Tap your Name or the Apple ID banner, and tap "iCloud Backup".
Step 2. When you enter iCloud Backup, tap "Back Up Now" to back up the data on this iPhone.
Step 3. Turn on the new iPhone. Please make sure the battery is good or charge your new iPhone. Then follow the setup guide to choose language, WI-FI.
Step 4. You will be asked to choose a method to restore data. Just tap the "Restore from iCloud Backup" option.
Step 5. Follow the guide to Sign in your Apple ID, and choose the latest backup. Then follow the rest setup guide to complete the iPhone to iPhone transfer.
Method 2. Migrate iPhone data via iTunes
iTunes is able to migrate iPhone data to another iPhone by restoring your iPhone from backup. So you will need to backup your iPhone to a computer.
Warning:
1. This method is more suitable for a brand-new iPhone. Because it will erase data and settings on the targeted iPhone. If there are data on this new iPhone, you can turn to method 3.
2. iTunes does not support selective backup, so you have to migrate all on the old iPhone. If you want to choose one or several file types to transfer, try other ways.
Step 1. Attach the old iPhone with a computer. Install iTunes for Windows on the computer.
Step 2. Run iTunes on the PC. Click "iPhone" icon, and you will see this iPhone information.
Step 3. Under the backups settings. Hit "This computer" and click "Back Up Now"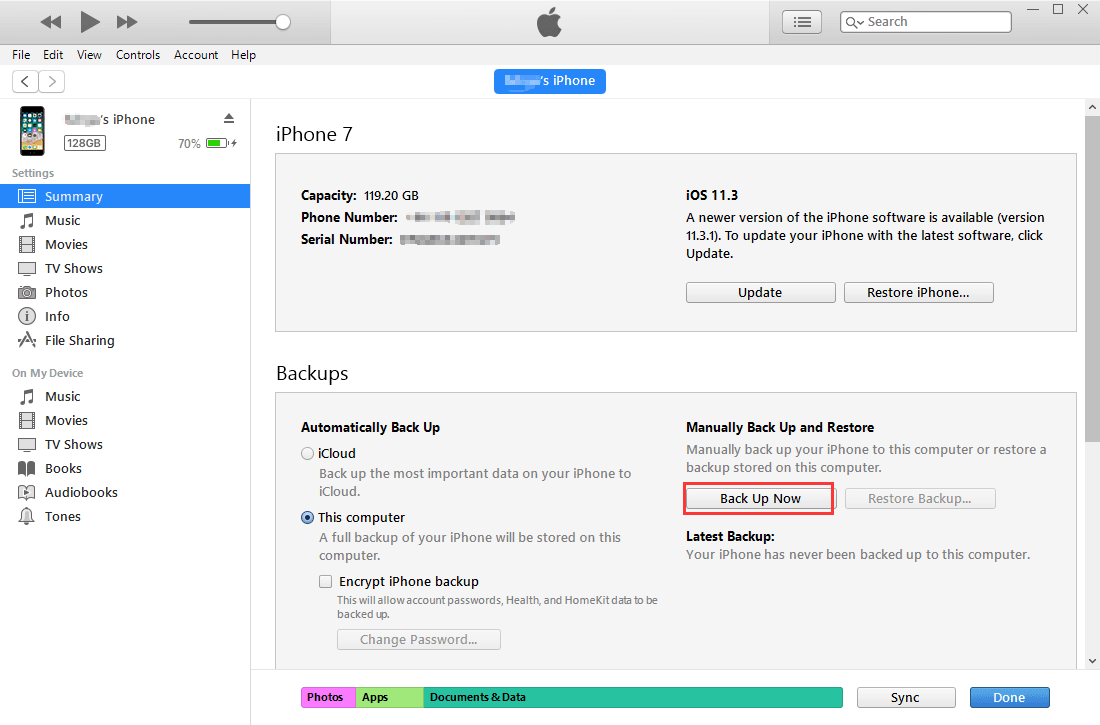 Step 4. It prompts a window to ask you to encrypt your backup. If you don't encrypt it, you will lose some personal data, like saved passwords, Health settings.
Step 5. When the backup gets done, eject your old iPhone and plug in the new iPhone. Enter the new iPhone information, and click "Restore Backup".
You may be asked to factory reset the iPhone as new. If it is OK to erase data on this iPhone, you can just click "OK" to continue.
Method 3. Transfer iPhone to iPhone using reliable iPhone transfer tool
To transfer data from an iPhone to another, another common way is to employ AOMEI MBackupper which is a piece of free iPhone backup software that helps you to move photos, videos, music, contacts, messages between two iPhones with amazing speed.
AOMEI MBackupper is flexible. It allows you to select data types to transfer or backup to a PC and you can select specific files to send to another iPhone. AOMEI MBackupper works well with all models of iPhone, including iPhone 6, 7, 8, X, XR, 11, 12, as well as various iPad and iPod Touch models.
Next, you can connect your old iPhone to see how to use this tool.
Step 1. Run AOMEI MBackupper on your computer, click "Custom Backup" on the interface. You can choose the data you want to transfer.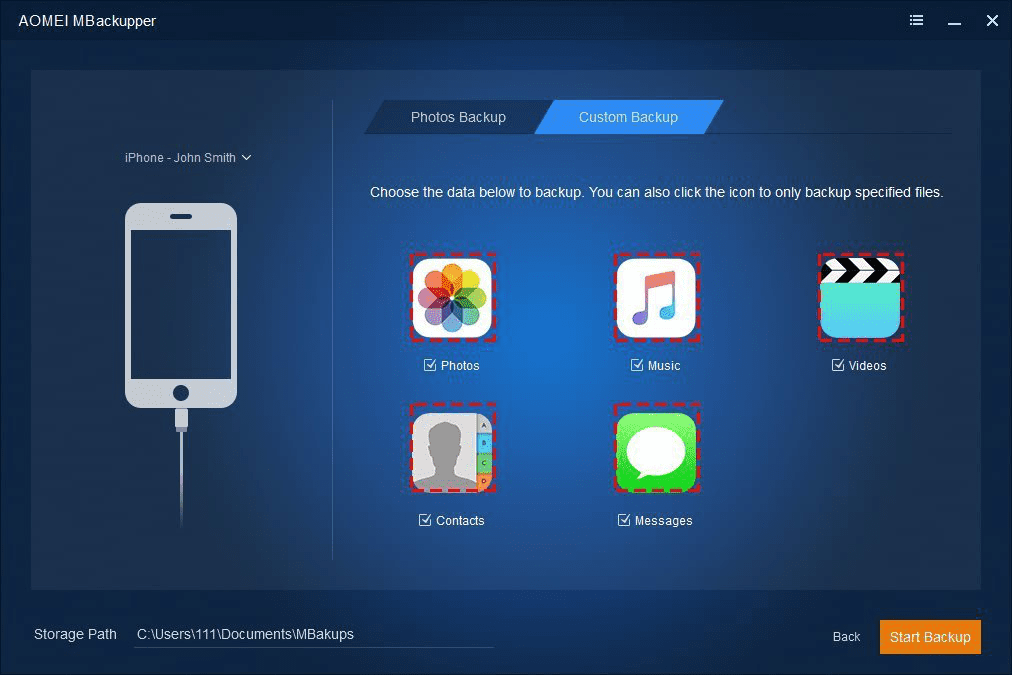 Note: You can choose specific files by click the icons.
Step 2. Choose a location where to store the old iPhone data, and click "Start Backup".
Step 3. When the process is complete, disconnect the old iPhone, and plug in the new iPhone.
Step 4. On the Backup Management, expand the backup. Click the "Advanced" icon, and click "Restore" to restore the backup to the new iPhone.
Final Words
Here we provide 3 backup methods to perform the "iPhone to iPhone transfer" operation. Hope this article can really help you. By the way, backup your iPhone helps you to not only move data but also protect your data safely. Once your iPhone encounter unexpected issues, how much data you can save depending on the extent of the backups of your iPhone.