Adobe has officially announced that they won't be keeping the Flash Player active from 2020. After technologies like HTML5, WebGL, etc started to take over, Flash Player looks like a thing of the past. Keeping up with this, Google Chrome has also started showing warnings regarding Adobe Flash Support. Google will also disable the Flash plugin by the end of 2020 from its Chrome browser.
Why won't Chrome support Flash?
Flash Player has been active for the last 24 years and was used for a variety of online content including playing games, watching videos, and run web apps. According to a report by Google, more than 80% of Chrome users on the desktop used to visit a website with Flash content at least once per day.

Also check: How To Activate Google RCS Messaging
In 2019, the percentage of such people have dropped to a mere 17%. This indicates that more and more websites have migrated to advanced technologies that don't require Flash Player plugin.
These web technologies are also boasted to be faster and more reliable than Flash. Currently, Google Chrome asks for permission from the user in case a website needs Flash Plugin to run.
Chrome is eventually planning to remove Adobe Flash Player completely by the end of 2020. So if you visit a website by the end of 2020 which will still need Flash Player, you won't be able to run it properly. If the websites you visit migrate to new web platforms, you won't notice any issues with their performance.
Adobe is now trying to make the internet Flash-free and force websites to shift towards faster and more secure technologies. Adobe Flash player has entered its last days of life on the internet. Windows 10 users have started receiving alerts with the last date of support set as 31st December 2020. On a majority of platforms, Flash support has come to an end.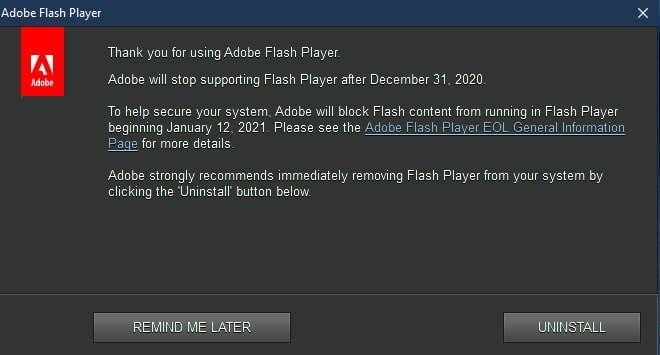 In cases where PC users are getting a pop-up, Adobe urges them to opt for uninstall Flash Player by hitting the Uninstall button. Else, one can even select the "Remind me later" option also for a temporary workaround.
Adobe has set a deadline of January 12, 2021, after which Flash content will be blocked completely. Adobe will automatically block Flash content from playing in Flash Player.
How to play Flash games after support ends?
Fans addicted to flash games and animations can still find the Adobe Flash Player projects on non-profit organization Internet Archive. It has a vast library with over 2,400 titles and does not mandate Flash plug-in installation. In case, you want to relive the nostalgic era of Flash Player, the Internet Archive is a good and reliable source.
Another in progress, open-source project Ruffle, will let users use Flash-based content in a Web browser. The users are not required to install the plug-in to run animations. Operating in the open-source domain, web devs have access to code to convert Flash animations into JavaScript.
Windows based gamers who want to play Flash based animations and games but in offline mode, can download Flashpoint by BlueMaxima. Mac and Linus based players can go for trial based version of Flashpoint.