There has been a potential leak regarding the review embargo date for Diablo 4. Additionally, it seems that there are several pre-order bonuses available for the game, with only two editions offering early access.
Diablo IV is an upcoming action role-playing game developed and published by Blizzard Entertainment. It is the fourth installment in the popular Diablo series, which is known for its dark fantasy setting and intense gameplay. Betas have been released by the devs and Diablo 4 reviews sound positive.
In Diablo 4, players will once again venture into the world of Sanctuary, a dark and treacherous realm infested with demons, monsters, and other supernatural threats. The game offers a dark and gritty visual style, embracing a more realistic and mature tone compared to its predecessors.
Players will have the opportunity to choose from several character classes, each with their unique playstyles and abilities. These classes include the Barbarian, Sorceress, Druid, and Rogue, each offering distinct gameplay mechanics and skill sets.
The game features a vast open world with diverse regions, including lush forests, desolate wastelands, and haunted dungeons. Players can explore these environments, take on challenging quests, battle against hordes of enemies, and discover powerful loot and treasures.
Diablo 4 also introduces a more immersive and interconnected world, allowing players to encounter and interact with other adventurers in shared multiplayer zones. Cooperative play and player-versus-player encounters will be an integral part of the game, offering a dynamic and social experience.
When does the Diablo 4 review embargo end?
There has been a potential leak suggesting that the review embargo for Diablo IV will end on May 26th. It seems that a Twitch streamer named DatModz has claimed to have a review copy of the game and has mentioned that they cannot share any information until May 26th.
Additionally, there are embedded tweets from Forbes journalist Paul Tessi and Jez Corden from Windows Central, suggesting that they are also reviewing the game.
While this information provides some insight into the situation, it's important to remember that official confirmation from Blizzard Entertainment or Metacritic is necessary to establish the accuracy of the review embargo date. Leaks and rumors can sometimes be unreliable, so it's best to wait for official announcements or statements.
Review embargoes are typically set by the game's developers or publishers to control when reviews can be published, ensuring that all reviewers have adequate time to experience the game before sharing their opinions.
Are there any confirmed Diablo 4 Pre-order bonuses?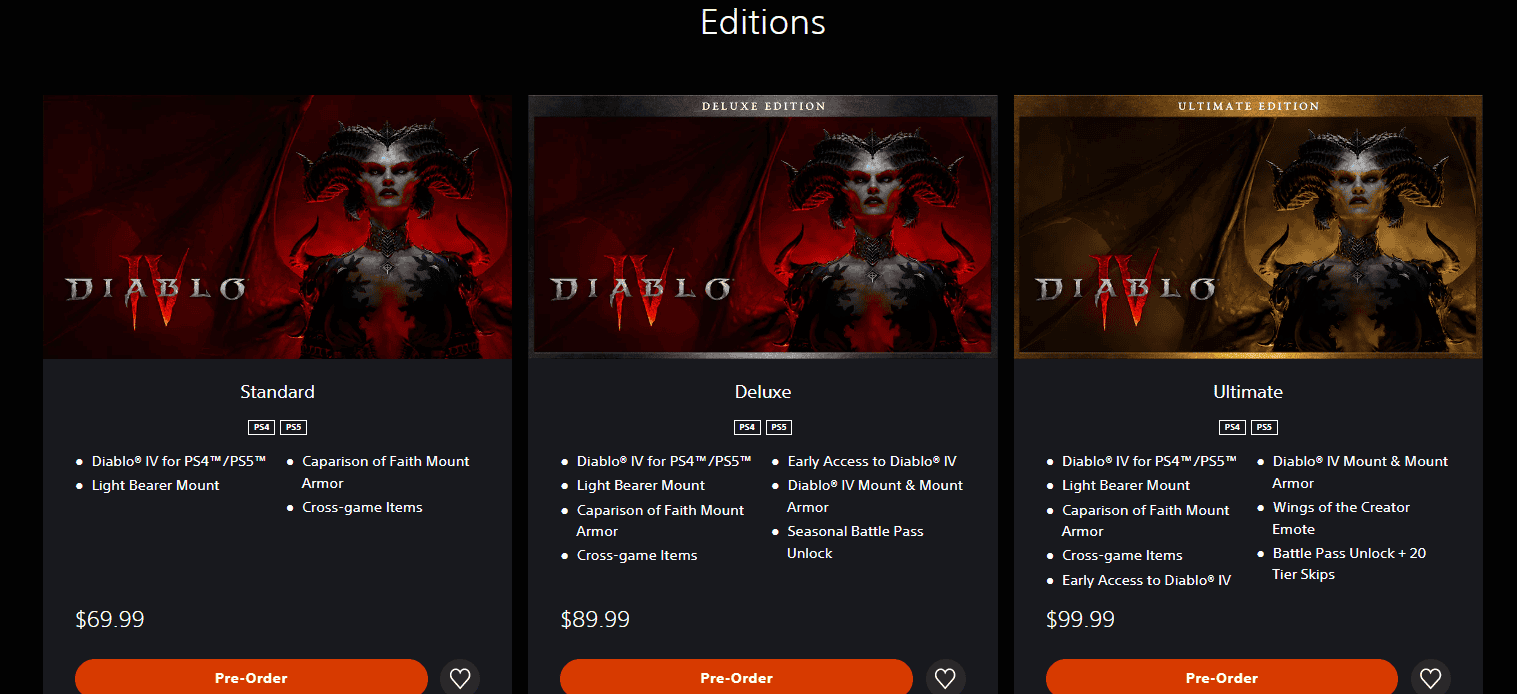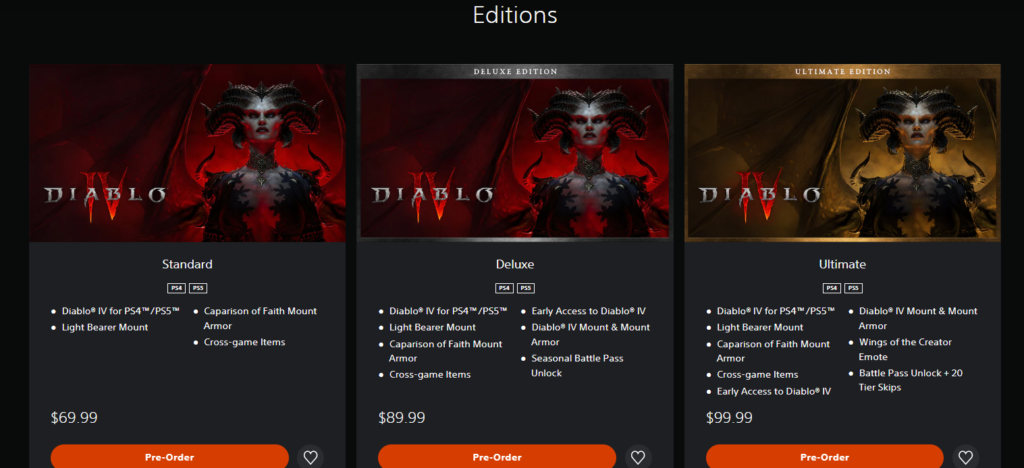 If you are planning to play Diablo 4 early access, then you must pre-order either the Deluxe or Ultimate edition of the game. It allows you to play before Diablo 4 June 6 launch. Check out Diablo 4 Price details for all the editions on the PSN store
The official early access dates for Diablo IV, are June 1st in the United States and June 2nd in Europe, across PlayStation, PC, and Xbox platforms. PC players will access the game through Battle.net.
Standard edition – £69.99/$69.99:
Light Bearer Mount in Diablo® IV
Cross-game Items
Access to cosmetic items such as
Inarius Wings & Inarius Murloc Pet in Diablo 3
Amalgam of Rage Mount in World of Warcraft
Umber Winged Darkness Cosmetics Set in Diablo Immortal
Deluxe edition – £89.99/$89.99 – available online on Microsoft and PlayStation Stores, or Battle.net for the PC platform.
Light Bearer Mount in Diablo® IV
Cross-game Items
Early Access to Diablo® IV
Diablo® IV Mount & Mount Armor
Seasonal Battle Pass Unlock
Access to cosmetic items including
Temptation Mount in Diablo 4
Hellborn Carapace Mount Armor in Diablo 4
Opting for the Deluxe Edition grants players access to the game's seasonal Battle Pass. Furthermore, players in the United States will be able to access the full game on June 1 at 4:00 p.m., which is four days earlier than its wider release. For players in Europe, the game unlocks on June 2 at 12:00 a.m., and for players in Asia, it unlocks at 8:00 a.m. on June 2.
Ultimate edition – £99.99/$99.99 – Can be ordered online from Battle.net, and the PlayStation or Microsoft Store
Light Bearer Mount in Diablo® IV
Cross-game Items
Early Access to Diablo® IV
Diablo® IV Mount & Mount Armor
Wings of the Creator Emote
Battle Pass Unlock + 20 Tier Skips
Pre-ordering Diablo IV will offer the benefit of preloading the game on all platforms before the official launch. Preloading allows players to download and install the game ahead of time, ensuring that they are ready to play as soon as the game becomes available. This can be particularly useful for players with slower internet connections or limited data caps, as it allows them to avoid delays on the launch day.
While preloading is a common practice for many games, it's always recommended to check the official pre-order details or announcements from the game's developers or publishers to confirm the availability of preloading and any specific instructions or requirements for each platform. This will ensure a smooth experience and help you make the most of your pre-order.
How much time it will take to reach the max level cap in Diablo IV?
According to Associate Game Director Joseph Piepiora, it is stated that reaching level 100, the game's max level cap, will take over 150 hours based on the average player experience. It seems there was some initial confusion as Piepiora mentioned both 80 and 150 hours in different interviews. However, he has now clarified that the longer duration of 150 hours is an estimate based on average player experience.
Regarding the report about a Diablo IV edition Xbox Series X console, it's important to note that leaks and rumors should be taken with caution until officially confirmed. While Twitter user billbil_kun has a track record of leaking information, it is always best to wait for official announcements from Microsoft or other official sources to verify the existence of a Diablo IV edition Xbox Series X console and its release alongside the game on June 6th, 2023.
However, without specific details or confirmation, it's important to treat this information as unofficial until officially announced by the game's developers or publishers.