Suppose you're looking for a hotel nearby, but then you notice a slew of hotel adverts on either side of your screen. This does not end there; you go on to surf your favourite social networking site, and the adverts follow you there as well. It might be helpful to some extent, but would you not consider it an invasion of privacy?

Hence, browsing the Internet can be a risky business nowadays, with malware, spyware and browser-based trackers. All of these lead to the invasion of users' privacy.

Luckily, Chrome users can fight back by using appropriate tools, called Extensions. You will find a bunch of add-ons meant to protect your online privacy, prevent malicious codes and block annoying ads to pop up on your display. In this article, we have made a list of the Best Security Extensions For Chrome to make your browsing bloatware free and protect your privacy.
In the meantime check out how to add these Chrome extensions to the browser!
How to Add Security Extensions for Chrome browser?
To install Google Chrome Extensions, you need to browse the Chrome Web Store. All the Best Security Extensions for Chrome can be accessed at the top-right corner of Chrome. One can open from the location, click on download and add directly to the web browser. For easy access to the installed security extension, one needs to click on the icon at the right-hand corner of Chrome browser.
What are the best Chrome extensions?
Check out the list of the top 5 Best Chrome Security Extensions below that have been picked by us
1. AdLock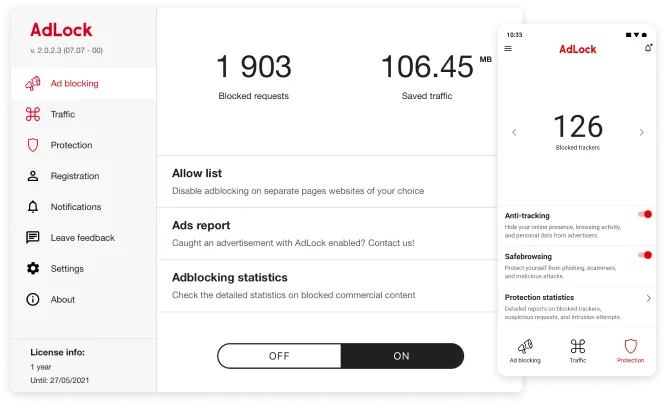 Build by cyber security experts, it creates AdLock for Chrome that works like glam! It is a standalone application, works system-wide and thus, blocks all those annoying pop-ups, banners and autoplay ads. However, the good thing is that it is not limited to the Chrome browser only.
It works on all browsers (Google Chrome, Opera, Mozilla Firefox, and Microsoft Edge) and on applications (uTorrent, Skype, KMPlayer, etc.) When you click on suspicious links, it verifies them in the blink of an eye and notifies you about the possibility of your device getting infected.

Availability: Windows, Chrome, Android, Mac, iOS
2. Avast Online Antivirus Chrome Extension
Avast Online Security is a well-known name in the list of antiviruses ever made. With its feature to protect your browsing data, it has made it to the list. It is one of the best security extensions available for Chrome.
If you misspell a website's URL and end up on an illegitimate site, do not worry because Avast has got your back! It automatically corrects it and protects you from landing elsewhere. Every website uses analytics to track down your cookies that follow the users' activity.

Availability: Windows, Chrome, Android, Mac, iOS
3. TeamPassword
There are several types of employees in corporate culture – some work on projects, while some are permanent. Regardless of their work period, companies want them to utilise every tool, application and service.

Accessing this information usually requires a login to keep the data safe and secure. Once the employee leaves a project, corporate firms no longer want them to have access to it due to security concerns. Here comes, TeamPassword with its ability the revoke the access in a single step. It also helps to recommend a stronger password.
Availability: Chrome
4. HTTPS Everywhere
A website with HTTPS certification ensures that a website is encrypted and safe to surf. This extension automatically switches the site's URL from unprotected HTTP to HTTPS. EFF and the Tor Project took the initiative to develop this extension.

Availability: Chrome
5. Windows Defender
Developed in the houses of Microsoft, Windows Defender is known for its real-time web protection from malicious websites and other suspicious activities. This extension protects you from phishing links as well.
When you click on one of those URLs, it starts an unwanted download to your device without your permission. These downloads can occasionally include highly dangerous malware and have the potential to damage your device.
When a user clicks on such an unprotected external link, the defender displays a red warning screen. It is an extremely useful extension to help you to protect yourself from these things.
Availability: Chrome
Share with us your practical experiences on the security extension for Chrome you opted for.