Battlefield Mobile, after spending an era in PC and Console gaming, the most beloved battlefield series is getting to your mobile phones sooner than expected. Earlier this month, the developers revealed that the game would soon step onto the beta testing phase. As of now playtests have been already going on and some Battlefield Mobile leaks around gaming action have made their way online.
If you've been a Battlefield fan and played on desktop or console, the mere thought of experiencing it on mobile devices would be sheer ecstasy. So far the Battlefield Mobile leaks look pretty promising.
Battlefield Mobile Leaks
These leaks made their way from the Reddit user u/TooFlu2, who shared a few clips on the Reddit thread r/battlefield_mobile. Even though these short videos are of low quality, they manage to convey the action and overall aesthetics of Battlefield Mobile.
These leaks are from the alpha-test that went live for a short period in the Southeast Asian (SEA) region. Since they come from the alpha build, a lot of things can change down the line. Though from all we have right now, Battlefield Mobile brings back the aesthetics of EA's most popular title, Battlefield 3.
Though the title looks very similar to their previous titles on PC and Consoles with the infantry, vehicles and destructible objects, it's expected that some unique enjoyable features will be added to it.
Loadout/Maps/Game-Modes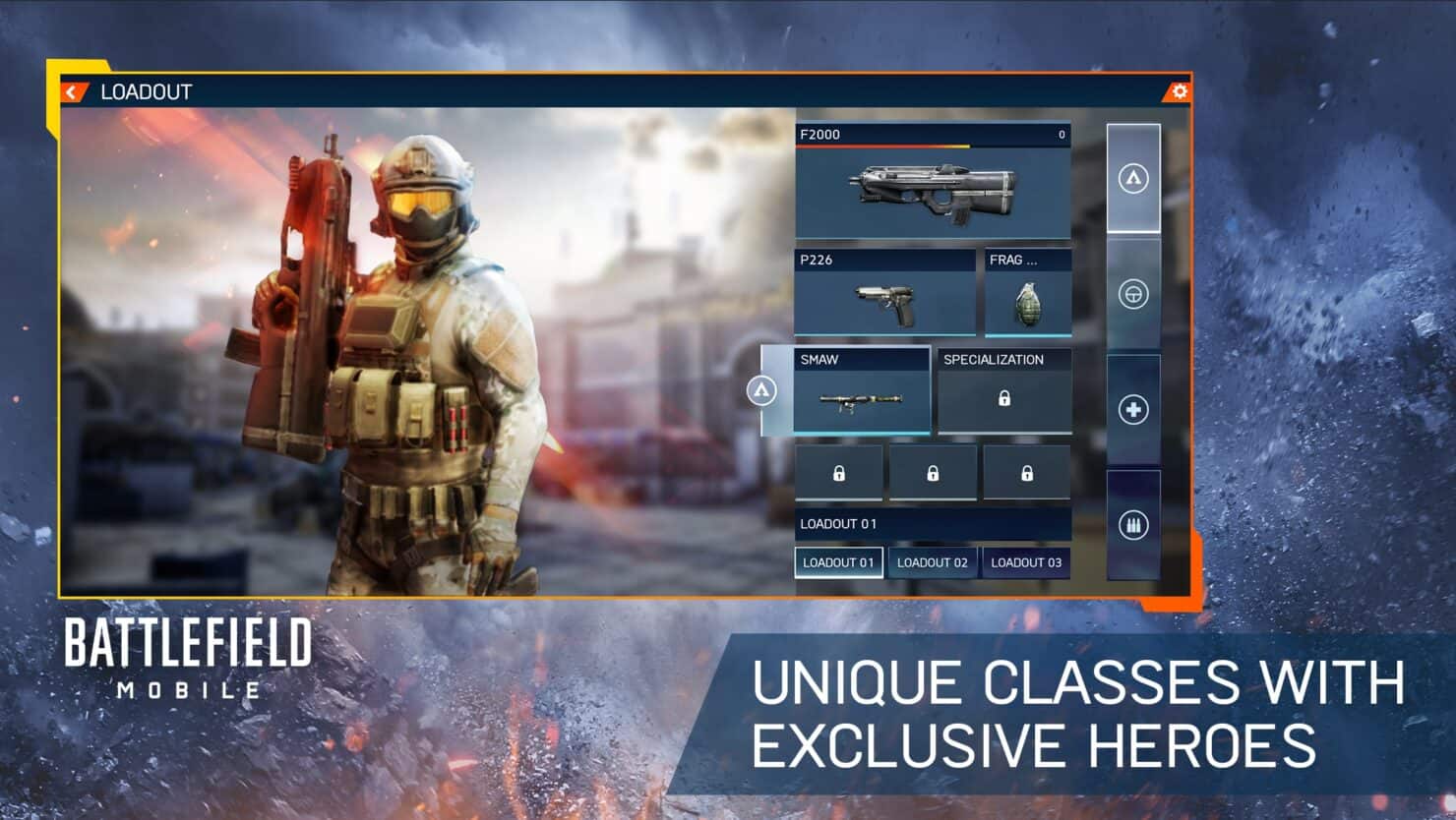 The leaked clips show the map "Grand Bazaar" while also showing off the vehicle gameplay in action along with large-scale destruction that gives off the Battlefield 3 vibe.
While the load-out includes a wide variety of weapons including assault rifles, SMG's, LMG's and Sniper Rifles and the most interesting part here is they've also indulged in some abilities and special gadgets that players can use to their advantage.
Data miners also found traces of Game-modes like "Rush" and "Frontline" that might be added in future builds. Below is the complete list of Weapons & Gadgets that will be making their way onto Battlefield Mobile.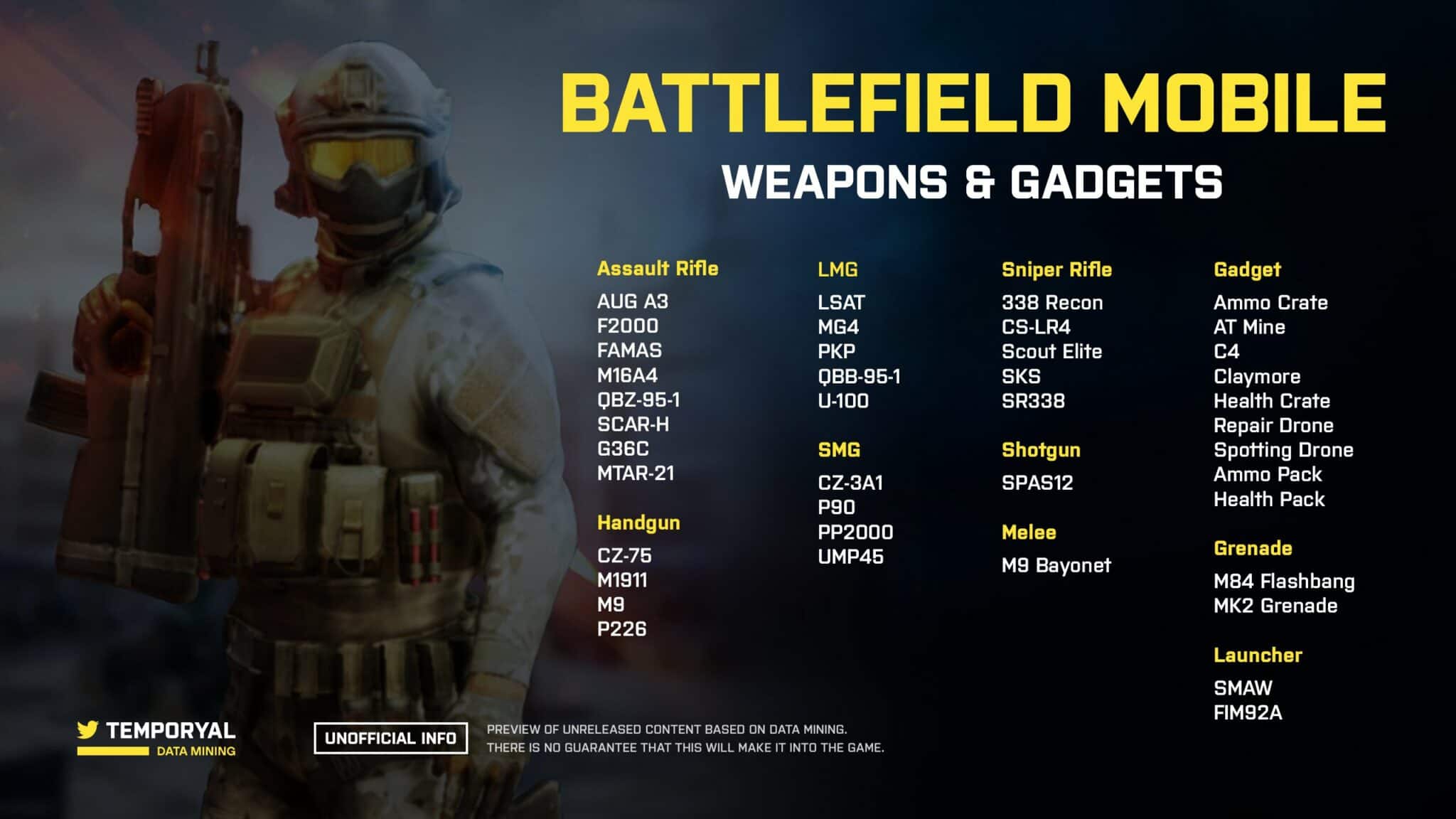 Battlefield Mobile alpha build can be seen to have retained the respawn mechanics. Secondly, the three loadout systems that the Battlefield players were already a fan of, exists in this build.
Though the leaks make it looks like the game is slightly sloppy, and the UI/UX doesn't seem that fluid. But that's all because it's currently the alpha build that was being tested in the above clips. We can expect a polished build with a crispier UI for the final edition.
Battlefield Mobile Release Date
EA & DICE haven't announced an official release date as yet, but it's scheduled to launch somewhere in 2022. It will be launched as a free-to-play title with in-game cosmetics that will be available to purchase.
"Developing a completely new Battlefield game bringing all-out warfare to smartphones and tablets in 2022." — Said DICE in an official press release.
EA Studios and DICE have done brilliant work on their titles and reigned on PC and Consoles for a while now, it's about time they step up in the mobile gaming industry. And with Battlefield Mobile, they have done exactly that.
Click here to stay updated about everything happening in the mobile gaming industry.