The new age of digital photography and videography has revolutionized the way people capture moments. With the popularity of the Internet, people are much more willing to share their videos on social media platforms such as YouTube, TikTok, etc. But people often face the problem to blur out faces and objects that are moving around in the frame. This is especially essential when you're shooting in public spaces or when you're using footage containing people, objects, or brands that need to be kept private or confidential. How do you usually handle this problem? Manually blur them frame by frame with video editors? That is really a big, time-consuming project.
Fortunately, there is now a great solution to this problem: auto face blur apps. These applications are designed to automatically detect and blur out faces and objects in videos, making it easier and faster to produce professional-looking videos. In this article, let's take a look at the best auto face blur app and how to use it to quickly blur multiple moving faces or objects in the video.
Necessities of Blurring Face or Objects
Blurring faces or objects is an important part of maintaining privacy and security. In videos that contain personal information such as a person's face or license plate number, blurring the data can ensure that the information remains confidential.
This is especially true when it comes to videos featuring vulnerable populations like children or victims of crimes. Blurring sensitive information also helps protect the identity of people featured in the video, ensuring their safety and privacy.
Additionally, blurring certain elements of a video can help prevent companies from being exposed to potential legal liability if they happen to use images without permission.
What is an Auto Face Blur App?
An auto face blur app, also known as a video face blurring app, is a software program designed to automatically blur faces, objects, and other elements in a video. It is used to protect an individual's identity or privacy, or to avoid copyright issues. The app can detect faces and objects in the video, and then blur them out automatically, meaning that you don't have to manually blur each face or object, which makes the process much faster and easier.
Best Auto Face Blur App to Automatically Blur Multiple Moving Faces or Objects
If you are seeking a high-grade auto-face app that offers accuracy and flexibility, then AVCLabs Video Blur AI is the way to go. This AI-driven video blurring app provides a kind of distinct possibilities for videos: blurring the background, foreground, faces, and any other objects like logos, license plates, credit card numbers, etc. It will automatically blur moving or still faces out by using the combination of advanced computer algorithms, deep-learning, and motion tracking technology, and leaves users without any complicated editing. AVCLabs Video Blur AI gives its users many different blurring choices and diverse subscription packages to offer users the best experience possible.
How to Blur Multiple Moving Faces or Objects with AVCLabs Video Blur AI
Step 1: Install and Run AVCLabs Video Blur AI
First, download and launch the AVCLabs Video Blur AI. Then click the menu button to access Settings. In this area, users can decide the global output format and output path. Additionally, users can choose the processor they wish to use for the video, such as their CPU or GPU. If they have multiple graphics cards, they can decide which one to use here.
Step 2: Add the Video
Tap on the Browse button to import the video file. You can also drag and drop the source video into the program directly.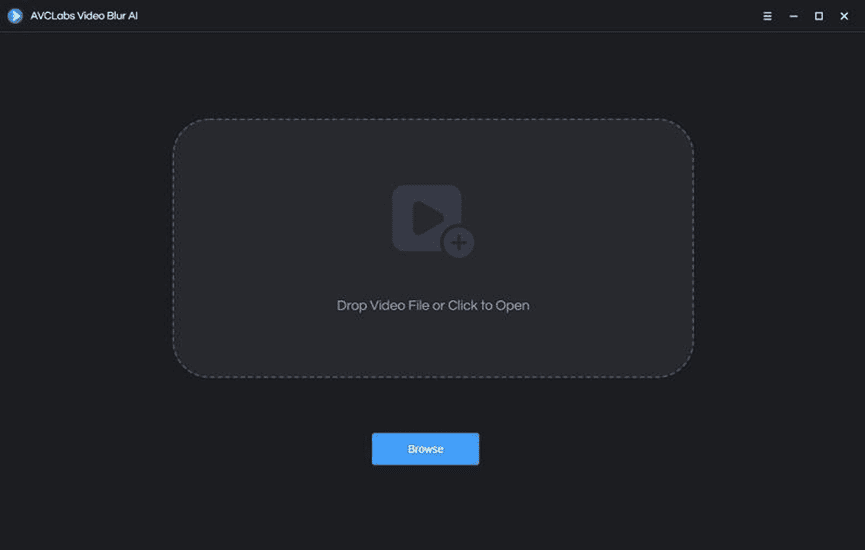 Step 3: Add Blur Tasks
As you can see, there are three types of blur, namely, Face Blur, Custom Blur, and BG Blur.
Blur Moving or Still Faces in the Video
The All Faces option allows you to automatically blur every face scanned. All you need to do are choosing a Blur Type and set the Start Frame and End Frame, then click Add Face Blur Task.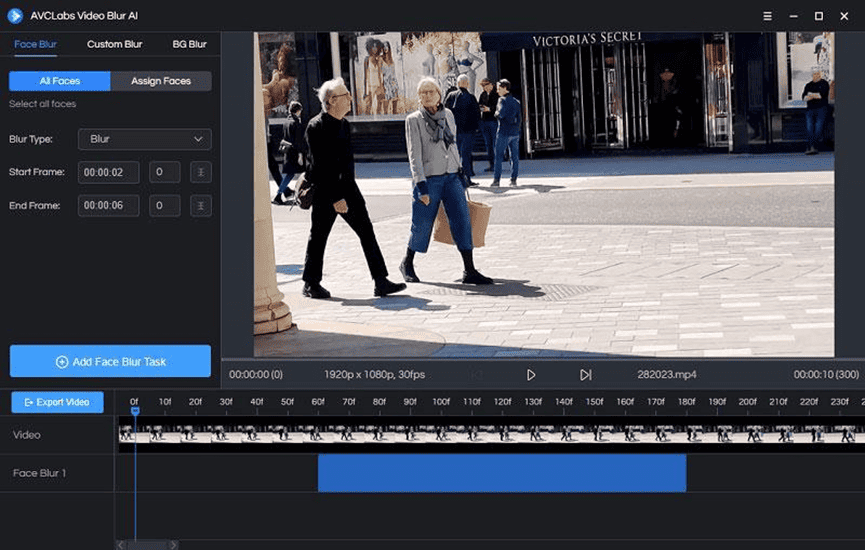 The Assign Face option always starts with scanning the video. The Quick Scan will extract one frame from every frame you set for scanning. The default frame interval is 10. While the Full Scan will scan each frame with high accuracy but is time-consuming. On completion of the scanning procedure, all the scanned faces are displayed in the bottom panel. This will help you to pick and choose to blur face(s) you did select or blur face(s) you did not select. Then choose a blur type. Here, you don't have to set the start and end frame anymore. Finally, click Add Face Blur Task.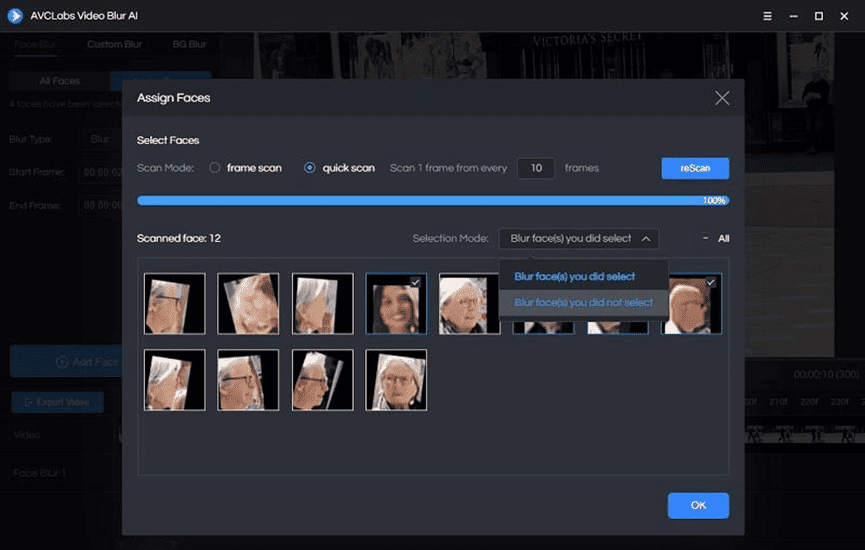 Blur Targeted Objects in the Video
To blur objects, areas, or a particular part of a video, you should switch to Custom Blur. Tick off the rectangle or the circle box, and the corresponding boxes will appear in the video. Resize it by clicking left so as to drag the position of the box. Then choose the blur type, set the frame, and Add Custom Blur Task.
Blur Background or Foreground
The procedure for this function is the same as the two above, simply choose whether to blur the background or foreground and then select the blur type, set the starting frame, and then add the task.
Step 4: Export the Video
Before starting processing, you can also right-click the task in the timeline to delete, edit or crop it. After all the parameters are set well, click the Export Video button to start blurring faces and objects.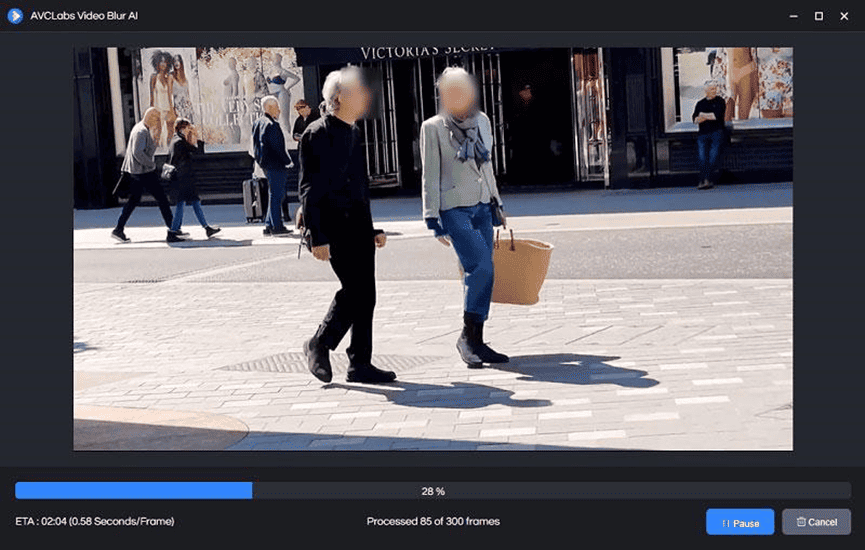 Final Words
An auto face blur app can be a great tool for blurring out faces and objects in videos. It makes it possible to produce professional-looking videos in a fraction of the time, and can also blur out logos and other sensitive information. The best auto face blur app for your needs is AVCLabs Video Blur AI. This app uses advanced facial recognition technology to identify faces in the video and then applies a blur effect to the area automatically. Download and try AVCLabs Video Blur AI to see how it can make your video editing process easier and faster.