Here comes the announcement of Attack on Titan Season 4 Part 2 Episode 17 (Overall Episode 76) official release date. The revelation of the premiere date came at the conclusion of a concert held to commemorate the music of the iconic anime. The event was live-streamed and is now available on-demand.
Also read: Gravity Falls Season 3
The announcement came on the Twitter handle as well. It informed the fans that "Attack on Titan The Final Season" Episode 76 titled "Condemnation" will drop in January 2022.
Before the new episode 76 airs, there will be a special compilation that looks back on the past episodes of the series. It will also cover original animation (OAD) that retraces the events from the perspective of Levi, Annie, Mikasa, and others!
The tweet reads:
"Attack on Titan The Final Season" Episode 76 "Condemnation" Broadcast on NHK General TV in January 2022! Before the new broadcast, a special omnibus that looks back on the advance will also be broadcast as an original animation (OAD) that is talked about from the perspectives of Levi, Ani, Mikasa, etc.!"
Earlier the producers of the anime had given a more generic release window "winter season 2022".
Attack on Titan Season 4 Episode 17 Release Date
Attack on Titan Season 4 will resume with its Episode 17 broadcast on NHK General TV on 9th January 2022. Titled "Danzai", it has fans assuming to take on from the events that occurred towards the end of the AOT Season 4 Episode 16.
Assuming that the series will stick to its earlier programming block in Japan, Episode 76 is likely to launch onto streaming platforms Crunchyroll, Funimation, and Hulu on Sunday. For more on AOT Season 4 English Dub, check here.
It has been confirmed that Shingeki no Kyojin Final Season Episode 17 English Subs will drop in on Sunday, 9th January 2022 for premium subscribers on all the 3 platforms. This is for the global audience. However, in Japan, it will stream on Monday, 10th January 2022 (at 12:10 am(JST) Monday in Japan on NHK General TV).
On October 13th, the official Twitter account surprised AOT fans with a new PV carrying the message of its premiere date. It has scenes of several unseen clips of various giants such as Ellen giant and a bloody battle between Eren and Armored Titan. Interestingly, injured Levi can also be spotted in the new trailer.
Check it out below
The 34-second long PV relays a message that the Attack on Titan Season 4 Part 2 Episode 1 will release on Sunday, January 9th, 2022 globally. The AOT final Season Part 2 will arrive on January 10, 2022, at 00:05 in the Japanese time zone.
Interestingly, it has also been announced that an OAD episode will air in Japan before Episode 17 premieres.
The excitement has been shared with the fans by Hajime Isayama, via Twitter.
"I'm really looking forward to the start of the second final season. Even in the original, it was a really difficult drawing and I am very sorry that MAPPA will have a hard time again for many scenes…but the difficult scenes I'm looking forward to the most. I hope that people who see it for the first time in anime will also enjoy it."
But
Where can I watch Attack on Titan Season 4 Episode 17?
In the 3rd week of November, Crunchyroll announced its exclusive deal to stream all the episodes of Attack on Titan Final Season Part 2 starting January 9, 2022. It will be a simulcast version with subtitles in eight languages ​​and streamed across more than 200 countries including Brazil and Portugal. The series can also be watched worldwide on the Funimation and Hulu platforms.
Unexpectedly, Crunchyroll crashed a few minutes after Episode 17 premiered and had to go through an unexpected shutdown. It has set a serious precedent by delaying one of the most anticipated series of the winter season 2022.
Fortunately, after a couple of hours, the streaming platform got functional.
When can I stream Shingeki no Kyojin Final Season Episode 17?
Shingeki no Kyojin final season will be available for premium subscribers on all the 3 platforms Crunchyroll, Funimation, and Hulu. However, if you don't have a plan on any of these platforms, you can watch for free. The episodes are free to watch on these platforms a week later, i.e. on Sunday, 16th January, or Monday, 17th January. The exact date and time will depend on the geographical location.
AOT Season 4 Episode 17, "Condemnation" will air at 12:10 am(JST) in Japan on NHK General TV on Monday, 10th January 2022.
Read on to find when you can watch Shingeki no Kyojin Final Season Episode 17 in your region on Crunchyroll and Funimation in Japanese with English sub!
Pacific Standard time – 12:45 PM PST Sunday, 9th January 2022 (America)
---
Central Standard time – 2:45 PM CST Sunday, 9th January 2022 (America)
---
Eastern Standard time – 3:45 PM EST Sunday, 9th January 2022 (America)
---
British Time- 7:45 PM GMT Sunday, 9th January 2022 (UK)
---
Central European Time- 8:45 PM CET Sunday, 9th January 2022 (Europe)
---
Indian Standard Time- 2 AM IST Monday, 9th January 2022 (India)
---
Philippine Time- 3:45 AM PHT Monday, 9th January 2022 (Philippines)
---
Korea Time- 4:45 AM KST Monday, 9th January 2022 (Korea)
---
Australia Time- 6:15 AM ADHT Monday, 9th January 2022 (Australia)
---
New Zealand Time- 8:45 AM NZDT Monday, 9th January 2022 (New Zealand)
---
Attack on Titan Season 4 Part 2 Trailer
Attack on Titan Season 4 Part 2 countdown has begun. We will soon be witness to bringing an end to a ten-year cycle. We are in the middle of an inevitable war. The final attack by humans against the bearers of the powers of the giants residing in Paradis has begun and there is nothing left that can stop.
Another teaser of AOT finale has been uploaded to the Pony Canyon channel. It is of 90 seconds involving a lot of action. Can see Eren, Mikasa, Armin, Zeke, Reiner, Hange, Levi and many others, all involved in a one way or another in the fury of battle.
Just prior to the premiere of Episode 17, a tweet from @animehypeYT leaked the opening song of AOT Season 4 Part 2. The opening track in question is titled " The Rumbling " by the band SiM.
Attack On Titan Final Season Part 2 Episodes
Now we have confirmation of the AOT Final season schedule. However, there is no official update on the episode count. The Manga creator Hajime Isayama released the final Attack On Titan Chapter 139 on April 9, 2021, almost 2 weeks after AOT Part 1 ended. The Attack On Titan Volume 34 was released on June 9, 2021, and carried the pending 2% of the final chapter.
AOT Final season Part 2 now needs to adapt 23 chapters with zero episodes to be left. Previously, Attack on Titan Final Season Part 1 covered 26 chapters of the manga in 16 episodes. Based on the adaptation rate and the number of chapters left it was speculated that the finale should be 12-14 episodes, so it should be pretty big.
While the ending will definitely be divisive, the first few episodes and whatever episodes adapt chapters 130-132 and 134 will be absolutely fantastic by MAPPA. Trusting MAPPA's capabilities, fans feel that it will not go for 12 episodes as it'll be rushed. The 12-14 episodes schedule sounds to be perfect with a lot of action-heavy material in there.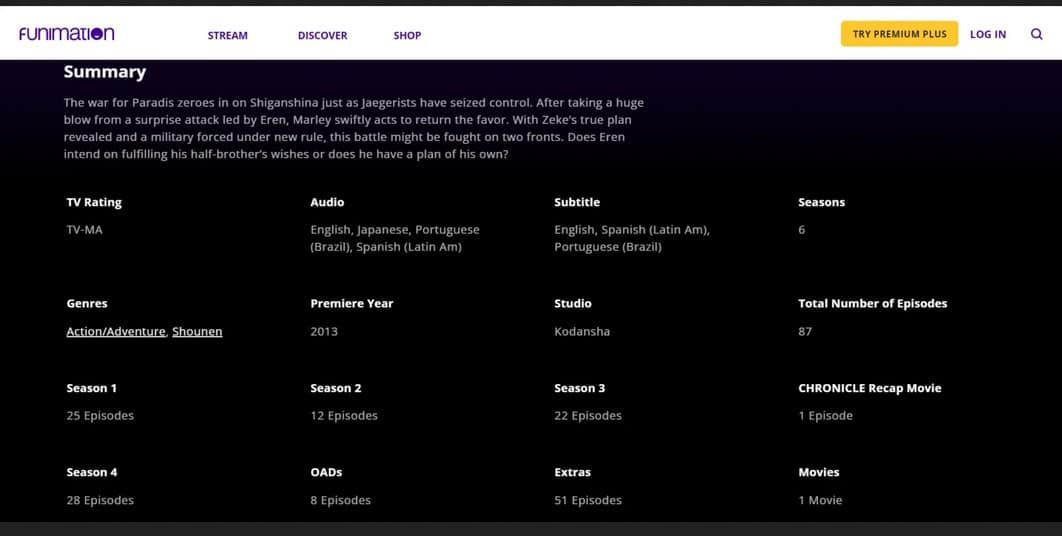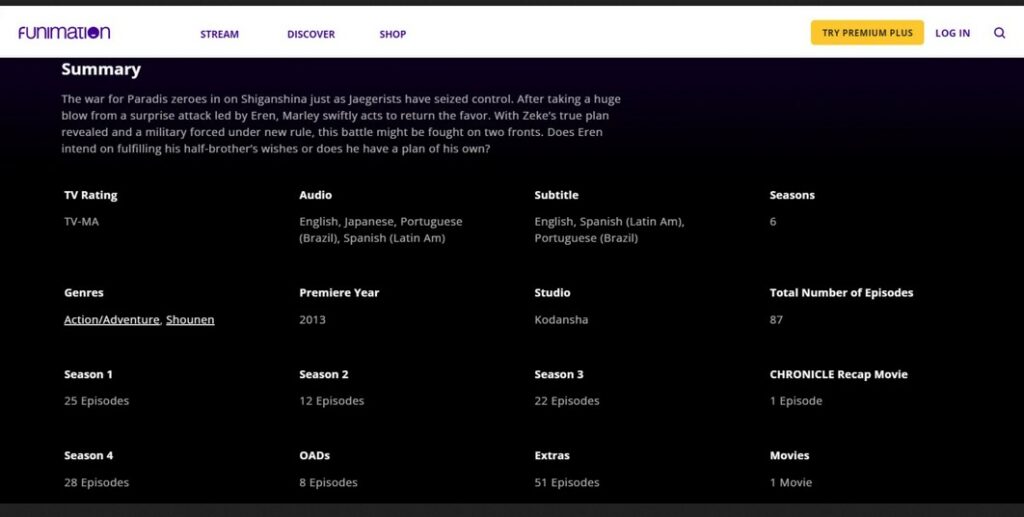 AOT Final Season Part 2 has been listed for 12 episodes on Funimation's official website. One can see in total 28 episodes for Attack on Titan Season 4. It leaves us with the 2nd part to be of 12 episodes.
On the basis of these calculations, AOT Part 2 will get started from Episode 76 in January and is likely to stretch up to late April 2022.
Attack on Titan Season 4 Episode 17 Spoilers
AOT final season part 2 is finally approaching the climax of the storyline. Eren will carry from where he left in Episode 16. Erne will be in shock when Pieck points her fingers to him at the location of the infiltrators in the town. The action drama will unfold with Jaw Titan making an appearance out of nowhere ripping apart Eren's legs. The battle has been kicked off, a fierce one with Pieck, Gabi and the others are out to seek retaliation for the incidents in Liberio.
AOT Anime has become a worldwide phenomenon over the last few years. The finale will see the lines between friend and foes becoming increasingly blurred. The Paradis War will break out in Shiganshina. The rest of the episodes will see the true purpose of the minds behind the conflict as the battle progresses.
Synopsis on Funimation's site reads:
The war for Paradis zeroes in on Shiganshina just as Jaegerists have seized control. After taking a huge blow from a surprise attack led by Eren, Marley swiftly acts to return the favor. With Zeke's true plan revealed and a military forced under new rule, this battle might be fought on two fronts. Does Eren intend on fulfilling his half-brother's wishes or does he have a plan of his own?
Source: Funimation
Does Eren Yeager die in the final season of AOT?
Eren Yeager anime character is seen to risk his life for the sake of what is dear to him, no matter what choices he makes. AOT Season Part 1 took us through how Eren chose to trust Pieck who later betrayed him by luring him to the exact spot where Liberio wanted him. Eren decimated the majority of Marley's men. But he was left on his own to defend himself against Marley's army led by Magath. With enemies inside and out, he had to fight battles to decide the future of Paradise and they become intense over time. Eren gets flashbacks of memories with his past getting crystal clear.
Eren's desire for freedom and to save his home led him to commit a massacre against the rest of mankind. Due to this strategy, he made the entire world his enemy and paved the way for his inevitable death.
How does Eren die? Who kills him and why?
Mikasa becomes the reason behind Eren's death. Mikasa, Armin, and Levi, along with other soldiers, confront Eren and the Source of All Matter in combat. With one final blow, Mikasa separates Eren's head from his spine. Earlier also Eren had escaped death. It had been possible for members of the Titan race to heal themselves quickly after such threats and attacked. But the attack deadly work from Mikasa works this time around as the final chapter of the manga confirms his death. Mikasa chops off Eren's head and kisses it before bidding goodbye.
Attack on Titan Season 4 Episode 17 Cast
The cast of "Attack on Titan," aka "Shingeki no Kyojin" is in the hands of Studio MAPPA. It will retain its voice cast of Attack on Season 4 Part 1. Reiterating their names here:
Yuuki Kaji as Eren Jaeger,
Yui Ishikawa as Mikasa Ackermann,
Yoshimasa Hosoya as Reiner Braun,
Takehito Koyasu as Zeke,
Marina Inoue as Armin Arlelt,
Eiji Hanawa as Niccolo,
Ayane Sakura as Gabi Braun,
Hiro Shimono as Conny Springer,
Hiroshi Kamiya as Levi,
Jiro Saito as Theo Magath,
Kazuhiko Inoue as Willy Tybur,
Yūmi Kawashima as Zofia,
Yu Kobayashi as Sasha Blouse,
Romi Park as Hange Zoe,
Natsuki Hanae as Falco Grice,
Kouji Hiwatari as Onyankopon,
Masahiko Tanaka as Dot Pyxis,
Toshiki Masuda as Porco Galliard and
Shiori Mikami as Historia Reiss.
The "Final Season" Part 2 will retain its director Yuichiro Hayashi, character designer Tomohiro Kishi, animation director Daisuke Ninuma and art director Kazuo Sawano. Finally, leaving to the fans with an imposing Key Visual of Part 2 released during the MAP Stage 2021.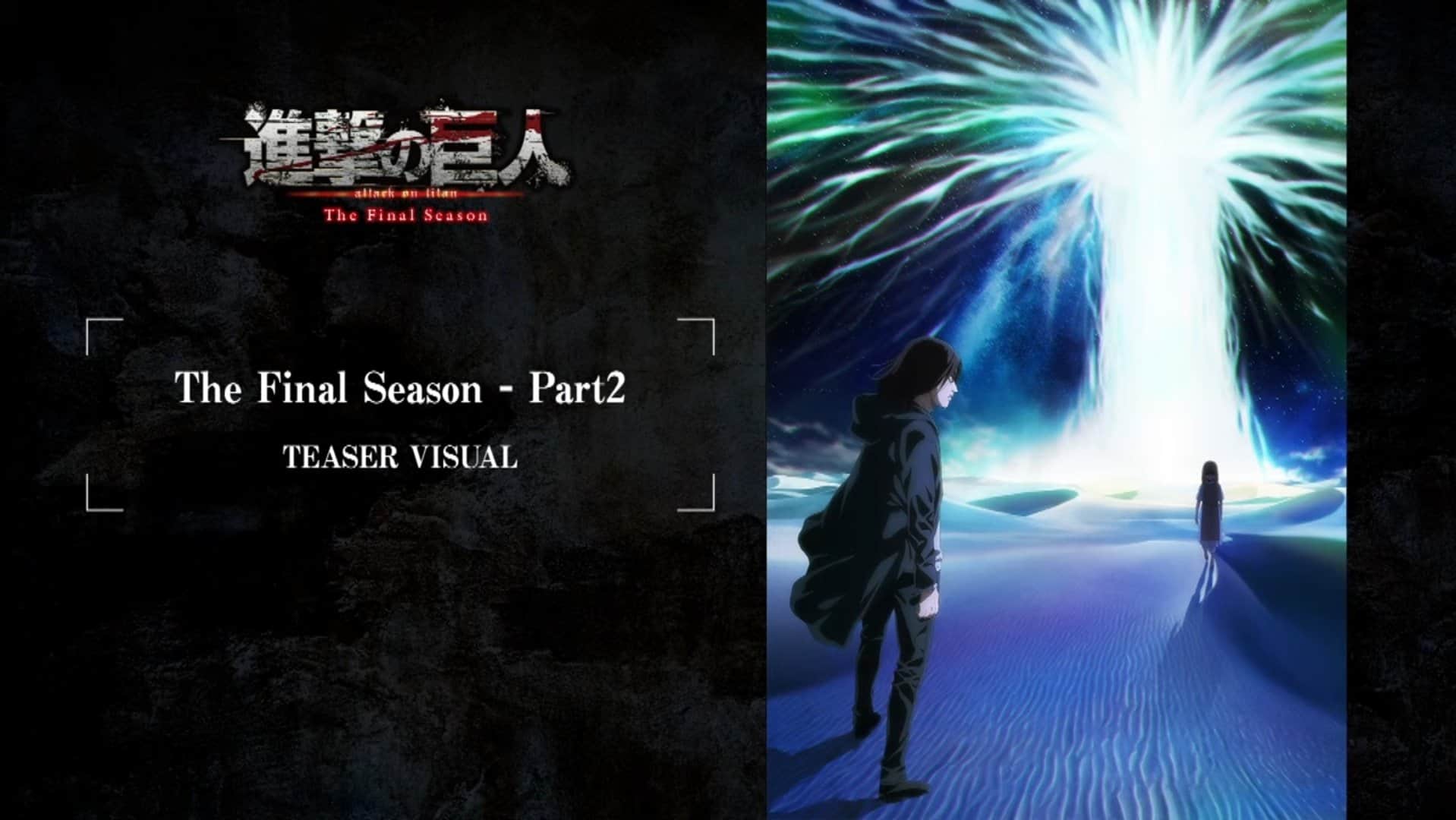 Will AOT come to an end with Season 4 Part 2?
No, it will not! The editor of Hajime Isayama's Attack on Titan manga talked about the future of the AOT franchise.
He said "Thank you for the TV animation of "Attack on Titan" that does not reduce our enjoyment (and work) even after the serialization is over! In addition to the anime, we have started meetings for years to come, so please look forward to it!
Attack on Titan anime is based on the manga by the same name illustrated by Hajime Isayama. It made its debut with Season 1 in Japan back in 2013 and is now into its 8th year of running. It revolves around a society that lives behind great walls, erected to protect it from the grotesque giants known as the Titans. In the series, the lives of Eren Jaeger and his friends are changed forever when an attack by the Titans takes humanity to the brink of extinction. Season 4, set four years after the end of season 3, expands the anime universe and culminates in a historic battle that will determine humanity's future once and for all. Even though 4 Seasons have come out but the ecstasy of the final cour refuses to die.
For many of us, AoT manga and anime has been a huge part of life. Many of us would have started manga with it but never expected it to get an anime let alone a great adaptation that will make it mainstream. So whether the ending sucks or not, it will be great to see something that started a decade ago gets concluded.
Share with us your excitement and fan-made spoilers for the "Attack on Titan The Final Season" Episode 17 "Condemnation".