Here comes the announcement of Attack on Titan Season 4 Part 2 Episode 17 (Overall Episode 76) official release date. The revelation of the premiere date came at the conclusion of a concert held to commemorate the music of the iconic anime. The event was live-streamed and is now available on-demand.
The announcement came on the Twitter handle as well. It informed the fans that "Attack on Titan The Final Season" Episode 76 titled "Condemnation" will drop in January 2022.
Before the new episode 76 airs, there will be a special compilation that looks back on the past episodes of the series. It will also cover original animation (OAD) that retraces the events from the perspective of Levi, Annie, Mikasa, and others!
The tweet reads:
"Attack on Titan The Final Season" Episode 76 "Condemnation" Broadcast on NHK General TV in January 2022! Before the new broadcast, a special omnibus that looks back on the advance will also be broadcast as an original animation (OAD) that is talked about from the perspectives of Levi, Ani, Mikasa, etc.!"
Earlier the producers of the anime had given a more generic release window "winter season 2022".
Attack on Titan Season 4 Episode 17 Release Date
Attack on Titan Season 4 will resume with its Episode 17 broadcast on NHK General TV in January 2022. Titled "Danzai", it has fans assuming to take on from the events that occurred towards the end of the AOT Season 4 Episode 16.
Assuming that the series will stick to its earlier programming block in Japan (at 12:10 am(JST) Monday in Japan on NHK General TV), Episode 76 is likely to launch onto streaming platforms Crunchyroll, Funimation, and Hulu on Sunday. For more on AOT Season 4 English Dub, check here.
Speculations say that Shingeki no Kyojin Final Season Episode 17 English Subs is likely to drop in on Sunday, January 9th or Sunday, January 16th, 2022 for premium subscribers on all the 3 platforms. And they are correct.
Today on October 13th, the official Twitter account surprised AOT fans with a new PV carrying the message of its premiere date. It has scenes of several unseen clips of various giants such as Ellen giant and a bloody battle between Eren and Armored Titan. Interestingly, injured Levi can also be spotted in the new trailer.
Check it out below
The 34-second long PV relays a message that the Attack on Titan Season 4 Part 2 Episode 1 will release on Sunday, January 9th, 2022 globally. The Attack of the Giants 4 Part 2 will arrive on January 10, 2022, at 00:05 in the Japanese time zone.
The release time of the episodes has not been confirmed yet on streaming platforms Funimation and Crunchyroll. However, it is assumed that the series will be broadcast in the same programming block at 12:45 PM PDT.
Interestingly, it has also been announced that an OAD episode will air in Japan before Episode 17 premieres.
The excitement has been shared with the fans by Hajime Isayama, via Twitter.
"I'm really looking forward to the start of the second final season. Even in the original, it was a really difficult drawing and I am very sorry that MAPPA will have a hard time again for many scenes…but the difficult scenes I'm looking forward to the most. I hope that people who see it for the first time in anime will also enjoy it."
Attack on Titan Season 4 Part 2 Official Trailer
Attack On Titan Final Season Part 2 Episodes
Now we have confirmation of the AOT Final season schedule. However, there is no official update on the episode count. The Manga creator Hajime Isayama released the final Attack On Titan Chapter 139 on April 9, 2021, almost 2 weeks after AOT Part 1 ended. The Attack On Titan Volume 34 was released on June 9, 2021, and carried the pending 2% of the final chapter.
AOT Final season Part 2 now needs to adapt 23 chapters with zero episodes to be left. Previously, Attack on Titan Final Season Part 1 covered 26 chapters of the manga in 16 episodes. Based on the adaptation rate and the number of chapters left it is speculated that the finale should be 12-14 episodes, so it should be pretty big.
While the ending will definitely be divisive, the first few episodes and whatever episodes adapt chapters 130-132 and 134 will be absolutely fantastic by MAPPA. Trusting MAPPA's capabilities, fans feel that it will not go for 12 episodes as it'll be rushed. The 12-14 episodes schedule sounds to be perfect with a lot of action-heavy material in there.
On the basis of these calculations, AOT Part 2 will get started from Episode 76 in January and is likely to stretch up to late April 2022.
Attack on Titan Season 4 Episode 17 Spoilers
AOT is finally approaching the climax of the storyline. Eren will carry from where he left in Episode 16. Erne will be in shock when Pieck points her fingers to him at the location of the infiltrators in the town. The action drama will unfold with Jaw Titan making an appearance out of nowhere ripping apart Eren's legs. The battle has been kicked off, a fierce one with Pieck, Gabi and the others are out to seek retaliation for the incidents in Liberio.
Attack on Titan Season 4 Episode 17 Cast
The cast of "Attack on Titan," aka "Shingeki no Kyojin" is in the hands of Studio MAPPA. It will retain its voice cast of Attack on Season 4 Part 1. Reiterating their names here:
Yuuki Kaji as Eren Jaeger,
Yui Ishikawa as Mikasa Ackermann,
Yoshimasa Hosoya as Reiner Braun,
Takehito Koyasu as Zeke,
Marina Inoue as Armin Arlelt,
Eiji Hanawa as Niccolo,
Ayane Sakura as Gabi Braun,
Hiro Shimono as Conny Springer,
Hiroshi Kamiya as Levi,
Jiro Saito as Theo Magath,
Kazuhiko Inoue as Willy Tybur,
Yūmi Kawashima as Zofia,
Yu Kobayashi as Sasha Blouse,
Romi Park as Hange Zoe,
Natsuki Hanae as Falco Grice,
Kouji Hiwatari as Onyankopon,
Masahiko Tanaka as Dot Pyxis,
Toshiki Masuda as Porco Galliard and
Shiori Mikami as Historia Reiss.
The "Final Season" Part 2 will retain its director Yuichiro Hayashi, character designer Tomohiro Kishi, animation director Daisuke Ninuma and art director Kazuo Sawano. Finally, leaving to the fans with an imposing Key Visual of Part 2 released during the MAP Stage 2021.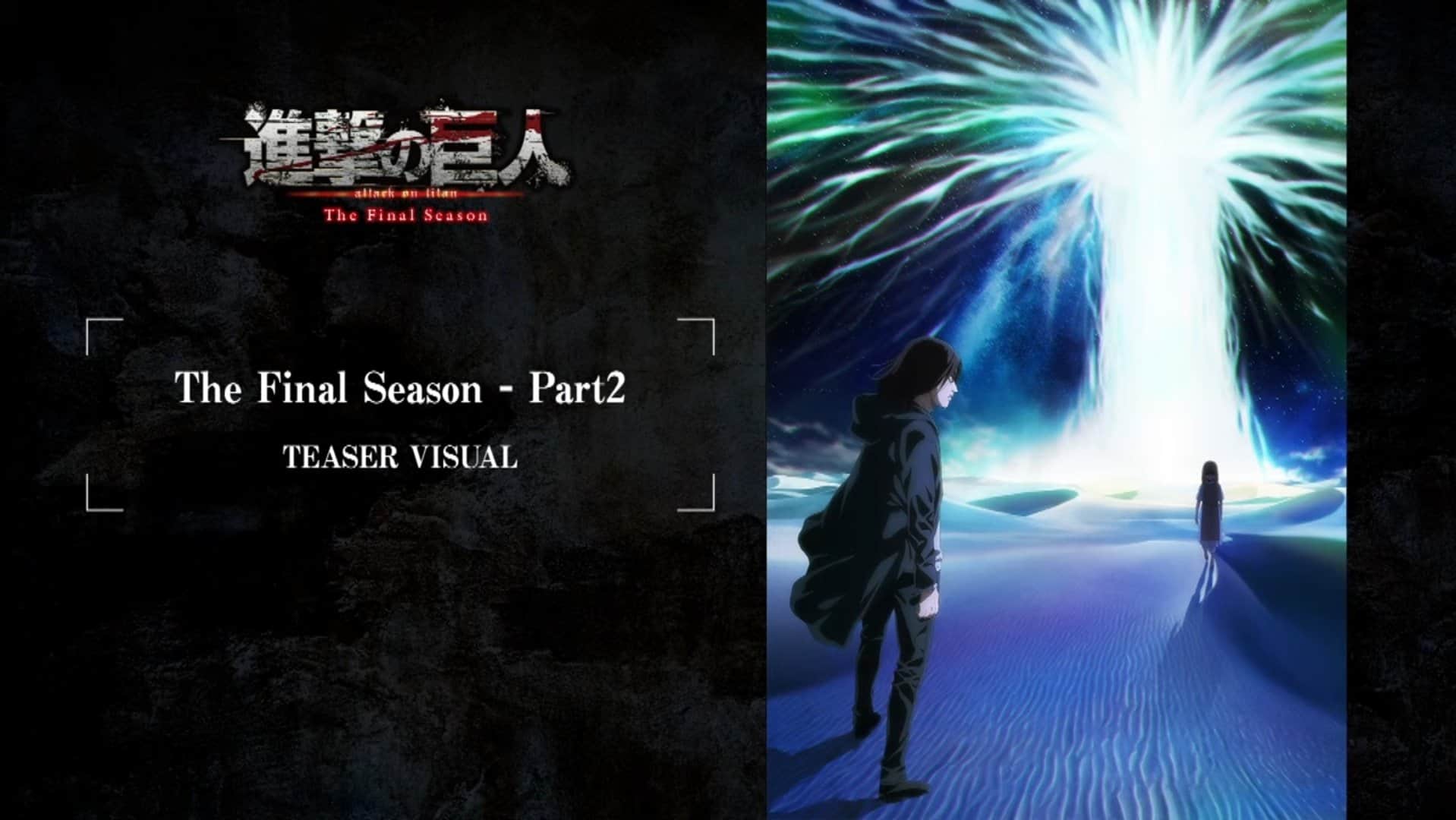 Attack on Titan anime is based on the manga by the same name illustrated by Hajime Isayama. It made its debut with Season 1 in Japan back in 2013 and is now into its 8th year of running. It has come out with 4 Seasons but the ecstasy of the final cour refuses to die.
For many of us, AoT manga and anime has been a huge part of life. Many of us would have started manga with it but never expected it to get an anime let alone a great adaptation that will make it mainstream. So whether the ending sucks or not, it will be great to see something that started a decade ago gets concluded.
Share with us your excitement and fan-made spoilers for the "Attack on Titan The Final Season" Episode 17 "Condemnation".