On Saturday, Apple Inc's TV platform experienced an outage in the United States and other parts of the world including South America, Canada, and Australia. It affected approximately 6,000 users at its peak, lasting for a few hours. It is not uncommon for technology platforms to encounter disruptions or outages, and many companies have specialized teams to monitor and address such incidents.
The recent outage on Apple TV has been resolved, and the platform is now back up and running after a brief disruption. This is only for US viewers as of now.
Much of the Apple TV services outage reported were with login. Many reported that the Apple TV app is no longer working on Roku. It throws up an error message showing that one needs to subscribe again when the user is already an active subscriber. However, it works fine when using the website in Google Chrome.
Users can now access the service without any problems. However, some users also reported encountering issues with other Apple services, such as Apple Support and iCloud, on Saturday. Despite this, there has been no official statement from Apple regarding the cause of the outage or whether other services were affected, as indicated by Downdetector.
It's worth noting that last week, Apple users reported difficulties in streaming Apple Music, among other platforms. Apple later acknowledged the problem on its system status page.
In addition to the recent outage with Apple's TV platform, Downdetector also reported an issue with the company's music streaming service on April 11th. The problem peaked at around 6:07 AM, with Downdetector recording 3,392 user reports during that time.
According to the data from Downdetector, 98% of the users who reported problems with the music streaming service had difficulty streaming music, while 1% encountered difficulties accessing the website and logging in. It's unclear what caused the outage and whether Apple has provided any further information regarding the incident. It appears from the below that all Apple services are having issues.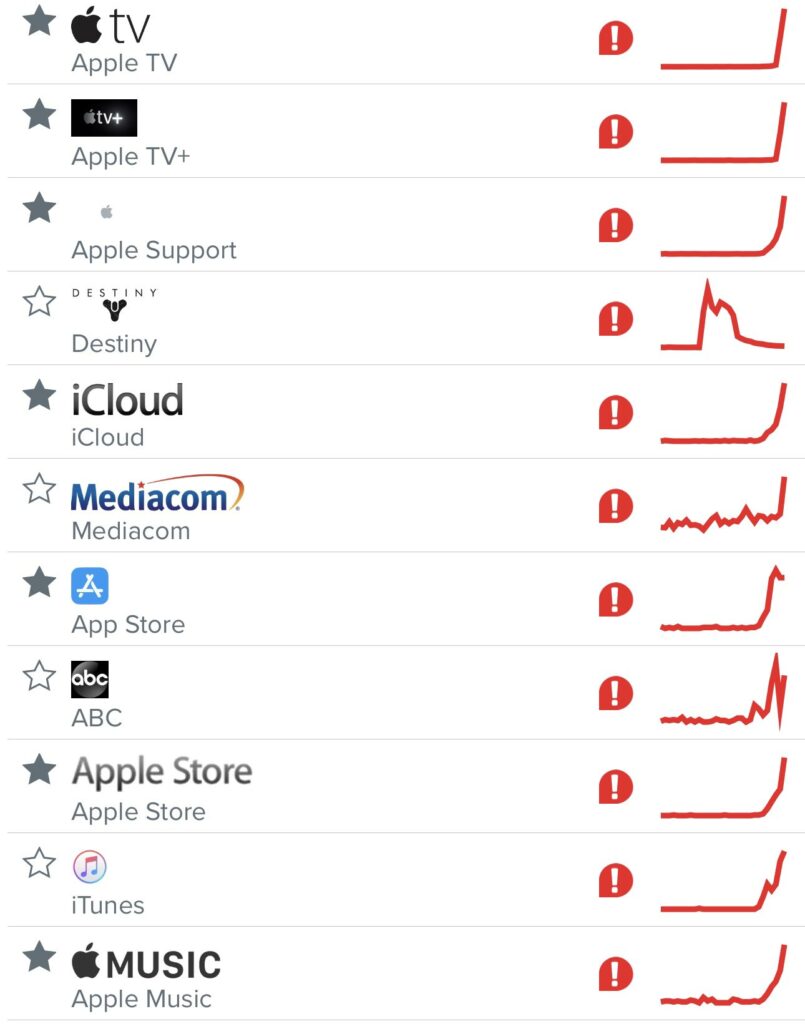 Aside from the outage with Apple's TV platform and music streaming service, several other Apple services experienced problems earlier this week, including Apple Radio, Apple Pay & Wallet, and iTunes Match. Apple's status page now shows that all of these issues have been resolved.
It's unclear what caused the outage in the first place, but reports suggest that it may have been limited to users in the US, as users in India didn't appear to be affected.
Although the issues with Apple's services have been fixed for now, it's still advisable to keep an eye on any further developments or updates from Apple in case of future outages.