With the year 2021 approaching, we all will be wondering what smartphones of 2021 will look like. Continuing with the trend, we will see out of the box enhancements and patents on new technologies by the manufacturers. These will be centered around improvements in performance, UI/UX, optics, hardware, and even handling of 4G/5G technology.
To stay ahead in the competition and differentiate themselves, these technological innovations have become the USP of the brand. Let us have a look what the smartphones of 2021 will look like!
Smartphones of 2021
New mobile phones 2021 will support 5G technology and high-end processors. It will be the year of mobiles with under the screen, front camera. The upcoming mobile 2021 will sport a futuristic screen, somewhat more resistant to scratches, transparent, bezel-less panels. Let us check them out!
Color changing back panel mobiles
Sounds exciting, isn't it! Imagine holding a color-changing phone, the rear panel of which switches color on the command of a button. Based on electrochromic technology, mere touching the button invokes a change in the voltage of the electrochromic glass.
Color-changing phones will soon become reality in smartphones of 2021. The technology has been announced to the world by Vivo. The brand is likely to bring experience to some of its new mobile phones 2021.
2021 Mobile phones – Under-screen selfie cameras
Brands always focus on providing homogenous design experience with maximizing screen-to-body ratio experience. In the past, they have resorted to all possible techniques ranging from pop-up cameras, rotating cameras, notch, or holes in the screen. However, the quest doesn't end here. In the future, we can see brands coming up with smartphones of 2021 boasting of the maximum possible screen-to-body ratio.
Oppo had demonstrated in 2019 its anti-bezel experiment. In fact, in mid 2020, the screen manufacturer Visionox had announced the mass production of the necessary hardware to support an under-screen camera.
All the critical components will be pushed behind the screens. You can expect at least 3 manufacturers to come up with under-display selfie cameras next year- Oppo, Vivo, and Xiaomi. Tipsters of late have leaked about the iPhone to be the next to say goodbye to the notch next year.
Upcoming Mobile 2021 – Scratch and Big Drops Resistant
The next-gen Gorilla Glass from Corning's is a revelation. It addresses the pain area of most of us. It has developed technology to get better at withstanding drops and deep scratches. Christened Gorilla Glass Victus is touted to withstand a drop of up to 2 meters (6.56 feet) onto hard, rough surfaces.
Samsung's Note 20 will be the first device to come with the Victus. Corning has also been approached by Apple for its subsequent generations of iPhone or iPad, planning to incorporate it as standard.
Almost nil bezel Smartphones are the future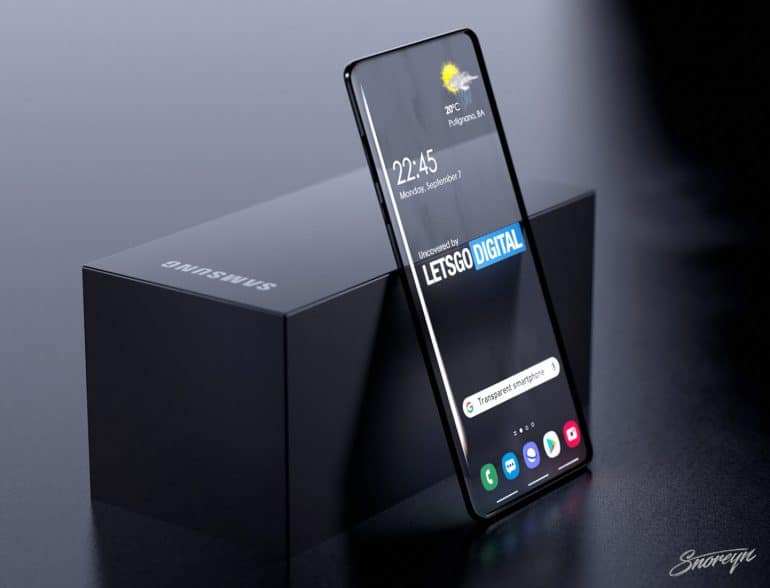 Believe it or not, the fact is smartphones with transparent screens will soon be a reality in 2021. Samsung recently patented a totally transparent mobile – entitled "device with a transparent screen and the same manufacturing method". From the images of the patent, the prospective device will be a slim device, almost nil bezels, and opaque components.
Xiaomi has teased its fans with the Transparent Edition of Xiaomi Mi 10 Ultra. However, its rear panel is transparent. Earlier, Sony's smartphone was in news with works on a double-sided transparent display. LG had also patented a transparent foldable phone.
2021 Mobiles with ultra-fast wireless charging
Wireless charging introduced by different brands, no doubt is comfortable. However, their usage has not overtaken the traditional mode of charging. The truth is that wireless chargers are much slower.
2021 is likely to see a change in the field of wireless charging. At the beginning of 2020, Xiaomi its innovation in ultra-fast wireless charger capable of charging full within half an hour. As of now, Xiaomi's benchmark is its 40 W wireless Qi charger which takes only 40 minutes to fill to 100 %. It is speculated that Xiaomi will be bringing the innovative technology in Mi MIX terminals.
There are a few more features that will be part of our wishlist. In the absence of a headphone jack port, there is a demand for wireless headphones built inside mobiles. We will be saved the trouble of external charging. It is rumored that next year the wireless headphones will get charged with the phone's own battery and will reside inside the mobile.
Upcoming Phones 2021
We can look forward to Samsung's affordable folding phone, the Galaxy Z Fold E coming in 2021. Another would be Apple iPhone SE Plus rumored to launch in early 2021. BlackBerry is also making a comeback in the first half of 2021 with a 5G BlackBerry phone.
If you think that a smartphone with a price tag of €1,000 is expensive, then be prepared. Next year's high-end mobiles will cost you almost double. The blame lies on the head of 5G technology and the increasingly high price of processors, probably SD 875.
There will be considerable progress on smartphones of 2021 being used as an interface between humans and technology. Expect significant progress in using their interactions with the adjunct device. This includes our smartphones aiding in running cars (keys, control, location, etc.), home automation and settings, augmented reality glasses, virtual assistants, exercise tracking, and analytics, to name a few.