Verizon service outage issues by mobile phone, mobile internet, and landline internet users have become rampant of late. It's not a single incident or concentrated in a few pockets. Most of the East Coast has been affected by the intermittent Verizon internet outage. Users are encountering network down/out of service while making or receiving phone calls, sending text messages, and using Verizon unlimited data services. Verizon users are complaining about 'intermittent services' for the past 6 days.
DownDetector, the site that reports live outages, has also reported spikes in the last 24 hours with reports of fewer instances also coming up.

An outage heat map reports of Verizon internet outage over the past 24 hours concentrated along the East Coast, originating majorly in the New York, Washington, and Boston areas.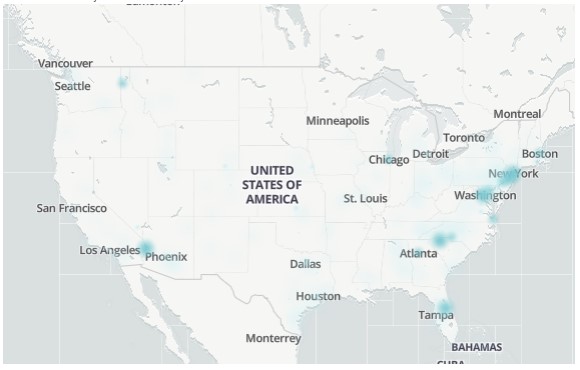 The frequency of Verizon service outages has become pretty often from 2nd February onwards. Verizon cellular outage has affected mobile device users of late with frequent service disruption getting reported. This time it has been more than 6 days and people are still counting.
Though the issue has been acknowledged by the Verizon Support team, there is no ETA to it. They are investigating the issue.
In the meantime, Verizon Support while responding to a troubled user on Twitter has asked users to download My Fios app so that they can get updates related to the current outages in their areas and the status of the repair.
However, downloading the app doesn't solve the internet and voice call outage issue. From 27th March, users have started reporting Verizon FIOS down. Verizon has given an ETA of 24 hours.
The support team has yet not been able to give the exact reason behind the Verizon services outage, but it is expecting to get the internet and data services restored as quickly as possible.
Restoration of services is critical for students who have exams due in coming days. While responding to one such query, Support responded with the following reply
In the meantime, all the carriers have announced their plans to retire 3G Cellular Network and Services in 2022. Here are their dates!
AT&T finished 3G shut down by February 2022.
Verizon will finish shutting down the 3G network by December 31, 2022.
T-Mobile will complete the process for Sprint's 3G CDMA network by March 31, 2022 and Sprint's 4G LTE network by June 30, 2022.
Stay tuned more on the latest Verizon internet outage news. In the meantime, share with us if it is fixed in your area.