Are you even a Doraemon fan if you have never secretly wished for his cool and futuristic gadgets to exist in the real world? There have been so many instances in our lives where we wished that we were in Nobita's footsteps and Doraemon would help us with his gadgets.
Well, the existence of Doraemon is pretty far away as of now, but scientists do have successfully invented the best Doraemon gadgets from his 4-D pockets. The makers had planned 4500 such gadgets in the lifespan of cartoon character Doraemon. Few famous ones that every child desired were Small light, Anywhere Door, Bamboocopter aka Takecopter, Combet Table Cloth, Petrol Pairs, and Where Were you at That Time.
Curious about knowing which of these Doraemon Gadgets exist in real life? Read on, we have mentioned a few of the most popular real-world Doraemon gadgets.
Bamboo Copter: Doraemon Gadget in real life
Well, the first one we have here is undoubtedly the most popular and one of the best Doraemon gadgets-The Bamboo Copter. There's hardly any episode in Doraemon where Bamboo Copter is not shown. Like most of us already know, Bamboo Copter is a locomotory gadget that gives people the ability to fly.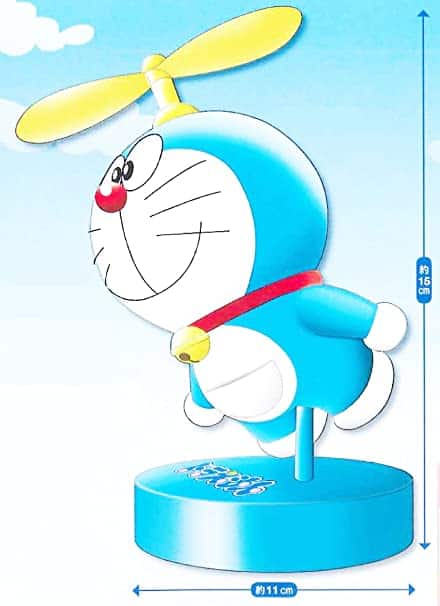 It may seem unreal and impossible, but yes, Bamboo Copter now exists in the real world. Although it is not as compact as shown in the show, it does have the same functionality. Since we are concerned about taking safety precautions in the real world, the real-life gadget is comparatively bigger and has to be tied all over the body.
So yeah, unlike Nobita who just needs to place the object in his head, we have to tie the whole, big kit to our body. Because of its huge price, it is yet not accessible to the common people. The real-life Bamboo Copter, like in Doraemon, is too, accessible to only a few selected people.
3D Machine
A real Doraemon fan can never forget about this gadget. As shown in the episode of Doraemon, 3D Machine can take in any picture/image and build it in real life. Sounds cool? What's cooler is that it exists in the real world.
Shocked? Let us illuminate you. The real-world 3D machine is a bit more complicated than the one shown in Doraemon. To make the gadget work, people have to load all the information and details in the device rather than just putting the image as input. As for now, the device is available only in America and China.
Invisible Cloak
There aren't any Doraemon fan who is unaware of the gadget invisible cloak and the kind of fun and naughty stuff Nobita indulges using it. The very name 'Invisible cloak' sufficiently explains the function of the gadget.
Well, what if we tell you that you can buy this cool Doraemon gadget from Amazon? Sounds unrealistic? Let us tell you that this gadget exists in the real world by the name 'Invisible Cloaking'. The cloak is made using a technology called Retro-Reflective Projection technology that makes the person wearing it invisible(well, almost invisible) whenever light falls on the cloak.
Magic Gloves
By any chance, you did not miss the episode involving the magic cloves now, did you? Remember how mesmerizing it was when Doraemon, by himself, did all the heavy lifting and rescued the tiny, little kitten! Well, that's the power of Magic Gloves. So guys, will you believe us if we tell you that this thing exists for real? Well, it does.
The real-world Magic Gloves goes by the name Exoskeleton. Rather than being just a pair of gloves, the real-life invention is a full-body mechanical suit. When you wear this suit, you will be able to easily lift and move very heavy objects from one place to another without giving much effort.