Android is popular for its customization feature. The Android Launcher lets you change everything in the UI, whether it is the wallpaper, icons, fonts, or the skin running on the phone.
A lot of manufacturers have come up with brilliant skins for their phones. These skins can give you complete command of every aspect of the software, or they can be minimalistic and soothing to the eye.
These Android skins are often associated with a particular mobile company, but you will notice that someone manages to copy the design and implement a skin on a device from a different brand making it accessible to people who use a different phone. In this article, we will discuss some of the best skins that you might want to use on your Android device.
Customized Pixel Launcher
The Pixel device from Google is some of the best phones running on Android. They feature the pixel launcher that offers a simple yet brilliant user experience to Pixel users.
Pixel devices are also some of the most expensive Android phones. However, you don't need to spend a lot of money to experience the UI of Pixel devices. Rootless Launcher project has launched the Customized Pixel Launcher (CPL) that lets you experience the Pixel UI on any Android device.
At first glance, you will notice that CPL looks exactly like the stock Pixel launcher. It features those iconic rounded edges, notification dots and badges, icon packs, adaptive icons, and gesture controls, among other things. This skin gives a complete makeover to your phone and makes the old boring UI a lot more fun and informative with the Google feed and the At A Glance widget, and Assistant features.
You can get the Customized Pixel Launcher from here.
Note: To get the Google Feed working on your phone, you need to download an app from Github.
ASAP Android Launcher
A launcher doesn't need to be flamboyant, and most people prefer a minimalistic launcher with no clutter over sophisticated ones. The ASAP launcher is an Android launcher that aims at providing a clean, no-nonsense UI for your phone.
The design of the launcher is minimal, but it doesn't affect your productivity. Anything that you might want to access on your phone can still be done quite easily. The launcher features a slide-up drawer from where you can access all your apps, and there is an option to put your favorite apps and commonly used settings at the same place.
Most launchers allow you to customize every aspect of the UI. However, ASAP aims at providing a clean UI with minimal focus on the customization features. Still, you get a few cool themes and icons pack to go along with the launcher.
If you need a minimalist Android launcher, get the ASAP launcher from Playstore
Poco Android Launcher
If you live in the US, there is a huge possibility you never got to use a Poco device and miss one of the most customizable Android launcher in the market. In case you want to get the best customizable UI from Xiaomi, this launcher would be a great place to begin.
The Poco launcher deviates from the UI design philosophy of Xiaomi. It features an app drawer instead of putting all the icons on the home screen of your phone. You can further sort the apps in the drawer into various categories, such as entertainment and communication.
This launcher comes with a slew of customizable screen layouts, transition effects as well as icon packs, and notification badges. Poco launcher might not be as customizable as the official MIUI, but it is the closest that you can get to the MIUI without rooting or without buying a Xiaomi device.
This launcher comes with a dark mode and lets you lock your phone with a tap on the screen.
Click here to download the Poco Launcher on your mobile.
AIO Launcher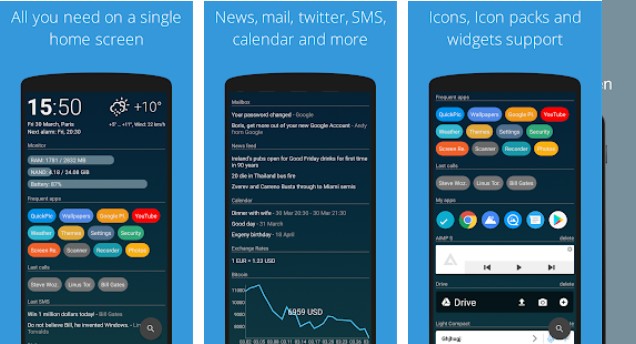 You will notice that most Android launcher try to give a minimalistic look to your phone's UI. AIO launcher is not one of those launchers. It aims at filling your screen with as much information as you need.
It shows you the apps that you regularly use, system information, recently received calls and messages, calendar events, mails, and lots more.
AIO launcher has lots of additional features that increase your productivity. However, you need to purchase the full version of the launcher to access the features, such as widget support, app icons, and Android notifications.
If you like to cram as much information as possible on your phone screen, AIO launcher is the perfect app for you.
You can get the AIO launcher here.
Nova Launcher
When you talk about the most popular launchers, you need to discuss the Nova launcher. It is lightweight, fast, and offers lots of customization options. The launcher aims at providing a perfect balance between utility and aesthetics without any loss of performance.
It offers you lots of icon packs, themes, scrollable docks, and the ability to customize the app drawer. In addition to these, you also get an infinite scroll feature and folder settings.
The developers are actively supporting the Nova launcher and provide regular updates to the app to add the latest Android features to this launcher.
The Nova Launcher can be downloaded from here. The free version is quite powerful, but you can get many powerful tools by getting the full version for $4.99.
Conclusion
A phone is one of the most personal devices that you own. It needs to suit your demands and offer you the necessary information at a tap. The launchers mentioned on this list are some of the best launchers in the market, and let you customize your phone's UI to suit your style. So, download one of these launcher and start customizing your phone to your liking.
Which launcher do you like and which launcher would you like to see on this list? Let us know your thoughts in the comment section below.