Sex Education is one of the most popular comedy-drama shows on Netflix for the past two years. It has retained its spot in Netflix's top-ten most popular series of 2019 both in the UK and US. It is obvious that Season 3 will be debuting on Netflix with the announcement made by Headmaster Groff (Alistair Petrie). Here is everything we know about Sex Education Season 3 Release Date, Plot, Cast, and some Predictions. Beware of Season 1 and 2 spoilers.
Sex Education Season 3 Release Date
Netflix released Sex Education Season 1 and Season 2 in January (2019 and 2020, respectively). Seeing that trend, we may get Sex Education Season 3 Netflix in January 2021. However, due to the global pandemic and pause on shoots worldwide, there may have been some production delay.
Netflix resumed Sex Education Production in September's second week. They shared a video on Twitter, which featured its cast members. Check the video here.
Considering that the shoot has just started in September, we may not see the show in January but surely somewhere in the first quarter of 2021.
Sex Education Season 3 Release Date for the UK
The show will most likely release on the same date as other countries, but the time may differ, and we will update this space once we get the exact release time.
Sex Education Season 3 Trailer
The trailer usually releases a month before the premiere date, so we will update the space once we have an exact date for season 3.
However, one can find a video posted as early as February 2002 on Sex Education Season 3 Announcement | Netflix. Alistair Petrie can be seen taking viewers through the Moordale High art exhibition, with a shocking disclosure at the end.
Sex Education Season 3 Cast
In the season three announcement video, we see familiar faces lurking.
Otis (Asa Butterfield)
Eric (Ncuti Gatwa)
Jean (Gillian Anderson)
Maeve (Emma Mackey)
Aimee (Aimee Lou Wood)
Adam (Connor Swindells)
Jackson (Kedar Williams-Stirling)
Ola (Patricia Allison)
Lily (Tanya Reynolds)
Headmaster Groff (Alistair Petrie)
We expect many other actors from season 1 and 2 to show up in season 3. The makers have added three new faces to the show.
However, we have to wait for few months to find out whether Anne-Marie Duff is back as Maeve's mum Erin. We all know that they did not share talking terms.
In a Twitter announcement, Netflix said that Jemima Kirke, Dua Saleh, and Jason Issacs will also join the cast.
Sex Education Season 3 Plot
For those who know how Season 2 ended, Season three will probably kick off with Otis thinking that Maeve will have nothing to do with him anymore after what happened at the house party.
Maeve, who has not received Otis' message yet, may focus on more pressing concerns. She rang bells of social services after reports of her mother retaking drugs and may get busy taking care of her half-sister.
Asa Butterfield (Otis) told a leading entertainment portal that he's read the first season three episodes. "It didn't go where I anticipated it to," he added. "A few things have changed. I'm excited."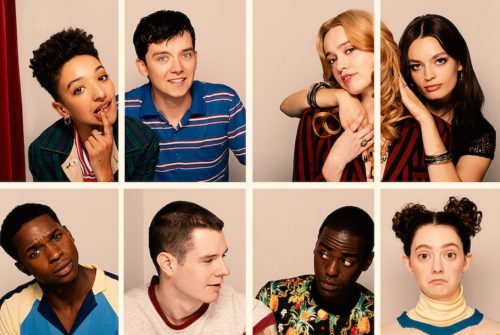 Sex Education Season 3 Predictions
According to many fans on social media, the makers of Netflix's original show like to keep Otis and Maeve on open ends for most of the seasons, slowly bringing them to close near the end of each season and then again ending it with them going away from each other.
Fans have felt disappointed, and this sentiment has reportedly reached the show's production team. A Reddit user, CMPunkTHEMAN434, predicts that this time Otis and Maeve may get together in the 3rd or 4th episode, and makers should use the remaining episodes to explore them as a couple. The user says that people are not happy with how makers stretch the story and leave Otis and Maeve on open ends at the end of each season.
The user also says that Otis and Aimee can become better friends and that Aimee and Eric will bring Otis and Maeve together.
But these are just predictions; we don't know what will happen in the next season and if there will be a Sex Education Season 4? We can only wait and watch for next season. In the meantime, you can watch Netflix's Sex Education Season 2 in Hindi dub.
Are you excited about Sex Education Season 3? Do let us know in the comments below and stay tuned with us for more.