Quordle Answers Today, Quordle 458 April 27, 2023: Hello fellow word enthusiast! Come to where we bring you the solutions for the latest Wordle puzzle. Today, we present Quordle 458 for April 27, 2023. If you've been trying to crack this tricky puzzle, you've come to the right place!
Without further ado, let's dive into the clues and hints for today's Quordle. The five-letter word for today's puzzle is a real challenge, but don't worry, we're here to help you crack the code. Here are some clues that might help you get started: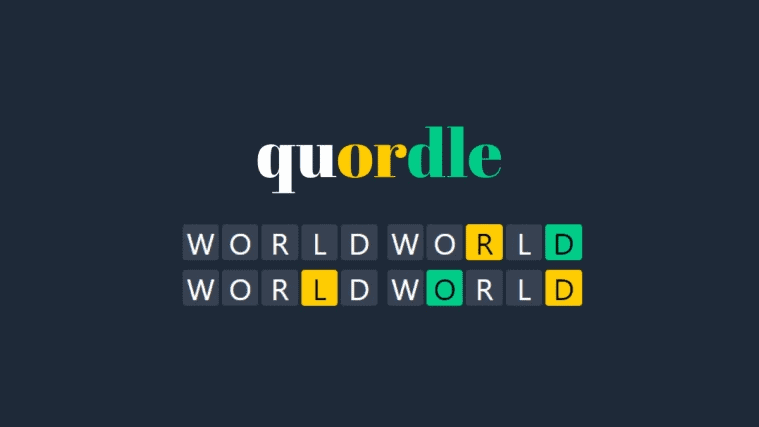 Quordle 458: Hints, Clues to help solve
Remember to use your deduction skills and eliminate any words that don't fit. The key to solving the Quordle puzzle is to be patient and persistent, so keep trying!
Today, three of the four words are easily recognizable as common words with no repeated letters and no uncommon letters. However, the remaining word is obscure and contains uncommon letters. Once you solve the obscure word, the rest should be easy to solve using the letter elimination strategy.
The first letter of each word is Q, P, C, and S and last letter of each word is I, H, E, and Y.
Word 1: It means "to a certain extent, but not completely."
Word 2: It means "soft to the touch."
Word 3: It refers to "a narrow and steep chute for objects or people to slide down."
Word 4: It describes something that is "covered or smeared with soap."
Quordle Answers Today
Word 1: QUASI
Word 2: PLUSH
Word 3: CHUTE
Word 4: SOAPY
And that's it for today's Quordle Answers. We hope these hints and clues will help you solve Quordle 458 for April 27, 2023. Stay tuned for tomorrow's Quordle, and happy puzzling!
Also Read | PS Plus May 2023 games predictions, release date, games leaving PS5 and PS4
Quordle FAQs
Playing Quordle:
Go to the Quordle website and solve a word puzzle.
You will have six attempts to guess the word.
Quordle provides feedback indicating correct and incorrect letters.
Use feedback to make guesses and try to guess the word within six attempts.
Practice with new words to improve your skills.
Playing Quordle on mobile:
Yes, you can play Quordle using any browser on a PC, mobile, or tablet.
Difficulty level:
The difficulty level in Quordle and Wordle may vary and cannot be determined definitively.
Free to play:
Yes, Quordle is free to play.