In this world of fast-evolving video games and computerized games, who isn't crazy after PlayStation games. If they are coming in for free, everyone wants to give it a try. Here we are bringing you the sizzling PS Plus June 2022 free games leaks. We all know that Sony is getting ready for PlayStation Plus Extra and PlayStation Plus Premium launch in June when PS Now will be merged into PS Plus. Free games moving forward will be cut down to 2 from the usual 3 every month.
In other words, May was the last month when PS Plus May 2022 Free Games were enjoyed in their original form. Many of us are still enjoying freebies for May 2022 namely FIFA 22, Tribes of Midgard, and Curse of the Dead Gods. If you have not claimed them till now, you still have a few more days to add them to your collection before they get replaced on June 7th.
With May almost coming to an end, we all are waiting to hear what titles will be added to PS Plus June 2022 Free Games list. It's only 2 days before a formal announcement will be made by Sony on its site. Till then there are few predictions on the freebies of PS Plus free games list on PNXbet review Philippines that may be included in the coming month. 
PS Plus June 2022 Free Games Confirmed Early
The year 2022 hasn't been much consistency when it comes to games being released for the PS Plus members. Some months have shown a good deal of games for its customers, while other months have just passed unsatisfactorily.
The first set of PS Plus free games list has been confirmed. Riding high on the popularity charts, the title will be a welcome surprise for PS owners.
In a recent announcement, Sony started with promotions of a free Genshin Impact PS Plus pack pretty early. It confirmed that the title will be released in June 2022. As all GI players know that the new Version 2.7 "Hidden Dreams in the Depths" has got released recently. It will be available for play by the end of June 2022. The Genshin Impact free game will top the trio of free games supposedly getting a release over the coming weeks leading to launch on June 7.
The deal is somewhat similar to the bundle offered for Call of Duty Warzone players when the new Operation Monarch event was revealed. But here the plans of rollout by developers miHoYo is a bit different. They are planning to repeat the entire process whenever they roll out a new Genshin update.
"Last but not least, we'd like to offer all PS Plus members the PS Plus Pack including Mora ×50,000, Hero's Wit ×20, Mystic Enhancement Ore ×15, and Fragile Resin ×2 during the upcoming Version 2.7. After each Genshin Impact version update, this bundle will be refreshed and you can purchase it for free again. And that's all for our sharing about Version 2.7. We want to thank you again for your continuous support, and we look forward to bringing you more fun and excitement next time."

Sony and Genshin teams
What games are on PS Plus Free Games List?
In the absence of the traditional PS Plus leaks, let's have a look at the set of trending games that we might witness or would like to be part of as PS Plus games.
Call of Duty: Modern Warfare II
We might find this 2009 first-person shooter game developed by Infinity Ward and published by Activision in the upcoming month of June among the name of freebies by PlayStation. Modern Warfare 2 has been announced for 28th October and might be bundled as another free game of CoD on PS Plus.
Chivalry 2
Chivalry 2 would be celebrating its first anniversary in the month of June, just a day after the launch of PlayStation Plus games. It has been a recently observed trend that Sony likes to include at least one free multiplayer game. Knowing this, we can suspect seeing Chivalry 2 in the list of upcoming PS Plus June 2022 Free Games.
Outriders
This is another game from Square Enix that stands as a strong contender for a free game in June. The reasoning behind it is that Xbox Game Pass has it in its catalog. Plus it has not been profitable for Square Enix as reported in May 2022.
SpellForce 3 Reforged
Though the predictions and conjectures suggest this game in the list of PS Games of June, the probability isn't much high. The reason behind this is that it launches on June 7th so some people are suggesting it may be a day one launch giveaway like Sony has occasionally done in the past with Control and Hell Let Loose. Unfortunately, SpellForce 3 Reforged seems unlikely. Also, this game is already available on Xbox and for pre-ordering from the PS store.
Two Point Hospital
Two Point University was recently delayed to August and so we might suspect seeing this game in the upcoming month of June. Two Point Hospital is a 2018 business simulation game developed by Two-point studios
Ratchet & Clank: Rift Apart
Rift Apart was announced in June 2020 and then released next year, i.e. on 11th June 2021. So June 2022 marks the one year anniversary of this game, much like Chivalry2 and for the same reasons, we can suspect Rift Apart in the upcoming month!
AI: The Somnium Files
This is the next thrilling game adventure video game which was developed and published by Spike Chunsoft, released for Microsoft Windows PlayStation 4, and Nintendo Switch in September 2019, and for Xbox One in September 2021. So according to the rumors, Sony might make it free for the upcoming month to create sensation and buzz as its sequel is also releasing soon.
Other potential titles of June PS Plus games include Spiritfarer, Rust, and Sniper Ghost Warrior Contracts 2. These titles are likely to be part of the PS Plus free games list since these are pretty old games and have not come to PS.
When will PS Plus June 2022 free games for PS4 and PS5 be officially announced?
PlayStation Now announces the list of free games released every month on its PlayStation Blog. The reveal usually happens on the last Wednesday of a month. Sony has been consistent with the time of announcement also.
PS Plus June 2022 free games will be announced on Wednesday, 25th May at 8:30 AM PST / 11:30 AM EST / 4:30 PM BST / 5:30 PM CEST.
The next question is when the announced games are available to play. You can add these PS Plus June 2022 games every first Tuesday of the next month. Hence expect May PS Plus Games 2022 to be available from Tuesday, 7th June 2022.
How can I get PS Plus Games 2022 for free?
The following listed simple steps will help you to add May PS Plus games 2022 to your catalog:
Got to the home screen of PS4 or PS5
Tap on the PlayStation Plus symbol in the top left
Search for the free game titles in the search bar
Download all the active and free games for the current month of PS Plus
The added free titles PS Plus Games list gets added to the library!
If you have not subscribed already, it is advisable to do so to get the updates.
If you had been waiting for any of these rumoured titles and do not have an active PlayStation Plus subscription, then this is the right time to get one. One can sign up for PS Plus membership either through the console, the PlayStation Store official site, or vouchers from retailers.
Monthly PS Plus membership charges are £6.99 / $9.99 / €8.99Rs/ Rs 499, Quarterly it is £19.99 / $24.99 / €24.99/ Rs.1,199 and £49.99 / $59.99 / €59.99/Rs. 2,999 annually.
PlayStation Plus Extra Release Date, Price
Apart from an update on PS Plus games 2022, it is also rumoured that Sony will be bringing a change in membership for its customers. Playstation will launch PlayStation Plus Extra and PlayStation Plus Premium in the upcoming month of June. Sources say that the PlayStation Plus service will be launched in India on June 23.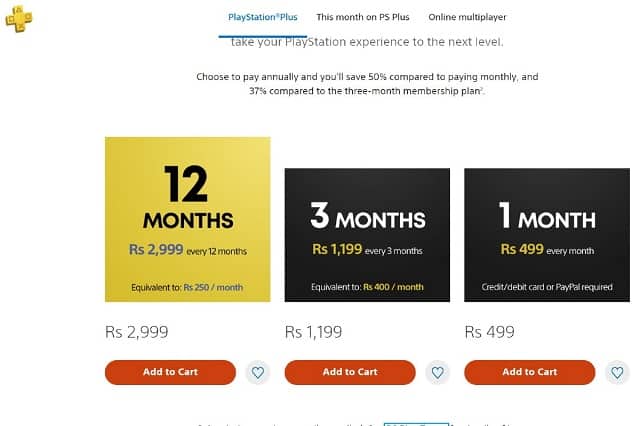 Sony will be introducing PS Plus Extra from June in which players are entitled to 400 PS4 and PS5 games at no extra cost. It will be priced slightly higher than the normal PS Plus membership charges. It will cost you £10.99 / $14.99 / €13.99 per month, £31.99 / $39.99 / €39.99 for a quarter subscription, or £83.99 / $99.99 / €99.99 for a year.
With this said, it is expected that these two new subscriptions might have an adverse impact on monthly free PlayStation Plus games in terms of quantity and quality. On the contrary, the launch of this new Plus membership might also help PlayStation to gain sensation in the market and grip among its customers.
The new PlayStation Plus membership is expected to look similar to the Xbox game pass, which gives players access to a collection of games that rotate periodically and gives new owners a cheaper way to access a library of quality gaming titles right out of the gate.
What next on PS Plus June 2022?
These are still predictions and rumors from different sources and are based on the trends followed by PlayStation. You can also check out some of the best PS5 games on Sony's new console. For further details and confirmations stay tuned with Phoneswiki and Sony PlayStation June.