The current Google Pay app is getting ready to be phased out on 5th April in the US. The Google Pay alternative had become an integral part of our lives during the COVID era. Unfortunately, it is being substituted by a 'New Google Pay' app. The backend interaction NFC tap-and-pay function will continue to function as it is. Unfortunately, it has fewer features for P2P users topped up by an additional fee structure.
The new Google Pay app beta came to closure last week and the feedback will not lift the spirits. Bottom line is that Google is replacing a perfectly tried and tested service with a half-finished service.
Of late Google's strategy is to revise, feature-poor, pointless redesign, and re-launch its popular products. One such is the move from Google Music to YouTube Music, people are disappointed due to YT Music being buggy and a less user-friendly experience. They feel that another switch to the new Google Pay app makes Google no longer fit to be a product-based tech company. It is rather an ad company with hobbies where no one really cares about end customers.
Existing users on the GPay app cannot use the New Google Pay app from 6th April in the USA. The new app won't let existing users continue with their Google account for P2P payments. Google Pay website will become nonfunctional when it comes to making financial transactions or even verifying account balances. No web support will be extended. Let us dig deep into how to use the Google Pay app, features, and fee structure it brings along.
How To Use New Google Pay?
Any user, old or new needs to download the new GPay app from Play Store. To get started, one has to create an account with the carrier's mobile number. The process of signing up gets cumbersome with new signups using phone numbers. A successful money transfer to contact can happen only if the receiver has installed the app and has a valid account. Here goes a major change in the transaction workflow in the new GPay app.
Another awkward change is payments will become purely SMS-driven. In other words, payments from multiple platforms that don't support SMS-based authentication will no longer be feasible. For instance, PC support will have to go away as the browser does not have a carrier SIM card and there is no means to validate. Google can think of coming up with a QR-code-driven browser login process in the future.
SMS based authentication puts limitations on one user on one device at any point in time. With this goes away the option to make payment from smartwatches.
Another major shift from the existing structure is the implementation of the new fees. New GPay will levy fees if the transfer is done to debit cards."A fee of 1.5% or $.31 (whichever is higher), when you transfer out money with a debit card." The earlier version offered the service for free.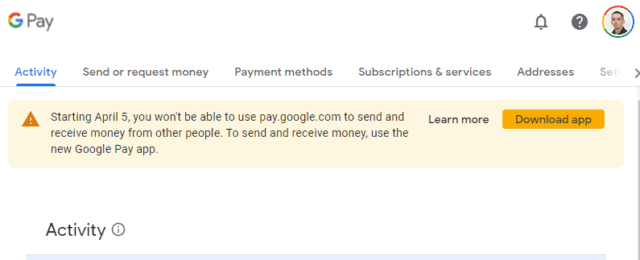 Google has begun informing all its subscribers and has also put up a support page link.
I have serious doubts whether people will advocate for the new Google Pay app. In fact, after the announcement existing users have started migrating to new platforms like Venmo, Zelle. With this change, P2P payments will become feature-deprived and expensive. Maybe it's a good opportunity for people to be their own bank and try Bitcoin Cash.