Did you hear the exciting news? Bad Bunny, the popular Puerto Rican rapper, is now on WhatsApp! Well, sort of. You can now receive messages from him through Bad Bunny WhatsApp Channels feature, although you can't directly reply to his messages. It's a cool way to stay connected with his updates.
WhatsApp, being the world's most popular messaging app, has finally introduced one of its most anticipated features—WhatsApp channels. These channels have been a topic of rumors since the beginning of the year, and they are now officially launched. We've got the details on how to create your own channels and what this new function is all about.
Shortly after the official launch, numerous interesting channels started to emerge. One of the notable ones is Bad Bunny's WhatsApp channel. Bad Bunny, the eminent Latin urban music artist, wasted no time and has already initiated his own channel. Interested in joining? We'll guide you on how to join Bad Bunny WhatsApp Channel right away.
Is Bad Bunny on WhatsApp?
Yes, Bad Bunny has established his own WhatsApp Channel, extending an invitation to fans from around the world to add him and stay updated.
In this unique channel, the rapper has the ability to send messages to a massive group chat, accommodating an unlimited number of fans. However, fans are unable to respond within the channel.
Similar to regular WhatsApp messages, fans receive notifications whenever the 29-year-old artist sends a message, ensuring they stay in the loop with his updates and announcements.
"This is my WhatsApp guys hehe do not pay attention to what they say out there if you did not see it here ok," his Whatsapp bio reads.
Bad Bunny has shared a few messages so far, including a selfie of himself wearing a baseball cap and "holaaaaaa".
How to Join the Bad Bunny WhatsApp Channel?
Bad Bunny, the iconic artist from Puerto Rico, has stepped out of the shadows to introduce his new WhatsApp Channel. Fans from all corners of the world are enthusiastically welcomed to join this unified chat platform. This exciting feature was made globally available on the app starting September 13.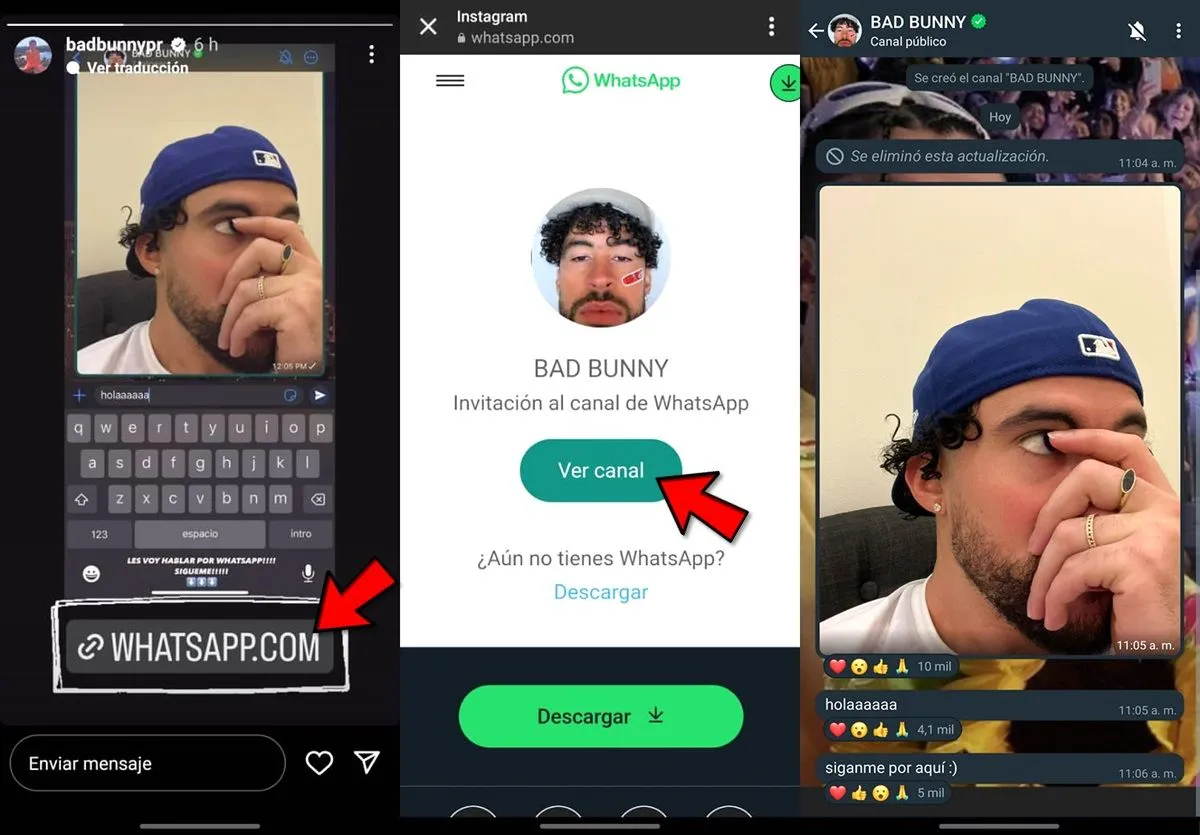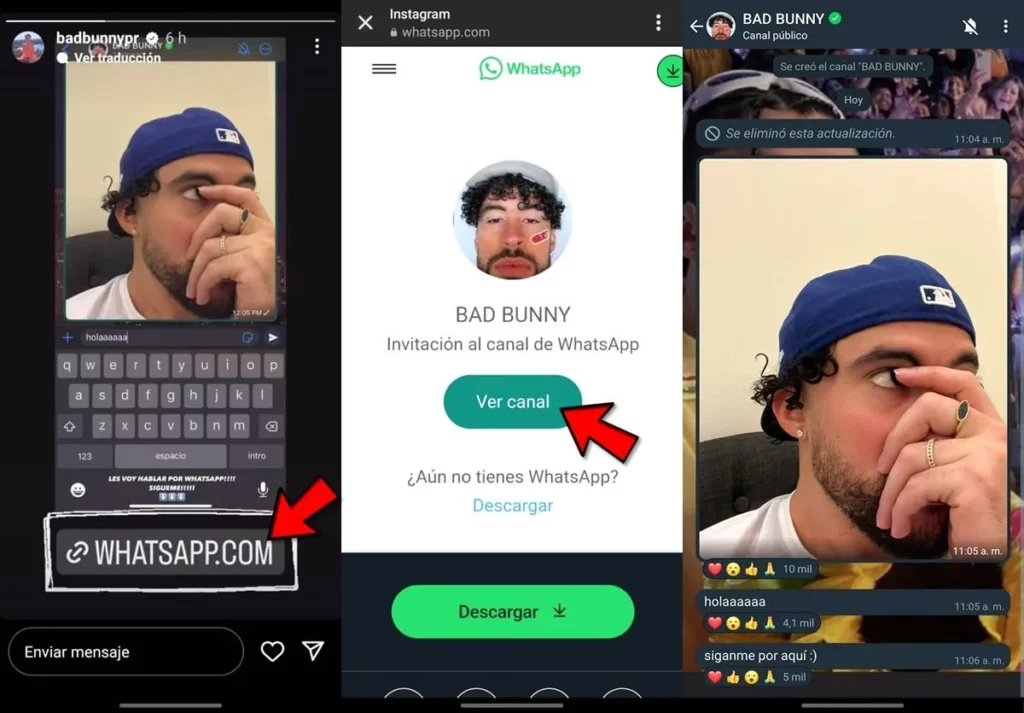 Connecting with the star on WhatsApp is a breeze.
Simply click on the designated channel invite using your phone and proceed to 'view channel' to instantly become a part of it.
If you encounter a notification stating "Channels isn't available for you yet," it means the feature hasn't been launched in your region. This new feature is being rolled out in stages across over 150 countries.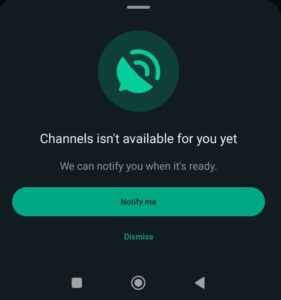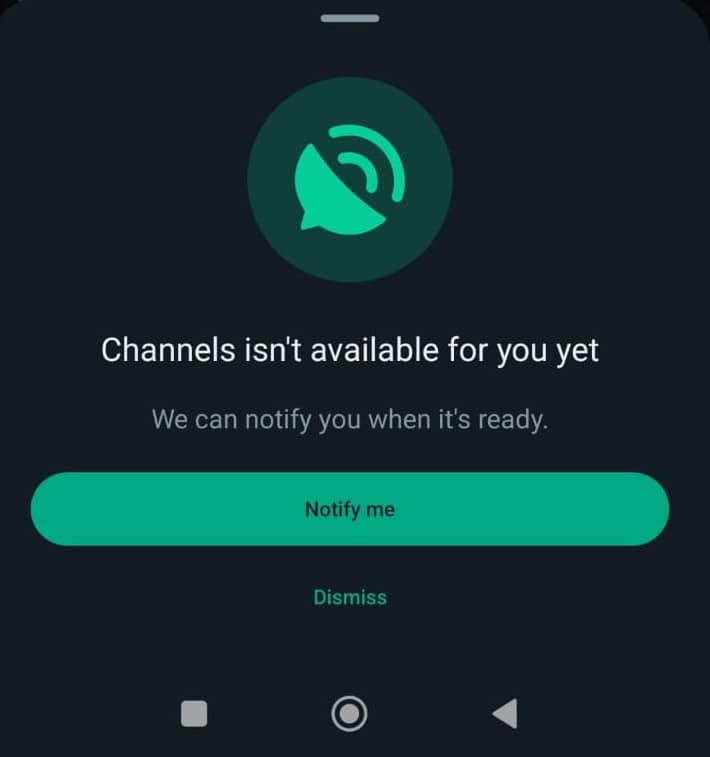 By tapping on "Notify me," you'll receive a notification once Channels become accessible in your country, enabling you to add Bad Bunny without delay.
Thus far, the singer of "WHERE SHE GOES" has shared a few messages on this public platform. The initial message or update was later removed. The second update features a selfie of Bad Bunny sporting a backward baseball cap and partially covering his face. Subsequent messages include a friendly "holaaaaaa" and an encouraging prompt to follow him with "siganme por aquí 🙂 [follow me here]."
On Wednesday, September 13th, WhatsApp introduced a new feature called Channels, offering users a "fresh, private way to receive important updates from individuals and organizations" directly within the app.
In their explanation, the Meta platform emphasized their goal to create the most secure broadcast service possible with Channels. Channels operate independently from your regular chats and the privacy of who you choose to follow remains protected and concealed from other followers. The personal information of both administrators and followers is also safeguarded.
This feature is gradually being introduced across more than 150 countries. WhatsApp is committed to further enhancing Channels based on user feedback and plans to introduce additional features to enrich its functionality.