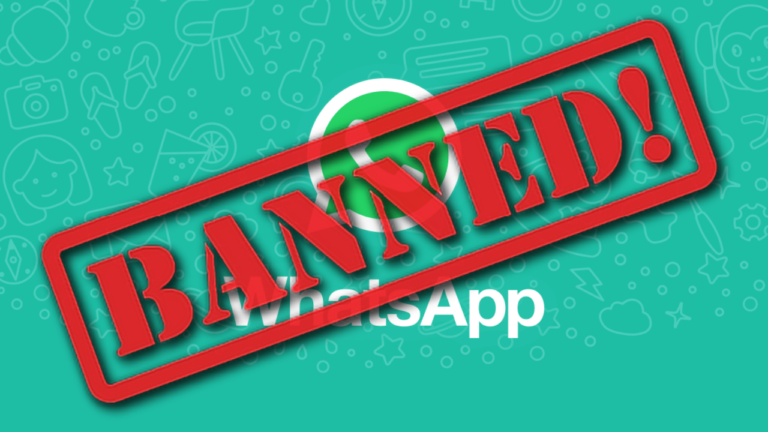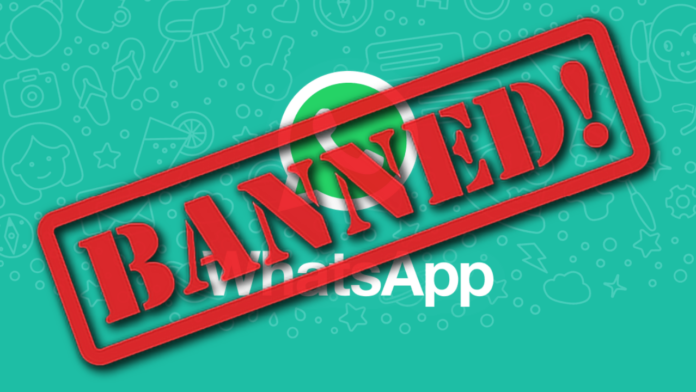 Suppose you open your Whatsapp right before you wake up or at any hour of the day and find out that you have been banned from using it with a pop-up saying that your account is temporarily or permanently banned. Now, how would you feel? Pretty annoyed and helpless! Because now you lost all the connection from the internet and you are still looking for a reason why you have been penalized. But, is it possible to unban WhatsApp?
Whatsapp has become the most used and go-to app for each one of us. It is being used by college students as well as senior professionals. And, WhatsApp does not let you know in advance that they are going to ban your account. It happens out of the blue when you have no idea. Therefore, today we will discuss the procedure to Unban Whatsapp number.
However, before moving forward let's discuss the circumstances in which Whatsapp might ban you from using it.
Why does Whatsapp ban your number?
If Whatsapp feels that you have been violating its Terms of Service, then Whatsapp might temporarily (in most cases) or even permanently ban you from using it. There are some most frequent reasons why your Whatsapp account might get temporarily or permanently banned.
Use of MOD WhatsApp Versions: Using MOD WhatsApp versions such as Whatsapp GB, WhatsApp Plus, and others may get you into trouble. The result or outcome could be a temporary or permanent ban. This is the most common reason for a WhatsApp account being banned. Hence, you must avoid these apps and stick to the available in App Store or Play Store.
Bulk Messages: Using WhatsApp to send bulk messages is considered spam. Because the Telegram bot flagged this as spam, your number was automatically banned.
User Reporting: Like any other social media app, if a large number of users report your number in a short period, there are high chances of a Whatsapp ban.
Blocking: If your number has been banned by a large number of users in a short period, WhatsApp suspects that something is wrong with this user and quickly bans your number.
Inappropriate Content: Sending Inappropriate Content in someone's chat or a group could result in an immediate Whatsapp ban.
How to find out if my number has been banned on Whatsapp?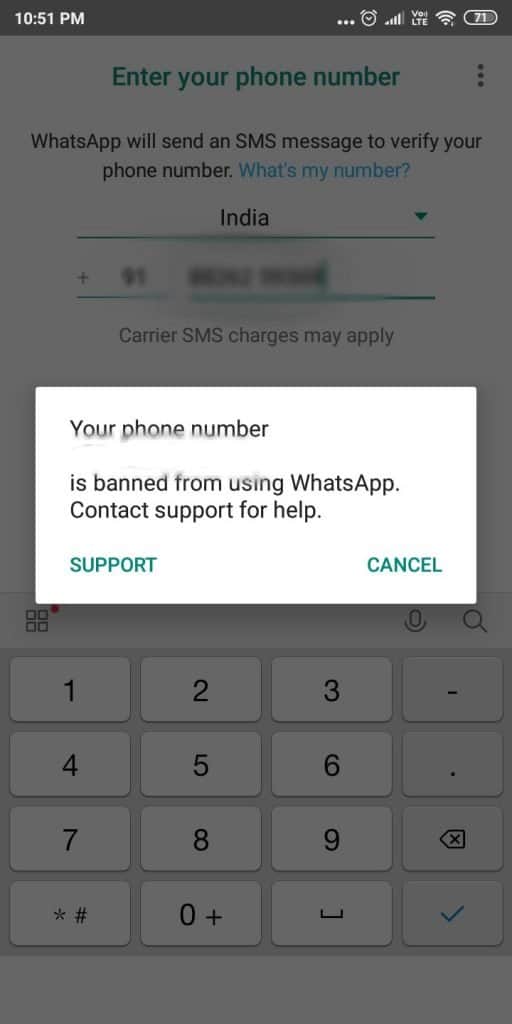 Well, if your Whatsapp account has been banned either temporarily or permanently, you'll be notified. You will receive a notification stating, "Your phone number _ is banned from using WhatsApp. Contact support for help." This means that you have violated any terms of service and your account has been banned. Permanent bans are often indicated by the Contact Support for the Help button, whereas temporary bans are typically indicated by a time.
How long does it take to unban Whatsapp number?
Before moving, let's understand the two types of WhatsApp ban. There are two types of Whatsapp ban – Temporary Ban and Permanent Ban.
Temporary Whatsapp Ban
It can be lifted within 24 hours if you begin following WhatsApp instructions appropriately. Temporary Whatsapp bans are typically signaled by a timer, and the ban is automatically lifted after a specified time period. You may usually use WhatsApp normally during the interim prohibition. If you continue to violate the restrictions, you may face a permanent ban. Keep right to find out, How to remove a temporary ban from Whatsapp?
Permanent Whatsapp Ban
As the name goes, if you are Permanently banned from Whatsapp, it does not let you create an account with the same number again. It is a never-ending ban. Therefore, you can't even log in to your Whatsapp account to read earlier messages. When you attempt to log into your WhatsApp number, an error message appears informing you that you have been banned for using this number.
How can you unban Whatsapp Account?
Method 1: Contact Whatsapp support
Write an email to support@whatsapp.com from your official email ID if you find your number is banned from using Whatsapp. Narrate the usage pattern and request the team to remove the Whatsapp ban.
Step 1: Uninstall Whatsapp from your device. Check for updates in the App Store or Play Store and install the latest version.
Step 2: Now that WhatsApp has been installed, launch it and enter your phone number. An error message will be displayed on the screen – 'Your Number is Banned from Being used WhatsApp'
Step 3: From the display message, choose "Support." You can also reach out by – Settings > Help > Contact Us
Step 4: Write down your issue or problem, as well as a screenshot of what it shows and your phone number.
Step 5: This is the final step. After choosing "Next," scroll to the bottom.
Step 6: Choose "This isn't a solution to my issue."
Step 7: Send a service email to support@whatsapp.com

Format of Email to Whatsapp Support

To: support@whatsapp.com

Hello, Whatsapp TeamMy Whatsapp account has recently been banned. I have already shifted from GB Whatsapp to Official Whatsapp. I assure you that the same thing won't be repeated. Kindly review the issue and unban my number from using it. 

Mention your Whatsapp Number

Regards, 
Your Name 
Whatsapp Number

Note: If Whatsapp feels that you are innocent and do not determine the procedure of unbanning a Whatsapp permanently banned profile. If Whatsapp finds that you are innocent and believes you will not repeat the error you made, your Whatsapp account will get banned. However, if they don't, you might need to wait for a week and repeat the process to get back your account.
Method 2: Follow the in-app instructions to unban Whatsapp account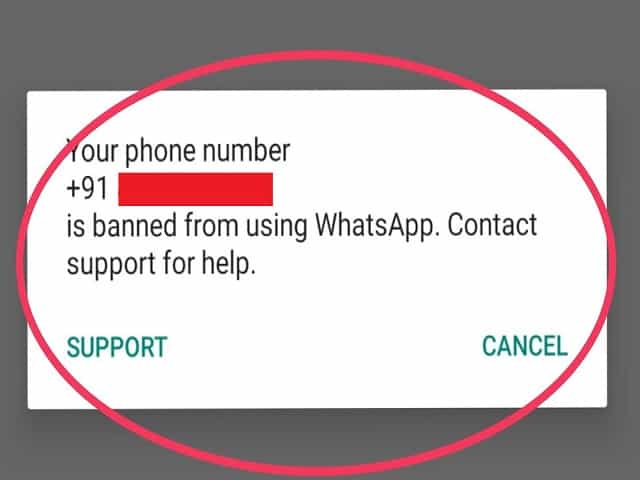 When Whatsapp bans you from using it, you receive a popup, "Your phone number _ is banned from using Whatsapp. Contact support for help", with two buttons, "Support" and "Cancel". There, Contact Support by following the steps:
Step 1: Tap on Support
Step 2: On the following page, you must enter your problem and upload a screenshot. The screenshot will be instantly attached, and at the bottom, you will notice a next button that will take you to the next page.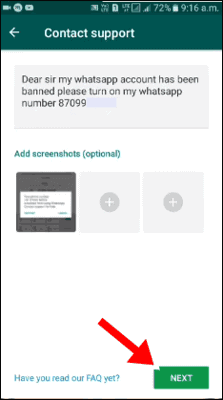 Note: If the screenshot does not automatically attach, you must do so manually.
Step 3: On the next page, there is a list of FAQs ie Frequently Asked Questions. Go to the bottom and tap on This does not answer my question
Step 4: On this page, your message will be automatically attached to an email from your difficult email ID to support@smb.whatsapp.com
Extra Tips: Change your email address to support@whatsapp.com (the original message would say support@smb.whatsapp.com, which does not work). Write a personal note explaining why your phone number should not be banned. Include the created log file as well.
Within a minute, you will receive an auto-generated response stating that they are investigating the matter.
If you are fortunate enough, you should receive a response within 4-24 hours and your WhatsApp number will be active. Please keep in mind that this method may or may not work based on the settings on their server.
They won't even respond to your emails after 2-3 bans. This is a complete ban, and you should change your phone number.
Summing It Up
Well, that's it from our side and we certainly hope that the above-stated methods to Unban Whatsapp must have worked for you. If you are still encountering any issues with "Whatsapp has banned my account!", let us know in the comment section. We often post similar stuff on our website to keep you posted. In case you are planning to buy a smartphone in 2022, make sure to check this out, "Looking for a smartphone upgrade? From Moto G42 to Nothing Phone- Here's a list of Upcoming Smartphones launching in July 2022!"