Everyone knows Apple as a brand that offers state-of-the-art technology and beautifully designed products. Therefore Apple's products are regarded as the best in the market. This is why Apple products are more expensive than the price range of a lot of other tech companies. Apple Music or iTunes is one such product that stands at par with Apple's brand image. It has become a major music streaming service giving cut-throat competition to the likes of Spotify, and Youtube Music.
But everything has its cons and so does iTunes. A lot of Windows OS users have been complaining about not getting access to the iTunes dark mode Windows app. Apple hasn't made its dark mode available to Windows users.
All About The iTunes Dark Mode on Windows
Dark mode has become a requirement for users working on any platform. They aren't typically happy with Apple's decision to restrict its dark mode to only Apple OS users. There has been an increasing demand for iTunes Dark Mode features on the other OS and specifically, Windows OS.
Users have been calling out Apple's negligence of its apps on other platforms. As more people are becoming accustomed to dark modes, the demand for iTunes Dark Mode has seen a soaring rise on the internet. But Apple remains unbothered.
Many users took to different subreddits and Twitter threads to show their displeasure. Check a few of them. Maybe you are also one of them!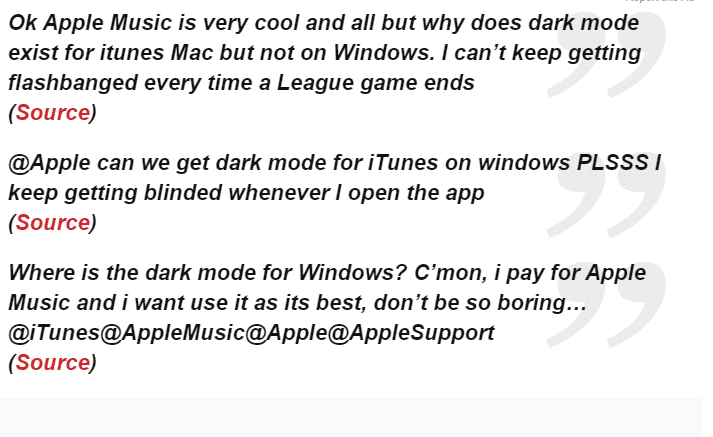 For some users, this behavior is highly unethical. Both Windows OS users and macOS users pay the same price so it's unfair that they don't get all the features.
There are prevalent rumors about Apple hiring Windows app creators and an Apple Music Windows client is in the making. Its release might coincide with the launch of the Apple Music Lossless tier. And that said client will certainly contain a proper Dark Mode. The rumor is too good to be true but if it does, it will be a relief.
Many users also made memes to satirize their disapproval of Apple's behavior towards other platforms. But even after getting such a strong backlash, Apple hasn't budged even a little bit. Their team hasn't even addressed this issue and their behavior completely shows their disregard towards this matter.
If you are an avid user of the Windows Apple Music app, this is where you'll find all the developments regarding this matter. It's just a matter of time before Apple announces this feature, so till then hold tight and keep making those memes.