Is your iPhone stuck in emergency SOS mode and you do not know how to get out of the situation? Read this article to quickly find the best solution. I have been an iPhone user for the last 5 years because I think it is safer and more secure than Android. I am also impressed with its interface and design. Or maybe I think the iPhone is more durable and lasts longer. Anyway, this post is not about that. The main purpose of this post is to get you out of the problem that you are currently facing.
A few days ago, I was using my phone and my iPhone was stuck in the emergency SOS mode. I tried my best to get out of this problem but failed.
The first thing that came to my mind was to contact iPhone support. But that wasn't the best solution because I figured if it happened again, I'd keep contacting iPhone support again.
So as a blogger, I thought I should research it first to share the best techniques for fixing this problem like most people would do when their iPhones are stuck on an Apple logo, or simply have a black screen or some charging issues. Finally, I found the top reasons why an iPhone is stuck in emergency SOS mode and how to troubleshoot this problem.
In this article, I will tell you the right ways on how you can fix this issue and will also share the top technique I used to keep my iPhone accurate.
But before we dig into it, let me share the reasons an iPhone is stuck in SOS mode.
Why does an iPhone get stuck in an emergency SOS Mode?
The main reason our iPhone became stuck in emergency SOS mode is because of our own misoperations. It can happen accidentally when the volume up, volume down, and power buttons are pressed to perform related iPhone actions and we hit the wrong key combinations. The other reason can be a software issue. If your phone is suffering from a software issue the chances are very strong that your iPhone is stuck in SOS mode.
Other reasons could exist, but they are unlikely to cause this issue. iPhones that have recently been flashed or rooted may also become stuck in SOS mode.
Below are some ways that may help you. The most common way to solve any kind of problem on your iPhone is by restarting it.
For iPhone 8 and later models
The volume up button must be quickly pressed and released. Follow the same process with the volume down button. Then, hold down the side button until you see the Apple logo on your screen.
For the iPhone 7 or 7Plus
You need to press and hold the top (or side) button and the volume down buttons together until you see the Apple logo on the screen.
iPhone 6s or earlier:
Press and hold the Home and Top (or Side) buttons both together until you see the Apple logo on the screen.
But this is not a permanent solution. How many times can you restart? You can also try iTunes.
Restore your iPhone through iTunes
It can restart your iPhone because you must restore your iPhone from the most recent iTunes backup. This method may cause data loss. Your computer must have the most recent version of iTunes installed. Take the following steps:
Step 1: Launch iTunes and connect your iPhone to your computer via a USB cable.
Step 2: If your iPhone prompts you for a passcode or asks you if you trust this computer, follow the instructions to trust the computer.
Step 3: In the iTunes window, click on the Device icon.
Step 4: To proceed, click the Restore iPhone button.
Step 5: On the window prompt, click the Restore button once more and wait for your iPhone to be restored.
If iTunes is too complex to use for you, maybe try some repair tools.
Turn off and charge iPhone
Another easy way to solve an iPhone stuck in SOS mode is to turn off the phone and charge it for an hour. Then turn on your phone again to see if the problem exists or not. Sometimes your phone can freeze or get stuck when it doesn't have enough power to turn on. You can move on to the next solution if this one does not solve the problem.
Use A Professional iOS Repair Tool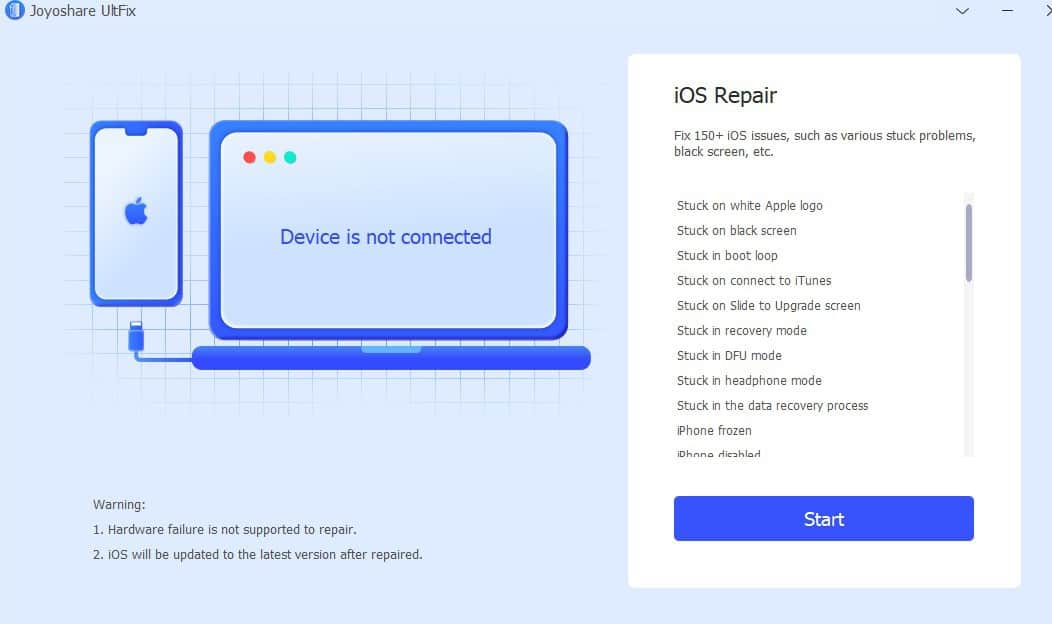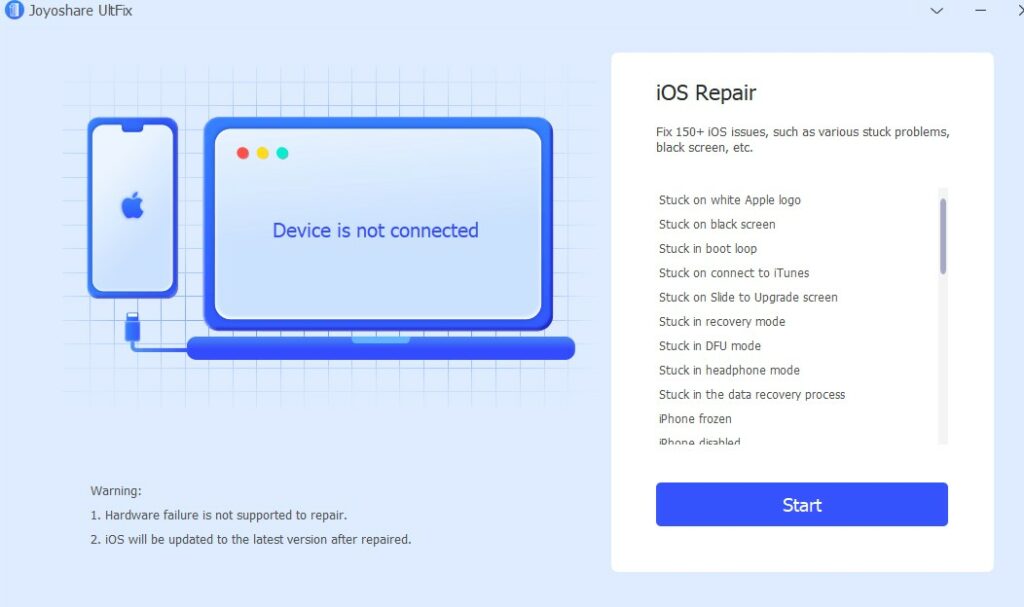 Joyoshare UltFix iOS System Recovery is a professional iOS repair tool designed to repair more than 150 iOS issues without data loss, such as iPhone stuck on emergency SOS, white Apple logo, black screen of death and more. This software supports both Windows and Mac.
Step 1: Open Joyoshare UltFix, put your iPhone in DFU mode, connect it to the PC, and then click the start button to keep on.
Step 2: Choose the standard mode to repair your iPhone stuck on an emergency SOS issue.
Step 3: Download the related firmware package.
Step 4: Click the Repair button to fix your iPhone.
Conclusion
By reading this article, you get to know about various ways to fix an iPhone stuck in emergency SOS mode. Actually, an iPhone stuck in SOS mode is not a serious problem if you can handle the repair process intelligently. You can try any of the ways mentioned here.