In a viral TikTok video, "How to Speak Cat", a cat dad has captured the attention of viewers by teaching them the language of cats. With his expertise and playful approach, he aims to help cat owners communicate more effectively with their feline companions.
How to Speak Cat TikTok video provides insights into various cat behaviors, body language, and vocalizations, enabling viewers to better understand and interact with their cats. By sharing his knowledge and experience, cat dad, the content creator Alec Newman, has created an engaging and informative resource for cat lovers seeking to enhance their bond with their furry friends.
The renowned cat dad on TikTok has garnered immense praise for his viral 'How to speak cat' lessons. These lessons serve as an invaluable guide for pet parents, offering tips and techniques on how to communicate effectively with their beloved furry companions using a special language.
Anyone who has ever tried to communicate with a pet understands that it can sometimes be a challenging task. However, this TikTok sensation has managed to capture the attention of viewers by sharing his expertise on successfully getting through to cats. His lessons provide valuable insights into understanding feline behavior, deciphering their body language, and utilizing vocal cues to communicate with them.
The ability to make a grumpy cat budge from its comfortable spot with just words is no small feat. The cat dad's lessons empower pet parents to establish a deeper connection with their feline babies and overcome communication barriers. By embracing this special language, pet owners can navigate their interactions with cats more effectively and build stronger bonds with their furry companions.
What is the latest 'How to speak cat' TikTok video trend?
TikTok content creator Alec Newman has truly revolutionized the way people understand and interact with cats, leading many to label him as a "cat whisperer." Through his deep understanding of feline behavior, Newman has gained a remarkable ability to communicate with cats in a way that seems almost supernatural.
Despite his extraordinary talent, Newman remains humble and prefers not to take much credit for his unique abilities. His focus is primarily on sharing his knowledge and helping others develop a deeper connection with their feline companions. By downplaying his own role, he emphasizes the importance of learning and understanding cat behavior for all pet owners.
Newman's dedication to his craft and his willingness to share his expertise has undoubtedly made a significant impact on the way people perceive and interact with their cats. His TikTok videos serve as a valuable resource, allowing viewers to witness the incredible bond he forms with these animals and inspiring them to develop their own communication skills with their furry friends.
Content creator Alec has gained immense popularity for his ability to teach the language he uses to communicate with his cat, Grim. Each of his lessons has garnered millions of views, with one particular video boasting an impressive 35.9 million views and counting.
What sets Alec apart is his willingness to try out suggestions from his followers. Whether it's making a strange noise or performing certain gestures, he tests these ideas on Grim to observe and document the cat's reactions. This interactive approach not only engages his audience but also provides insights into how cats respond to different stimuli.
In addition to his cat-focused content, Alec is known for creating comedy-based videos and actively participating in viral trends and filters. By diversifying his content, he keeps his followers entertained and engaged while showcasing his versatility as a content creator.
Alec's combination of teaching the language of cat communication, humorous content, and participation in popular trends has helped him amass a dedicated following. His unique blend of educational and entertaining content continues to captivate audiences and solidify his position as a beloved figure in the online community.
If you are on TikTok, do not forget to read – Are you trying the viral Korean AI Profile picture on TikTok?
Decode 'How to speak cat' TikTok lessons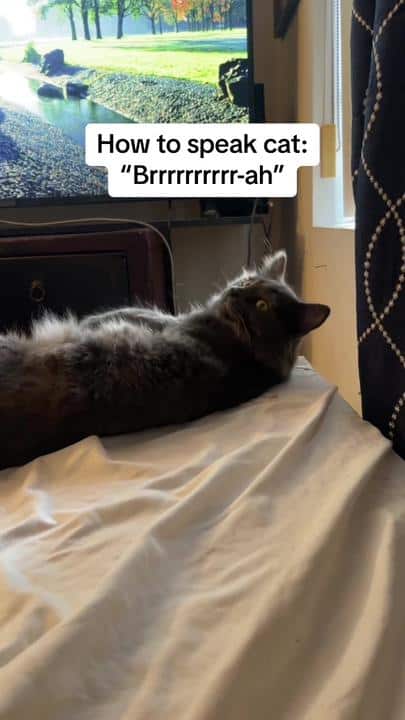 TikToker Alec Newman has shared insightful lessons on his TikTok videos that can assist cat owners in effectively communicating with their feline companions. These lessons are aimed at teaching cats to respond to specific commands or cues. Here are some of the lessons Alec has shared:
Lesson one: How to Speak Cat – "Mah Mah Mah"
Alec explains that when you make the sound "Mah Mah Mah," it signals to your cat that you're referring to food. Mimicking this sound can help your cat understand your intention to feed them.
Lesson two: How to Speak Cat – "Ma-AH"
In this lesson, Alec teaches that saying "Ma-AH" can be used to call your cat to come to you. However, he notes that not all cats respond the same way, as they have different personalities and behaviors. Some cats may not come when approached, unlike dogs who are more likely to respond to such calls.
Lesson three: How to Speak Cat – "Brrrrrrrrr-ah"
Alec demonstrates that making a gentle "Brrrrrrrrr-ah" sound can be used as a signal for your cat to come closer or to wake them up if they are sleeping.
While these lessons can be effective in communicating with cats, Alec acknowledges that individual cats may respond differently. Not all cats may understand or react to the language in the same manner due to their unique temperaments and preferences.
By sharing these lessons, Alec provides cat owners with alternative means of communication, facilitating a deeper understanding between humans and their feline companions. It is important for cat owners to be attentive to their cats' responses and adapt their communication style accordingly.
Donot forget to share with us your experiments with your furry baby on TikTok.