The launch of Instagram Threads, a competitor app to Twitter, has generated significant interest online. However, some users have recently discovered a Threads badge appearing in their Instagram bio, which they may wish to hide.
Threads, developed by Instagram, allows users to share text updates, photos, videos, and links with their friends and followers. It also provides the ability to participate in public conversations. Within a day of its release, Meta's Threads app has already been recognized as a potential rival to Twitter. However, some users are finding the Threads badge on their Instagram bios without their consent.
If you would like to hide, delete, or remove the Threads badge from your Instagram profile, follow the steps outlined in this guide. By customizing your settings and controls, you can ensure privacy, safety, and an inspiring experience on the app.
Significance of numbers on Instagram Threads badge?
Many Instagram Threads users have recently taken to Twitter to express their surprise at seeing numbers appearing on their Instagram bio after signing up for the new app.
It has been revealed that Meta, the parent company of Instagram, is automatically adding badges to users' Instagram bios once they join Threads. These badges are displayed right below the user's name, and when clicked on, Instagram informs the user that they are a certain number (represented by # followed by numbers) in the order of people who have joined Threads.
The numbers following the # symbol indicate the count of people who signed up for Threads before the user, providing insight into their position in the Threads userbase. Alongside the badge, there is a small message explaining that it is a temporary badge, serving the purpose of informing followers that the user is on Threads. Additionally, clicking on the badge redirects followers to the user's Threads profile if they have one.
These badges offer a unique way for Instagram users to showcase their involvement in Threads and indicate their place in the Threads community. It provides a sense of connection and awareness among users who have joined the app.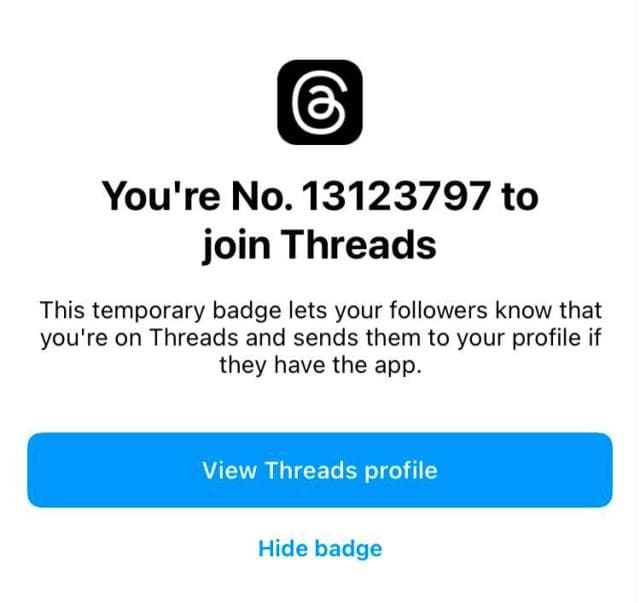 How to hide Instagram Threads badge?
Opinions on the badges added to Instagram bios for Threads are varied, as expressed by users on Twitter. It's clear that the addition of the badges has evoked mixed reactions among Instagram Threads users. While some may appreciate the unique feature and the ability to showcase their position in joining the app, others find it visually unappealing and choose to remove it from their profile. These varying opinions highlight the subjective nature of design choices and the diverse preferences of social media users.
For users who do not want the Threads badge to appear on their Instagram pages, there is a simple way to hide it. However, it's important to note that once you hide the badge, you won't be able to restore or access it again. Here's how to disable your Threads badge:
On your Instagram profile, click on the numbers displayed under your name, which represent your Threads badge.
A pop-up message will appear with two options. Select the option that says "Hide badge."
After selecting "Hide badge," you will see another message stating, "You can't add it back to your profile once you remove it."
Choose the option "Remove badge" to confirm your decision.
Once you complete these steps, the Threads badge will be hidden from your Instagram profile.
By following these instructions, you can easily remove the Threads badge from your Instagram profile. Keep in mind that this action is irreversible, so consider your decision carefully before proceeding.
How to show the Threads badge after hiding it?
After joining Threads, you might have noticed a unique combination of numbers appearing in your Instagram bio, known as your Threads badge. Clicking on this badge would have given you the option to 'Hide' it from your profile.
Unfortunately, if you chose to hide and remove the badge, there is no way to unhide it and have the numbers reappear on your profile. You would have been warned about this with a message stating: "Are you sure? You can't add it back to your profile once you've removed it."
If you still want to have your Threads link in your Instagram bio, you can add it using Instagram's links function. However, it will appear as a blue URL, not as a badge.
To do this, follow these steps:
Open Instagram and go to your profile.
Tap on the 'Edit Profile' button.
Scroll down to the 'Website' or 'Bio' section.
Enter the URL of your Threads profile (e.g., threads.app/profile/yourusername).
Save the changes by tapping 'Done' or the checkmark icon.
By following these steps, you can add your Threads link to your Instagram bio using the links function. Although it won't be displayed as a badge, it will still provide a way for your followers to access your Threads profile.
The Threads badge on Instagram profiles is intended to be a temporary feature. Instagram has not provided an option to bring back the Threads badge because it is designed to be present only during the initial phase of the platform.
While there is no specific time limit mentioned, it is expected that all Threads badges will be automatically removed from profiles in the near future. This means that eventually, no users will have the Threads badge displayed on their Instagram profiles.
The numbers on the Threads badge indicate the order in which users joined the app. For example, if your number is 11460429, it means you were the 11,460,429th person to create a Threads profile.
So, if you currently have a Threads badge on your Instagram profile, rest assured that it will be automatically removed as the platform evolves. In the future, no one will have the Threads badge, and you won't be the only one without it.
Users are unable to remove Threads badge due to a glitch
It seems that some social media users are experiencing a glitch that prevents them from successfully removing the Threads badge from their Instagram profiles. This issue has led to frustration among affected users.
Multiple users have taken to Twitter to express their frustration with the persistent presence of the Threads badge on their profiles, despite attempting to remove it. They have reported clicking multiple times to remove the badge, only to find it reappearing.
If you are facing this issue, it is advisable to report the problem to Instagram for further assistance. You can do this by following these steps:
Open the Threads app and go to your profile.
Access the Settings by tapping on the corresponding option.
Navigate to the Help section and choose "Report a problem."
Provide details about the issue you are facing with the Threads badge and submit the report.
By reporting the problem directly to Instagram through the Threads app, you increase the chances of getting a resolution or receiving further guidance on how to address the issue.
Instagram's support team will have the necessary information to investigate the glitch and provide assistance to affected users.