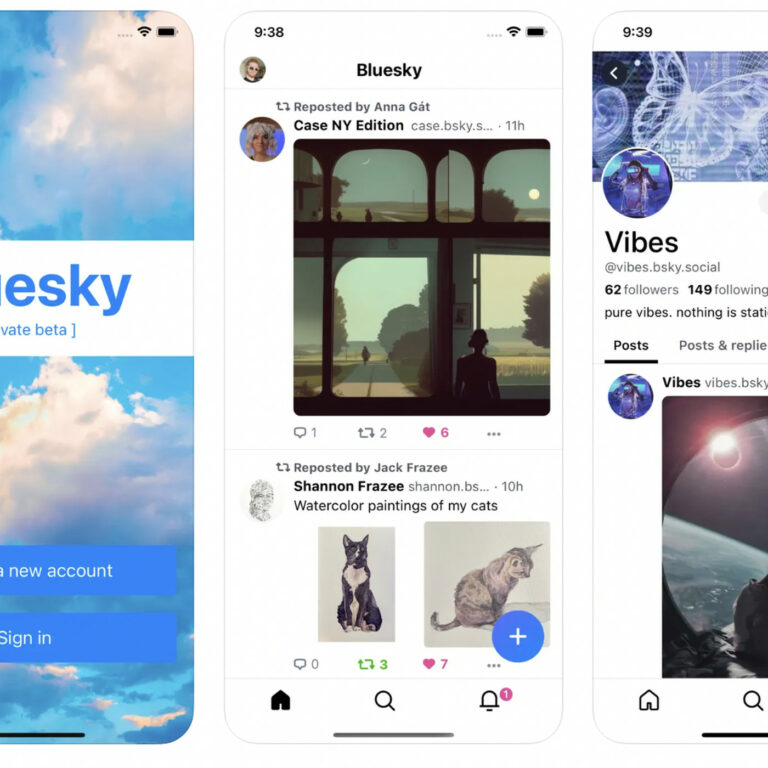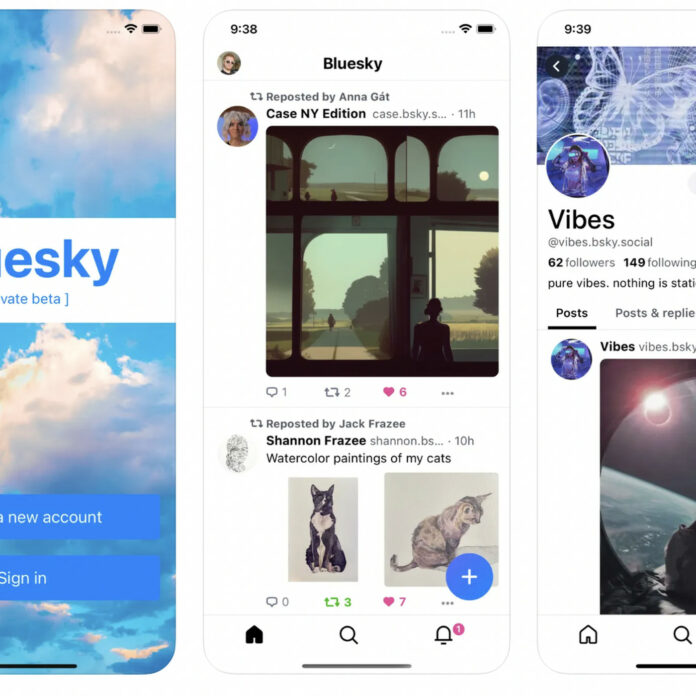 Bluesky Social is a decentralized social network and inherits many of Twitter's features. Several celebrities and media personalities have expressed interest in the platform by joining it using BlueSky Social Invite Code over the past few weeks. The social media app is in its advanced stage of development and is not yet available to the public. However, it is expected to be released to the public soon.
Bluesky Social has been referred to as a potential alternative to Twitter. The project is being spearheaded by Jack Dorsey, who is the founder and former CEO of Twitter. However, it is important to note that Bluesky is under development, and it remains to be seen how the platform will differ from Twitter in terms of features, functionality, and overall user experience.
The project aims to create a platform that is more open, transparent, and decentralized than traditional social media platforms. Unlike traditional social networks, Bluesky Social is designed to give users more control over their data and content and to allow for greater interoperability between different social networks. The social networking app makes it possible to connect with friends and family, share photos and videos, or discover new content on the platform at this time.
However, it is important to note that Bluesky is not yet publicly available. Therefore, an official invite code has not been launched yet neither join a waitlist at this time. Interested individuals can stay informed about any updates or developments regarding Bluesky Social by following the project's official social media accounts or keeping an eye on any announcements made by Twitter.
How to get BlueSky Social Invite Code?
There are a few ways out by which you can get an invite code or join the waitlist. It's immaterial whether you're new to the BlueSky Social app or you are looking for ways to create an account, here're easy-to-follow instructions that will set you up and running in no time. Get all the details on BlueSky Social Invite Code here!
Method 1: Get an invite from an early adopter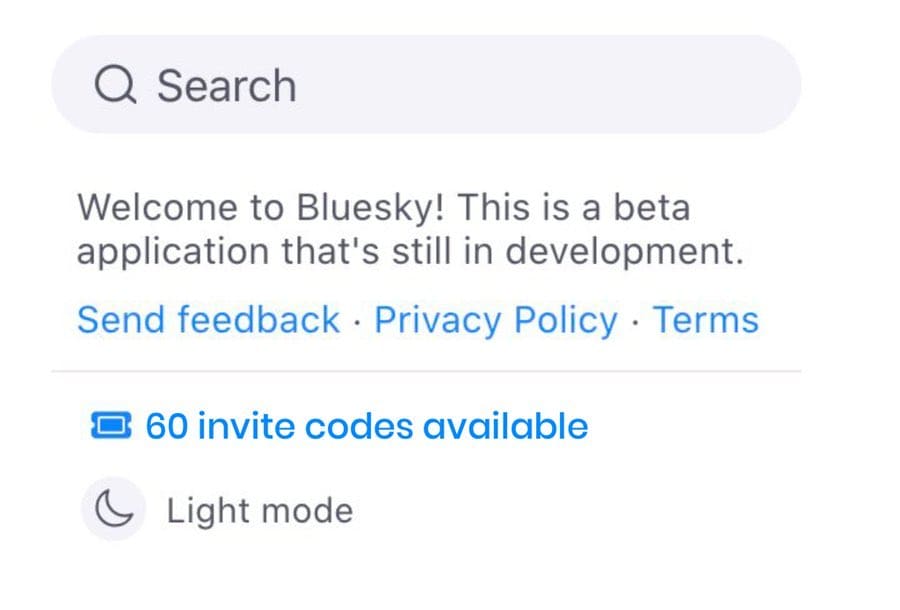 Many of the social media influencers have got access to the BlueSky Social Invite Code. You can get the code from any one of them for free. It is not chargeable. For eg. celebrities like US rep Alexandria Ocasio-Cortez, singer Grimes and Chrissy Teigen have already got access.
Apparently, it looks like there are some ground rules for BlueSky Social Invite Codes:
Every user is given 1 invite code/ 2 weeks on the app. To regulate the number of users on the platform as it grows, the devs could offer more invite codes to a particular user.
The quantum of codes can increase if you invite users who contribute to the app with more traction
Some of them can be tried are
bsky-social-vsk71gd
bsky-social-ld3jd0a
bsky-social-mon8io7
bsky-social-t1piud5
bsky-social-uwb4io1
bsky-social-s31dccs
bsky-social-nxb65pg
bsky-social-d7d8uut
bsky-social-id8f7wo
bsky-social-c5ss2ow
bsky-social-h4kdh8d
stems-social-swukchr
stems-social-op2s6th
Many people are selling the invites somewhat similar to what they did for the clubhouse, bitclout. So be careful!
Method 2: Sign up for the BlueSky code on the Website/App
If you are unable to get the Bluesky invite code, you can also opt for the 'Sign up for the Bluesky code' available on the official Bluesky Social official website. The early access program was released earlier in April.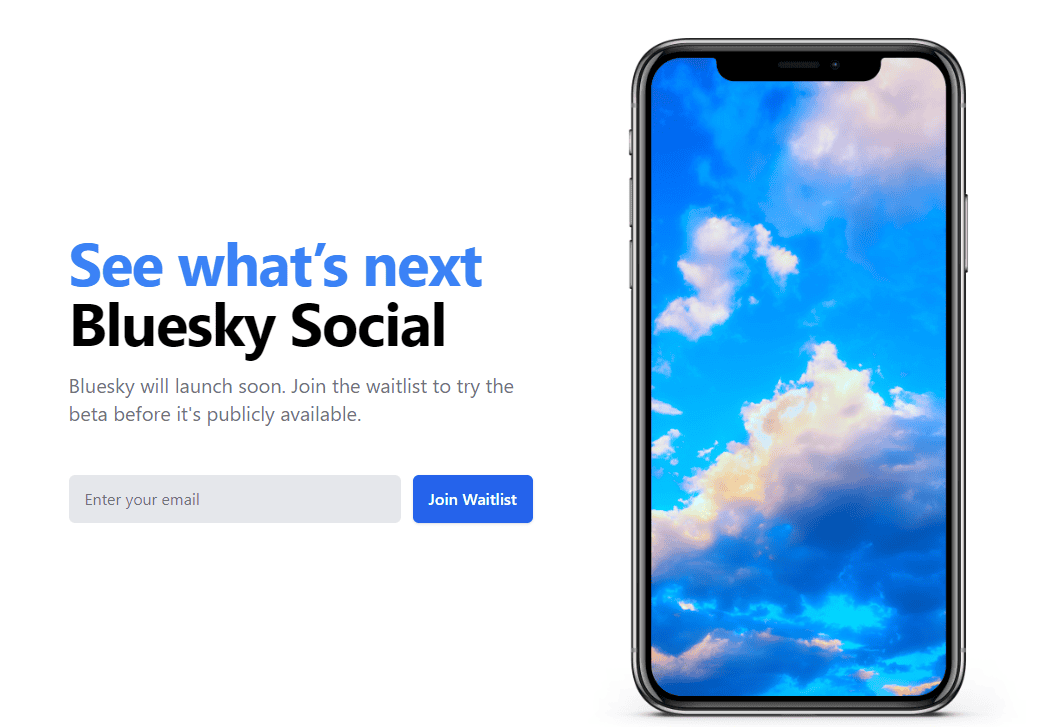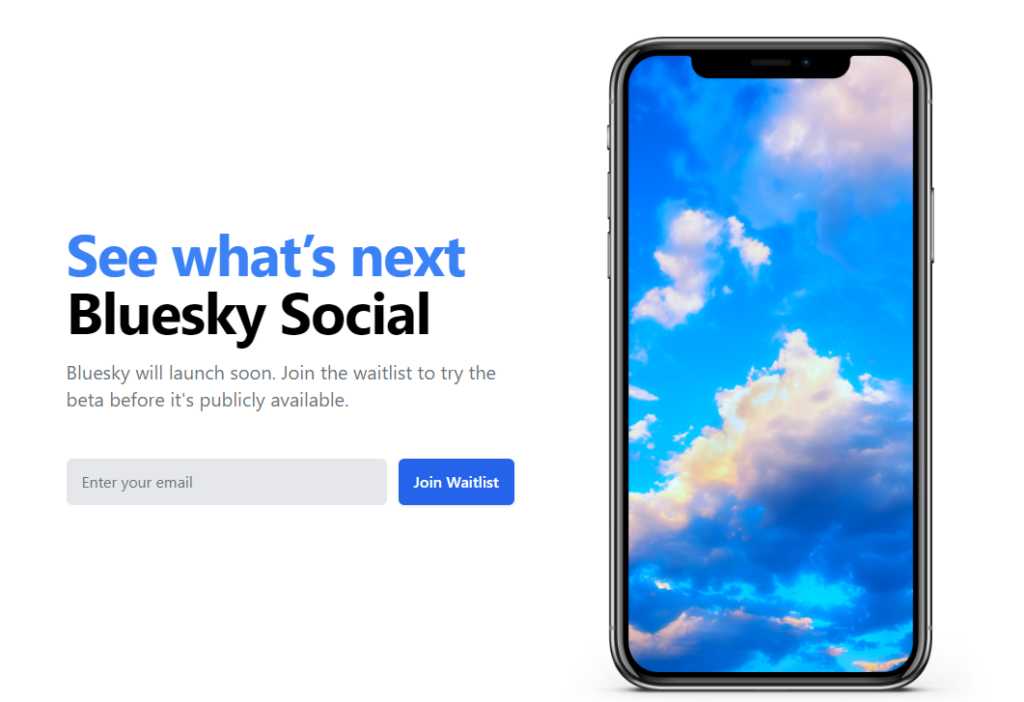 The second option is relatively easy, although it takes some time. Follow these steps:
Open a web browser and visit the Bluesky website (opens in a new tab).
Enter a valid email address in the provided text box.
Click on "Join Waitlist" to submit your email address.
Now, patiently wait and regularly check your inbox for an invite to join Bluesky.
Unfortunately, waiting for an invite from the waitlist is the only guaranteed way to gain entry at the moment. It may not be the most exciting process, but it is currently the only option unless you have a connection or contact who can provide you with direct access. According to Bluesky developer Paul Frazee, 35,000 developers across the globe are using the app.
The BlueSky app for iOS was released in February 2023 as an invite-only beta. Later on in April 2023, it was released for Android users. Though the BlueSky app beta for iOS and Android is available to download on the Apple App Store and Google Play Store.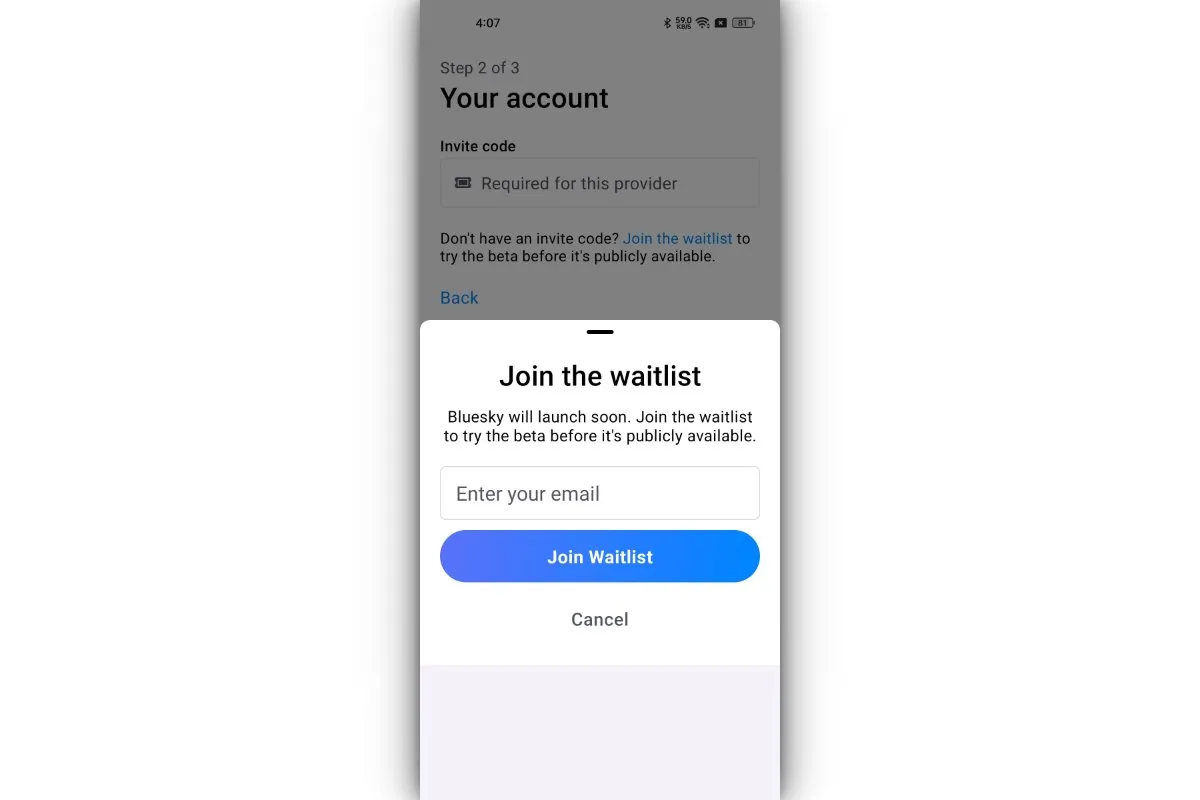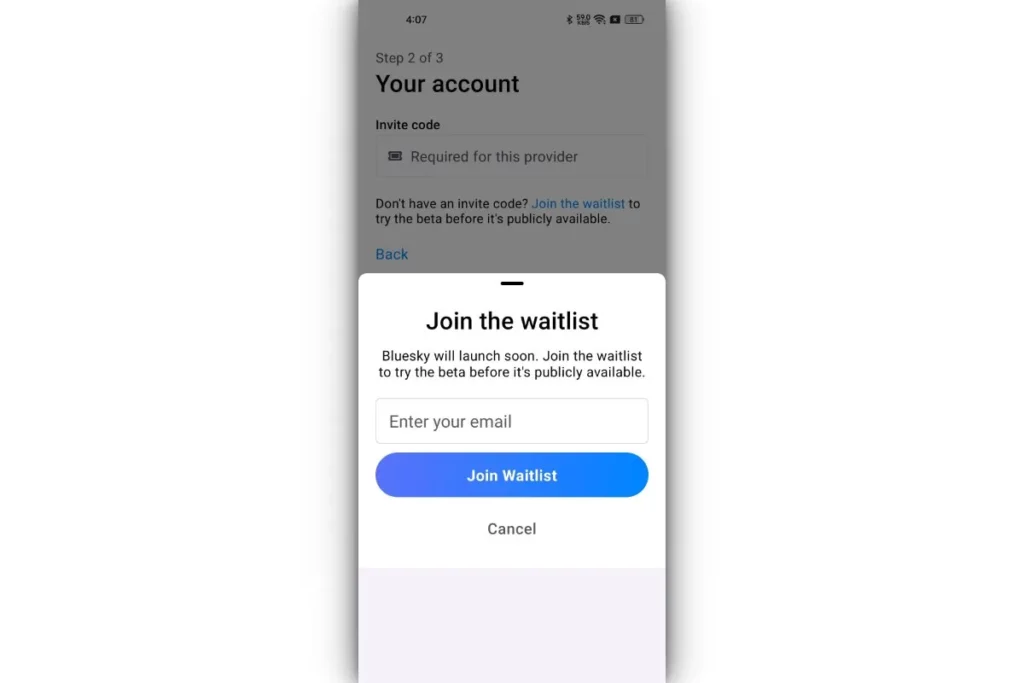 To join the Bluesky waitlist program, download the app and create an account on the platform. Select the hosting provider with Bluesky selected by default. The Next page asks you to enter the Invite code or Join The Waitlist program.
Alternatively, a subreddit r/blueskyinvites has been created particularly for Bluesky fans who are on the lookout for invite codes. You can follow it and stay updated
It is important to be cautious of any offers to sell or exchange Bluesky Social invite codes, as such offers may be scams or attempts to defraud individuals. It is always best to obtain information or updates about Bluesky Social through official channels, such as the project's official social media accounts or announcements made by Twitter.
Method 3: Bluesky Social open to public
While there is a possibility that you may need to wait until the platform launches to the public, both of these methods offer a chance to join Bluesky before that happens. Although an official launch date has not been announced yet, the fact that beta testing is already in progress indicates that the public launch may not be too far off. So, even if you end up waiting, it hopefully won't be for an extended period of time.
BlueSky News
Earlier on 1st July Bluesky sign-ups were paused for some time due to existing performance issues. Bluesky's status page now shows that there is no Bluesky downtime reported since yesterday. However, the Twitter rival platform has disabled new sign-ups saying that "Sign ups are currently disabled as is the 'Popular with Friends' feed. Otherwise the service should be operating correctly."
On Friday, Twitter encountered issues when it started blocking unregistered users, prompting owner Elon Musk to describe it as a "temporary emergency measure" due to concerns about excessive data exploitation. To address the situation, Musk announced new limitations on the number of tweets users can view in a day on Saturday. These measures were implemented to alleviate the impact on regular users and address the ongoing data security concerns.
Is there a possibility of renaming Bluesky to Twitter?
Twitter has taken the world by surprise with a significant rebranding move, now adopting the new name 'X' and revealing a fresh logo.
In response to this announcement, users of Bluesky Social, an alternative service associated with Twitter, are eagerly seeking invite codes to join the platform.
Platforms like Reddit and X (formerly Twitter) are currently inundated with requests for Bluesky invite codes. Several reports have surfaced, documenting the surge in interest for access to the Bluesky Social platform.
There are differing opinions about the potential renaming of Bluesky to 'Twitter' among Twitter users (now referred to as 'Xers') regarding whether the alternative service should take on the name 'Twitter' following the platform's transformation into 'X.'
Jack Dorsey, the founder of Bluesky and former CEO of Twitter, emphasized that the name itself is not the most crucial factor. Instead, the focus should be on the utility and functionality that the service provides to its users. This aligns with the idea that a service's success is determined more by its features, user experience, and overall value, rather than its name or branding.
Considering the potential baggage associated with the 'Twitter' brand, some users may feel that adopting a new name like 'X' for the platform represents a fresh start and a departure from any negative connotations. On the other hand, others argue that since Bluesky was born out of collaboration with Twitter, it should retain the recognizable name to maintain its connection to its origin.
Ultimately, the decision on whether Bluesky will be renamed 'Twitter' or stick with its current name will depend on various factors, including user feedback, strategic considerations, and the overall vision of the project. As developments occur, it will be essential to refer to the latest official announcements and statements from the project leaders to understand their final decision regarding the name of the platform.