Diablo 4's early access release has been highly anticipated after an 11-year wait. However, some players whether on PlayStation, PC, or Xbox have encountered errors like the 'Error code 395002' ie 'Your account is currently locked' issues causing frustration for those eager to dive into the action.
Players who purchased the Digital Deluxe or Ultimate Edition of the game were granted full access ahead of the official release on June 6. Unfortunately, the popularity of the title seems to have put stress on the servers, resulting in connectivity issues.
During the open beta periods, especially the Server Slam event, the error code 395002 was frequently reported, along with several other issues that impacted the game at launch.
It's not uncommon for games, especially highly popular ones like Diablo 4, to experience various technical difficulties during their initial release. These issues are to be expected, and developers usually work diligently to resolve them as quickly as possible.
In many cases, these problems can be resolved with relative ease. It's recommended to follow the steps provided by the game's official support channels, such as checking for updates, ensuring your system meets the game's requirements, and troubleshooting common connectivity issues.
Additionally, staying patient and understanding during the initial release period is crucial. Developers often provide updates and communicate with the community to address the reported issues and provide solutions.
What is the Diablo 4 Error Code 395002 "account is currently locked"?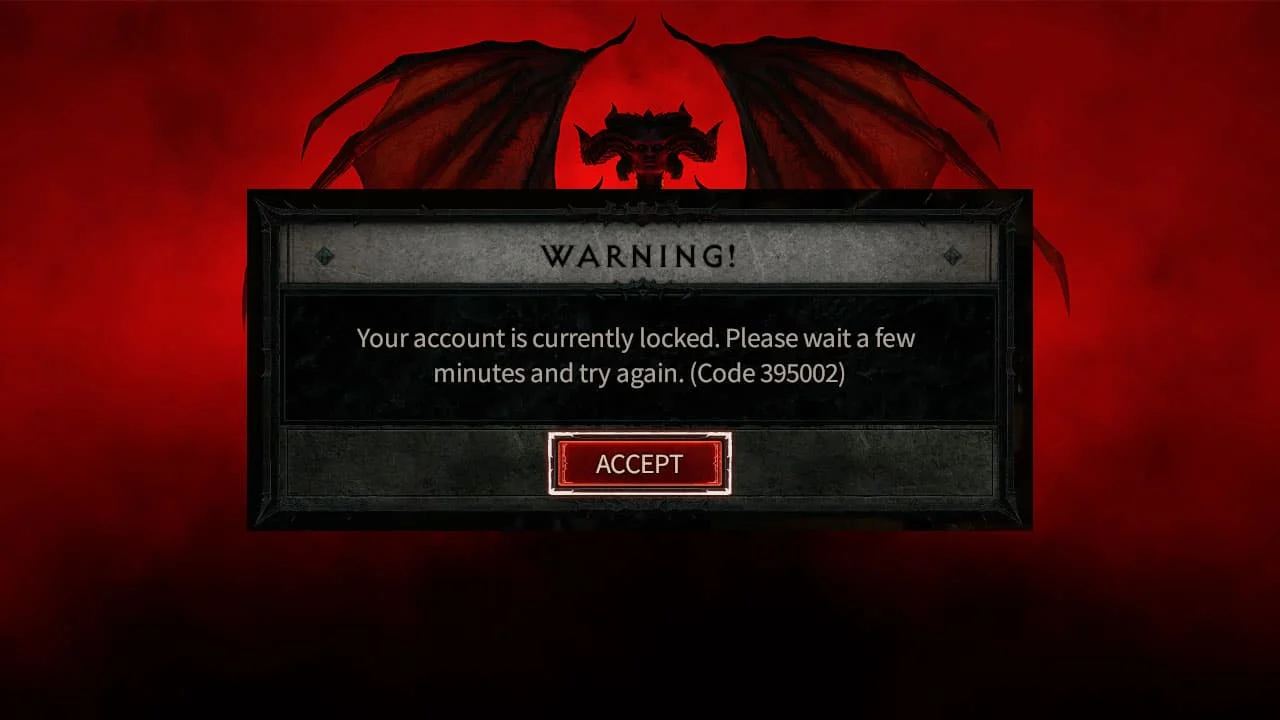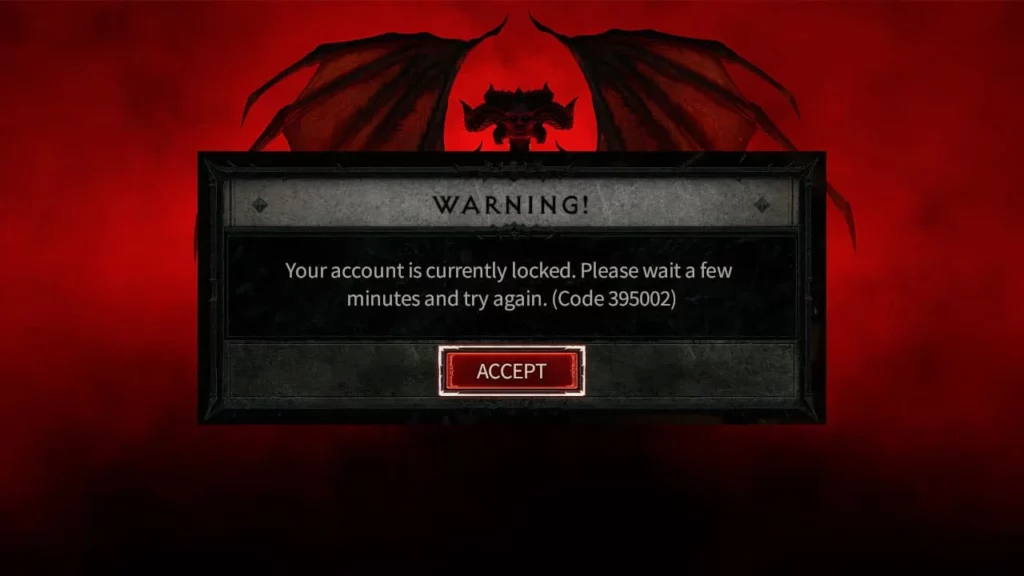 The 395002 error code in Diablo 4 is accompanied by a message stating "Your Account Is Currently Locked." Although this wording might cause concern among fans, there is no need to worry excessively.
Fortunately, this error does not indicate a permanent lockout from the game. Instead, it is a message commonly associated with server overload.
In simple terms, the error occurs when a large number of players attempt to log into the game simultaneously. The servers responsible for handling these logins can become overwhelmed by the high volume of requests, leading to the error code and the accompanying message.
To address this issue, it is recommended to be patient and try logging in again after a short period of time. As server loads stabilize and player traffic subsides, you should be able to successfully access the game without encountering the error.
Developers of Diablo 4 are typically aware of these server-related issues during the initial release period and work diligently to optimize server performance and accommodate the high demand.
By understanding that the 395002 error code is a result of server overload and not a permanent account lock, players can approach the situation with reassurance and look forward to joining the game once the server congestion eases.
How to fix the Diablo 4 Error Code 395002?
When encountering the 395002 error code in Diablo 4, which is a server-side issue, it is recommended to follow the steps below:
Be Patient and Retry: The best approach is to be patient and wait for a few minutes before attempting to log in again. This allows the demand to access the game to ease. Trying to log in too soon may either keep your account locked or reset the lockout duration.
Restart the Game or Computer: If you continue to encounter the error after waiting and retrying, try restarting the game or your computer. This can help refresh the connection and potentially resolve any temporary issues.
If the above options do not work out, Blizzard has proposed the following steps on PC via their support page:

Run the Repair Tool: Blizzard provides a Repair Tool that can help fix any damaged game files. Open the Battle.net launcher, select Diablo 4, and click on the options menu (gear icon). From there, choose "Scan and Repair" or a similar option to run the repair tool. This tool will check for any corrupt or missing files and attempt to repair them.
Switch Game Regions: In the Battle.net launcher, you can try switching to a different game region and then switch back to your preferred region. This process can help refresh the game's cache and potentially resolve any issues related to the specific region you were initially connected to.
Delete the Battle.net Tools Folder: Sometimes, outdated or corrupt files within the Battle.net Tools folder can cause issues. Close the Battle.net launcher and navigate to the folder where it is installed on your computer. Look for a folder called "Battle.net" or similar. Delete the Tools folder within it. When you relaunch the Battle.net launcher, it will automatically rebuild the necessary files, which can help resolve any outdated or corrupt file issues.

Check for Maintenance or Server Status: Visit Blizzard's troubleshooting website to check if there are any ongoing maintenance or server issues affecting Diablo 4. Alternatively, you can use third-party websites that provide real-time information on game server status. This will help you determine if the problem is widespread or specific to your account.
It's worth noting that during the initial release period or times of high player activity, server-related issues can occur more frequently. Developers are typically aware of these issues and work to resolve them promptly.
Once you successfully access the game, you can explore resources like guides on choosing the right class in Diablo 4 to enhance your gameplay experience.
Remember that early release periods for highly anticipated games can be challenging due to high demand. By keeping an eye on official announcements, forums, and support channels, you can stay informed about the progress of issue resolution and any steps you need to take to resolve the error code 395002 or any other problems you encounter while playing Diablo 4.