Considered to be of the 10 influencer social media apps, TikTok is the most popular video viewing application today. If users want to download video Tiktok to their computers and phones, there are many ways for them to refer. In this article, we will show you the fastest ways to download video Tiktok on both phones and computers.
How to download the latest Tiktok videos in 2022?
DownTik and X2convert are 2 tools that support downloading the latest completely free TikTok clips without logos in 2021 with many new features. Users can use it to save any video on TikTok that they want.
Downloading Tiktok video for free, super fast without logo with DownTik.com
DownTik.com allows users to download all video Tiktok for free on Android phones, iOS, iPads, or computers. Moreover, DownTik also supports increasing the quality of downloaded videos for sharper images. video Tiktok without logos or watermarks allows users to edit and post to other social networking sites.
Step 1: On your phone, open the TikTok downloader application, go to the video you want to download and copy the video link. Looking to the right, you click the white curved arrow. Then, the form appears, select "Copy Link".
Step 2: After returning to the main screen of your phone, open a new browser and then click on the link "https://DownTik.com/". You press and hold for about 2-3 seconds in the box "Copy and paste the link here" and select "Paste" when that word appears.
Step 3: Check out the download link displayed at the bottom of the screen after 2-3 seconds of processing. You swipe up the screen and select "Download video" without logo with "Without Watermark". Next, click "Download" again. In addition, you can download videos with a logo or watermark when selecting "Download" at Watermark.
Step 4: At this point, the downloaded file will be downloaded to your phone. Click directly to watch the video. The video will display similar to the one you selected.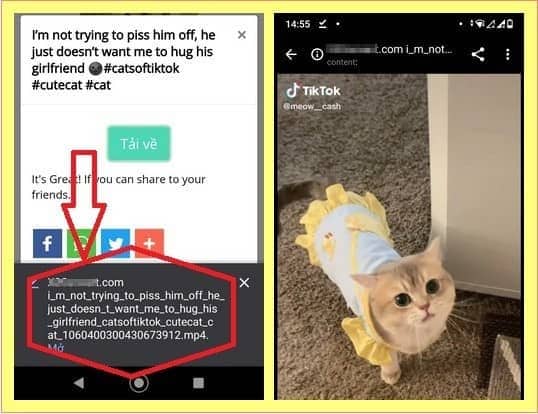 Besides, DownTik.com also supports users to download Youtube videos, download Youtube MP3, and download Facebook videos online for free. Its operations are as simple as downloading video Tiktok.
Downloading video Tiktok with X2convert.com
When it comes to downloading video Tiktok, you will definitely think of X2convert.com. It supports downloading free online video Tiktok without the logo, which is trusted and used by many users today. Currently, X2convert supports users with more than 20 different languages ​​and works stably across platforms.
Step 1: On a web browser, open the Tiktok video. You click on the Share icon and select Copy Link.
Step 2: Click on the link "https://x2convert.com/vi104/tiktok-downloader" to go to the Tiktok video downloader page. Then, right-click on the Copy box and paste the link there. You choose Paste or press Ctrl + V to paste the link.
Step 3: Then you click the blue Get Video Link button right below.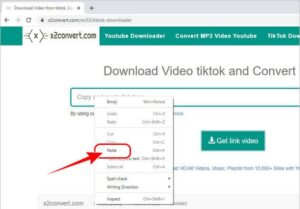 Step 4: To download videos without logo or without watermark, select Download Video corresponding to Without Watermark.
Step 5: You continue to click Download to download the video to your computer. You look at the bottom left corner of the screen, you will see the downloaded file.
How to download TikTok videos on phone
There are many ways to download video Tiktok to Android or IOS phones. We will show you the two simplest ways.
Downloading videos directly on the TikTok app
TikTok videos can be downloaded directly on Android and iOS operating systems. Just need your phone to have the TikTok app installed.
Step 1: Select the video you want to download, then press and hold the video with your finger for a few seconds.
Step 2: A notice board appears, select Save video.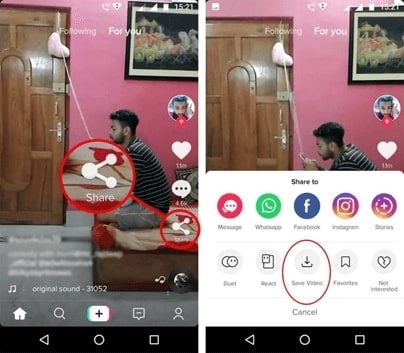 Step 3: After the video has been successfully saved, another message will suggest if you want to share the video to facebook, Messenger and other apps. Otherwise, select Cancel. Videos saved to the phone are usually located in the Library or File Manager folder on the Android operating system.
Downloading Tiktok videos with Tiktok downloader app
If you are using an Android phone like Samsung, Oppo, Xiaomi, etc., you can use the TikTok downloader application to download any TikTok clip to your phone.
Step 2: Open the TikTok app on your phone and select the video you want to download to your phone, then click the share button and select the line Copy link.
Step 3: Paste this URL into the Paste URL here box in the TikTok Downloader app or click the Paste button to automatically fill in the download link of the TikTok video you copied earlier. Finally, click the Download button to download the video Tiktok to your phone.
How to download video Tiktok on your computer
On PC, TikTok has certain restrictions. Users are free to watch videos, follow, drop hearts, share videos and comment on them. Other features such as personal editing information, and downloading video Tiktok are disabled.
But if you want to download video Tiktok to your computer to edit TikTok clips, you can use the 2 ways below.
Using Coc Coc browser
Coc Coc is a pretty popular web browser today that has pretty valuable features. It offers video or audio file downloads that we are interested in.
Step 1: Open Coc Coc browser and access the TikTok homepage with the link "https://www.tiktok.com/".
Step 2: Select any video you want to download to your computer. Then move the mouse and select the download icon and click to download the video to your computer.
Using a website that supports downloading video Tiktok
Another way to download video Tiktok to your computer is through an intermediary website. This way, you don't need to install software or use the Coc Coc browser.
Step 1: Access the TikTok.com homepage using any web browser available on your computer.
Step 2: Select the video you want to download, move the mouse to select the video sharing icon and select Copy Link.
Step 3: Press Ctrl + T on the Chrome browser to open a new tab and enter the URL "musicallydown.com /" in the browser address bar.
Step 4: Paste the address of the TikTok video link you want to download to your computer in the address bar on the newly opened website. Then click Download to proceed with downloading the video.
Step 5: Select Download MP4 NOW or Download MP4 to download the video or select Download MP3 NOW to download the audio file to your computer.
Conclusion
The above are ways to help users easily download any video on TikTok to computers and phones. We hope this information will be useful to you.