Are you worried if your emails get opened and read or if the user has seen them at all? Need to know who is active and enthusiastic about your product? Now you have a simple solution! The Email Tracking app for ServiceNow automatically tracks email opens and clicks. So if you are a ServiceNow customer support professional, feel free to use the email tracker tool to improve your business processes and customer experience.
Moreover, increase sales conversions reaching just in time those who are engaged. Essentially, it is much easier to communicate with the target audience. Agree?
How can you get Email Tracking for ServiceNow?
It's child's play. The app is available for downloading on ServiceNow's marketplace. Install, authorize and track email delivery. Besides, you can contact our support team for any explanations before or during the usage or require a free demo.
So, let's look at the apps' main features and purposes.
How can Email Tracking improve your customer support?
As you already know, Email Tracking streamlines your interaction with customers, leads, and prospects. It assists you in turning the last two into clients. However, let's look at the app's functionality from a different angle and find one more benefit.
When you pay attention, time, and of course, money to find a reliable tool, you want to be sure that the productivity of your customer support team is also improving. That's why the Email Tracking app is excellent and opens many more possibilities.
It's easy, and you can use it in such a way:
The most important thing about tracking emails is that it can help you know when to plan and send follow-ups to passive customers. It's not just for monitoring customer interactions but also for agents within the ServiceNow platform.
Email Tracking is also practical when we talk about tracking teams' activity. You can always be aware of who and when opened emails that inform team members about corporate events, webinars, problems, technical instructions, and more. Even the understanding of being tracked will force agents to pay more attention to corporate internal mailing.
Email Tracking for ServiceNow – what it's for and how does it work
Email Tracking for ServiceNow collects and tracks data on how often your users open, read and reply to emails. The app transforms raw data into numeric values, which can be used as metrics to measure productivity, customer service, and more!
Every time you send off an email, and after the recipient opens it, you get a notification with an accurate time of opening. In addition, you will also receive all information about the email's status – from sender name to sending and reading times and email body. It means that no longer will anyone have to wonder where their important emails went.
Let's imagine when your agents need to send an urgent message about a server outage or incident alert. In that case, information about email opens is crucial. That's because the agent can use other channels for communication to inform those customers who haven't seen the email by that time. However, if the client reads the email, you will receive the receipt in the Compose column on the Incident page.
Also, this information is helpful for other cases, for example, when you inform your prospects or customers about discounts or special offers. You can define who opened your email and plan your future activities to push the target audience deeper through the sales funnel.
The read receipt's anatomy
When it comes to email, certain things are just common. For example, when you send someone an email, you expect them to read it. And when they do read it, you want to be notified that it happened.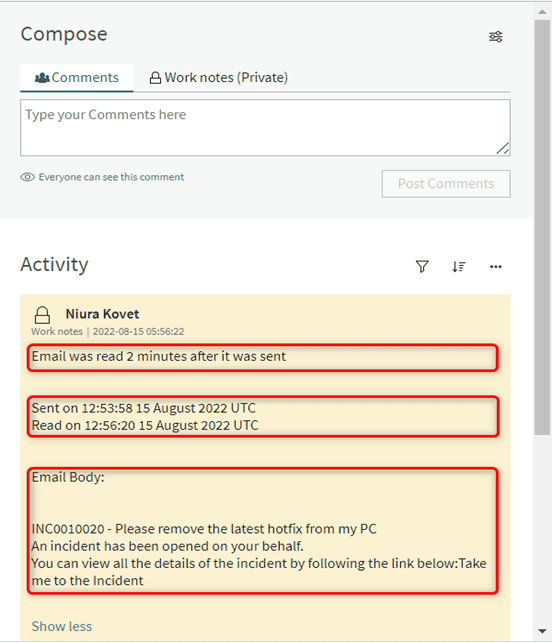 Source: Email Tracking for ServiceNow
That means you may like this feature: the read receipt! Now, you will know when the email is read by the agent. In the Compose column of the incident, the agent gets Work note with the following data:
• Senders' name
• Sending time
• The reading time
• The time that recipients took to open the email
• The Email Body/Comment body
Everything you need to know about the Statistics page
Read receipts have more benefits if they can be grouped and compiled in statistics. For example, you can use reports to see the percentage of opened emails and compare them with sent ones. There are three indicators on the ServiceNow Home page: Total Emails Tracked, Total Email Read, and Average Read Time.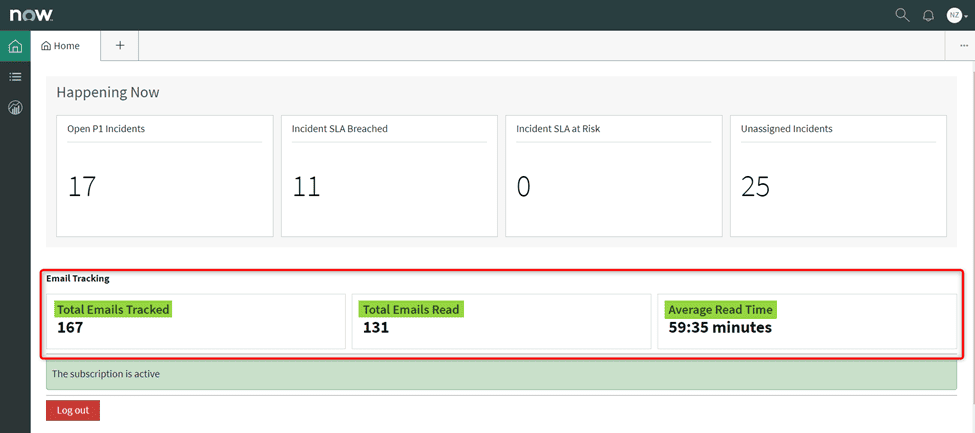 Source: Email Tracking for ServiceNow
Let's see what each of them means.
Total Emails tracked – shows the whole amount of sent emails that were processed by the app.
Total Emails read – shows how many tracked emails were opened and read.
The Average read time – calculates the middle reading time of all emails that were opened.
A few words about GDPR Compliance
If you are concerned about European users' privacy violations it's better to inform them about being tracked rather than not. Of course, your email may contain only one simple warning, but no worries, it won't harm your business. Oppositely, customer trust will increase as they recognize your honesty and can refuse their email opens to track.
Read more about GDPR and CCPA legislations described in the article in plain language. Get a full understanding of the main GDPR principles and save your money.
Summing up: Benefits of Email Tracking
We described the functionality of Email Tracking for ServiceNow and covered its advantages throughout the article. However, let's sum up and structurize all benefits of the app.
It helps to bring together information about customers' engagement;
It saves your time on sending pointless follow-ups;
Increase customer outreach;
Boost the customer support team's productivity.
Email Tracking helps to gain better business results for many of our clients. So, you can be among them. It is worth using a free trial to decide if the app fits your business needs. After running the 7-day trial, you can make a decision or even ask our developers for some extra custom features.