Discovering a Tim Burton's Halloweentown live-action movie poster would undoubtedly send fans into a whirlwind of excitement, but skepticism often accompanies such unexpected delights. Let's check out whether HalloweenTown Live-Action Movie poster is a genuine creation or simply the inventive work of a devoted fan—a creation deserving of admiration in its own right.
Directed by Henry Selick and produced by the visionary Tim Burton, 'The Nightmare Before Christmas' has earned its place in millions of homes, with a unique ability to bridge the gap between Halloween and Christmas. Since its debut in 1993, the yearning for more adventures with Jack and Sally has been palpable. This desire for further escapades with Burton's touch makes the prospect of a Tim Burton 'Halloweentown' movie all the more tantalizing.
Currently, a live-action 'Halloweentown' movie poster supposedly crafted by Tim Burton is making waves. It's crucial to note that the original 'Halloweentown' movie, released in 1998 on Disney Channel, marked the inception of a franchise that spanned nearly a decade. The film centers on Marnie Piper, a young girl who discovers her magical heritage under the guidance of her grandmother. Filmed in the picturesque St. Helens, Oregon, the movie blends Halloween aesthetics, imaginative costumes, and a heartwarming family adventure. The cast boasts the talents of Debbie Reynolds as the grandmother, along with Hoag and Brown portraying the mother-daughter duo.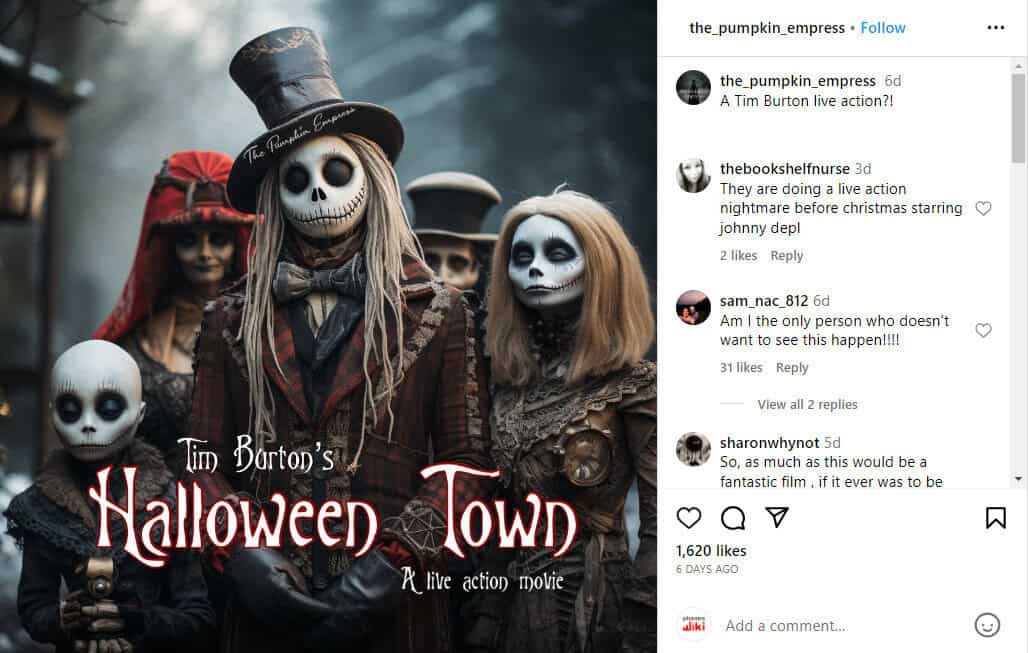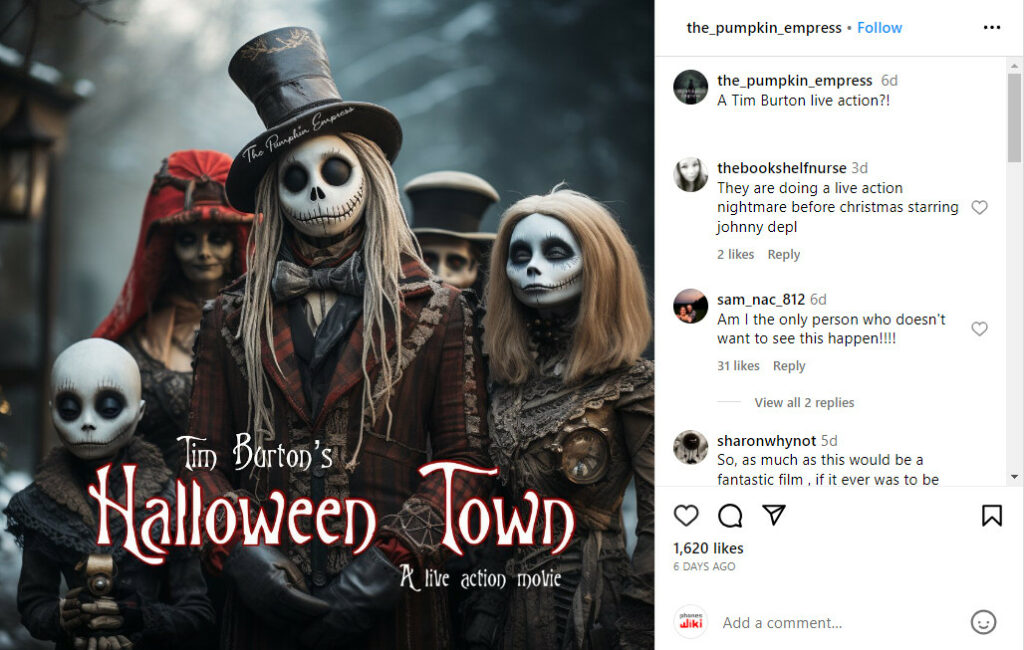 Interestingly, the movie's initial concept presented to director Duwayne Dunham envisioned a budget of $20–30 million. However, it ultimately came to fruition with a notably thrifty $4 million expenditure.
As we delve into the enigma of this supposed Tim Burton 'Halloweentown' movie poster, we tread the fine line between anticipation and skepticism, ever-watchful for the authenticity that might, like a magical incantation, make our Halloweentown dreams come true.
About Tim Burton's Halloweentown live-action movie poster
Many people have been sharing a poster for what appears to be an alleged live-action movie titled 'Tim Burton's Halloweentown.' The poster generated significant attention, with one post on September 10th captioned, "Omg I can't wait. Real or not?! This is beautiful work," amassing 162k likes, 69k shares, and numerous comments.
However, it's important to clarify that there is no official confirmation of a live-action 'Halloweentown' live-action movie directed by Tim Burton or any other director. The circulating poster is a fan-made creation, and the watermark on the poster, located on Jack's top hat, credits it to a digital artist known as The Pumpkin Empress. She originally shared the artwork in September 2023, garnering 35k likes and 14k shares on Facebook.
While the fan-made poster is remarkably convincing and captures the essence of Tim Burton's style, it should be noted that it has not been released by a studio to promote an actual film in development. Therefore, fans who were briefly excited about the prospect of such a movie are not alone in their enthusiasm.
Some fans expressed their reservations or skepticism about the idea of a live-action 'Halloweentown,' and there were concerns that Tim Burton might not endorse such a project. It's important to remember that in the world of social media, misinformation, and fan creations can easily gain traction, so it's wise to verify the authenticity of news and announcements, particularly when they involve beloved franchises and renowned directors like Tim Burton.