Android seems to be having a difficult time keeping its head above the water. The Pixel 4a/5 launch was soon followed by a bug-riddled experience that trickled down to the other phones in the Pixel series. Android 11 has gone for a toss on numerous user interface fronts. Given the ways things are now, a lot seems to be riding on the release of Android 12. Well, before its release, let's add one more shortcoming, "Android apps crash" to the list, shall we?
Android users have reported numerous complaints about apps like Gmail, Google/Chrome browser, and Yahoo Mail crashing away repeatedly. Apps immediately shut down when they're opened, giving no reasonable explanation to the users as to why.
Google releases fix to the Android Apps Crash bug
Yes, Google has acknowledged and released a fix to the Android apps crash issue. The root cause behind the fatal crash was a system component Android System WebView. Its function is to allow Android apps to showcase content on the web.
Those who are encountering the error need to update Android System WebView to the latest version 89.0.4389.105. Also, they should reinstall Google Chrome to the latest version, available on the PlayStore.
Update as on 25th March
Few users who are on older versions like Android 10 have complaints regarding incomplete manual WebView or Chrome updates. Google has acknowledged the issue, saying
No fix to the issue has been given by Google. However, it has asked users to stop uninstall manual updates to WebView.
Let us dig deeper into the Android apps crash issue and what potential solutions were on offer.
Why are my Android apps crashing?
The issue began sometime on Monday when users found out that basic everyday apps like Gmail and Yahoo Mail began crashing. Most users were skeptical about it being the fault of the software. Many tried to clear the cache memory and even reset the app data with no evident success.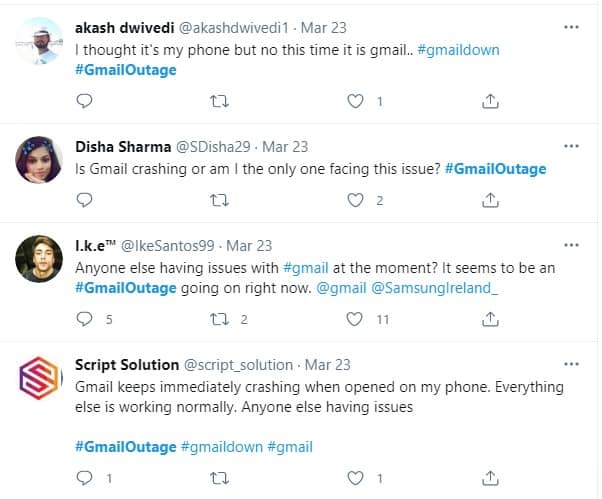 Others tried a full factory backup of the device hoping it would work.
For many the problems involving the immediate crashing of apps wasn't restricted to the above three. Apps which involved schedules and daily task routines were also disrupted. Google Calendar and other 3rd party health-monitoring apps were the most common victims. Some games also refused to start up.
However, forums on Reddit have come up with a solution. We've outlined it below for those interested. For the rest just follow this TLDR: Go to the Google Play Store and uninstall Google Webview.
Potential workarounds to the issue of crashing Android apps?
Uninstalling Google Webview appeared to be the safest option yet. In fact, Samsung official US twitter account also tweeted the same.
Some users said that removing the latest update to WebView fixed the issue — and in fact, Samsung's official US support Twitter account recommended taking that exact step.
However, it was not easy to implement. For instance users on an Android version lower than 10, they'll need to uninstall updates to Chrome, not the Android System Webview. Many devices did not have the option the uninstall and some had disabled by default.
However, few workarounds handled the impediments perfectly.
Older versions and older devices where Webview might be disabled already also saw some solutions.
With the fix in place by Google, all the dashboard parameters are working perfectly fine. However, if you still encounter, Android apps crash do share a screenshot with us. For more similar info, head over to our website here.