The Samsung Galaxy Watch 5 series was touted as the Android doppelgänger to Apple's Watch Series 7. It was launched on 10th August and made available online and in Samsung stores from August 26. Samsung made the Galaxy Watch 5 Pro battery life the selling point, new bigger battery (590mAh) than the Watch4/Watch4 Classic. It committed a Galaxy Watch 5 Pro battery life of 3 days on a single charge.
It is another story though, Galaxy Watch 5 Pro is 2 years behind the Tic Watch Pro 3 in battery life which was released in 2020 with 3+ days of battery life.
Users are still into a few days of use and many of them are complaining of atrocious battery life on their Galaxy Watch 5 series.
Thus, the task entrusted to this article is to make a collective compendium of those issues along with possible explanations that offer a plausible solution. Making this compendium required a lot of help from several forums on Reddit, so do show them some love as well.
Atrocious Battery life complaints from Samsung Galaxy Watch 5 Pro users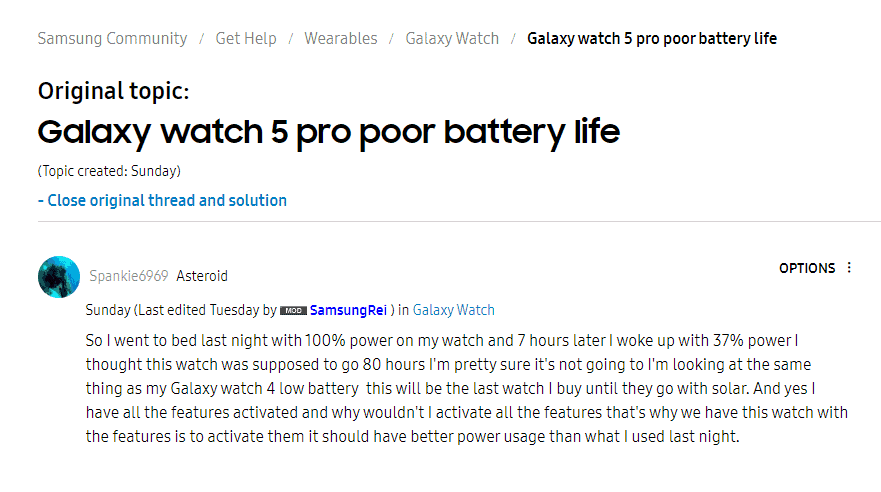 One of the most frequently encountered issues was claims of poor battery life. Few user complaints about subpar battery life have taken everyone by surprise. Surprisingly, users who are not making intensive use of all the functions of GW5 are also complaining of the watch eating through the battery.
People who are on a very light use literally just wearing it, no tracking exercises, counting steps only, pretty bare bones, keeping Wifi and Bluetooth off, oxygen turned off during sleep, auto screen brightness set to off, no extra apps, no calls or texts, and AOD off are also reporting less than 24 hours battery from Galaxy Watch 5 Pro. The experience of great battery life by Samsung has gone for a toss for many.
Few reported about the Health platform draining 31.8% of the GW5 watch battery while using it as a barebone. Inspite of the standard Samsung troubleshoot procedure, the issue did not get resolved. The new GW5 users are typically unhappy with the battery life statistics because they feel they have traded a perfectly good Galaxy Watch 4 with 64 hours of battery life with Galaxy Watch 5 with 25 hours of battery life only having same settings from restored backup. Most of the drain comes overnight while sleep mode is on.
Thos who have opted for GW5, one of the major reason is its bigger battery size, promised battery life of 72 hours and the faster 10W charging speed. But many of the users have been left disappointed. GW5 battery statistics is much inferior to GW4, ranging on an average of 36 hours.
But there are positive feedback as well. Check it out below
Samsung is yet to release an official word on the issue, maybe a software update might fix the poor battery issue with GW5.
How to fix Samsung Galaxy Watch 5 Pro poor battery issue?
At first sight, it may seem like another typical case of battery performance not meeting expectations. However, several members did point out that the initial days of usage (setting up accounts and downloading updates) can be somewhat taxing. Once a user settles into their everyday groove, the watch adapts. Doing timely updates were said to resolve the issue for some users. Even so, the dissenters outnumber the ones in assent.
With regards to poor battery optimization, well, we have a list. Most of the battery drain troubles are often found on the LTE versions of the smartwatch. Bluetooth only devices have little to no accounts of such trouble.
Small tweaks can also help in adding an extra day between charging. This includes
Changing the heart rate monitor to every 10 minutes
Turn down the brightness
If the Health platform is showing irregular consumption, force stop the Health Platform and reboot the watch.
Switch off the media control settings
Turn off NFC if not in use and touch sensitive bezel
Stop using "Hey Google" Google Assistant, it has found to drain the battery faster
In the meantime, you can also check out the best smartwatches for working women within a budget. Share with us your issues with Galaxy Watch 5 Pro and how you fixed them.
Also Check: How to fix Galaxy S10 battery drain after OneUI 3.0 (Android 11) update
For more similar content, stay tuned to our PhonesWiki website, and don't forget to drop in an email to info@phoneswiki.com also.