Some users have reported that they encountered several Android Auto issues with the application when pairing it to their vehicle. The Android Auto issue of pairing had been brought to notice in August but the recent AA update 8.1.626464 has not solved it completely. Android Auto turns on and off on connecting in the car with an error message that there is either a connection error or the equipment is not compatible. Many users found that on updating to Android 13, the Android Auto issue has surfaced which is otherwise working fine with other OS and devices. The issues have been reported majorly by Pixel, Motorola, Samsung, and OnePlus users.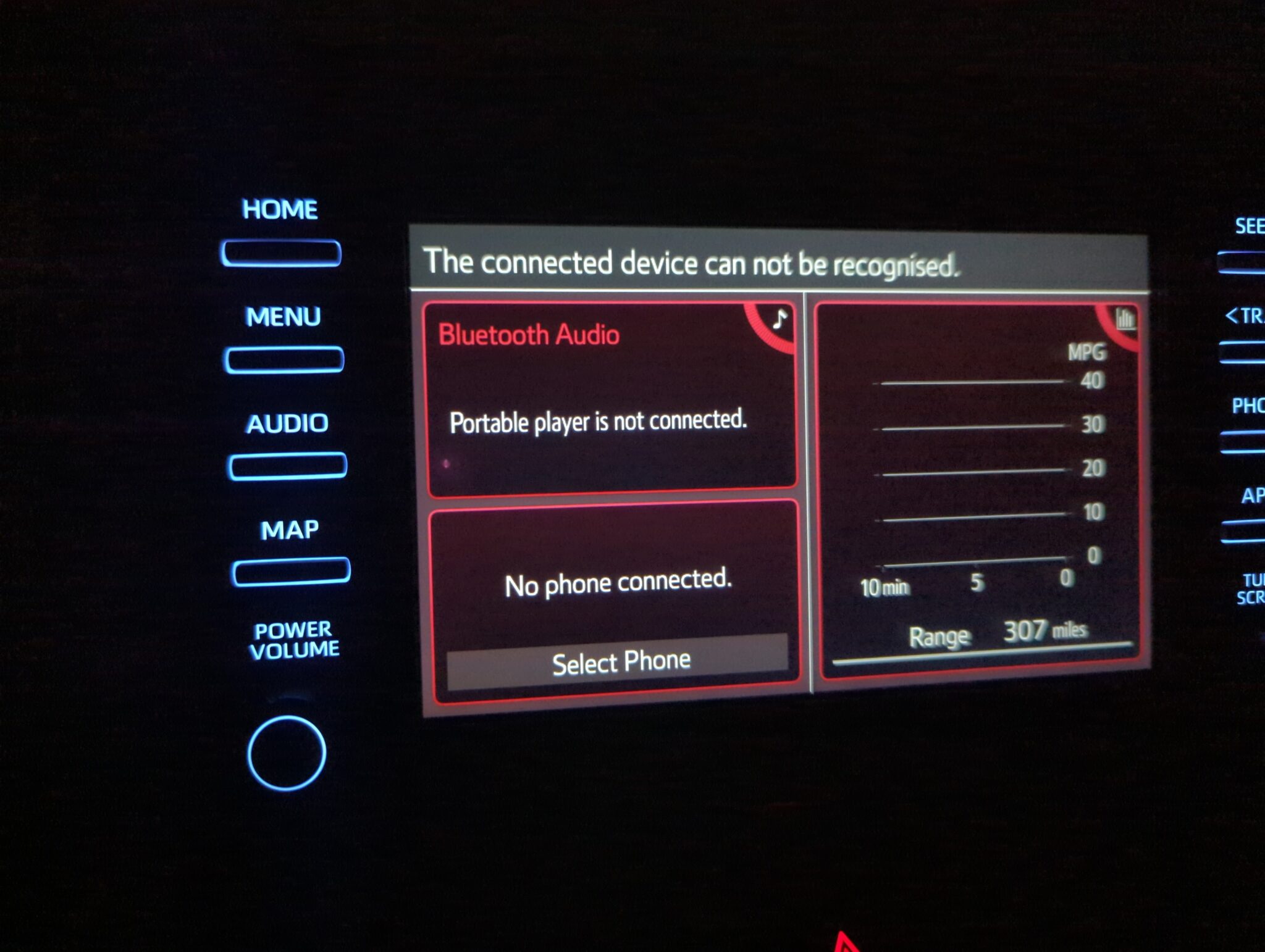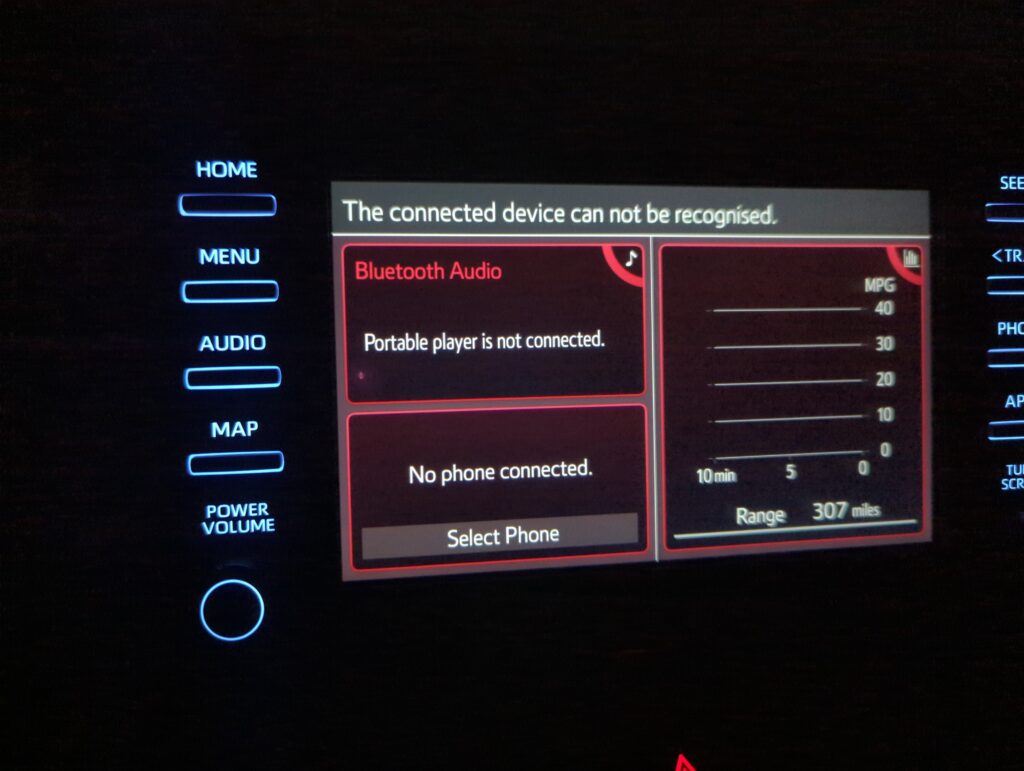 To help you overcome these problems, we have explained this Android Auto issue in detail and its possible solutions. We hope these will help you get rid of all the hurdles that come your way when trying to use Android Auto.
Android Auto lets you use your phone while driving, but completely hands-free. It doesn't require you to look at your phone and use your hands to operate it during driving, making your journey convenient, safe, and even fun!
The interface is simple and easy to use. All you need to do is connect your Android phone to your car's USB port or through Bluetooth wirelessly, and you are ready to go. The app enables a user to access a variety of smartphone-based functions such as navigation, music streaming, and phone calls to be displayed on the vehicle's dashboard monitor screen using voice control through Google Assistant.
Android Auto issue prohibits devices to pair
Many users who took it to various online forums and social media to vent their frustration found that the app wouldn't allow their phones to connect when they tried to pair it with the car. An error message flashed on the screen "AA is not available, please reconnect it for experience" and the screen blacks out.
Let's have a closer look at what Android Auto issue they are complaining about.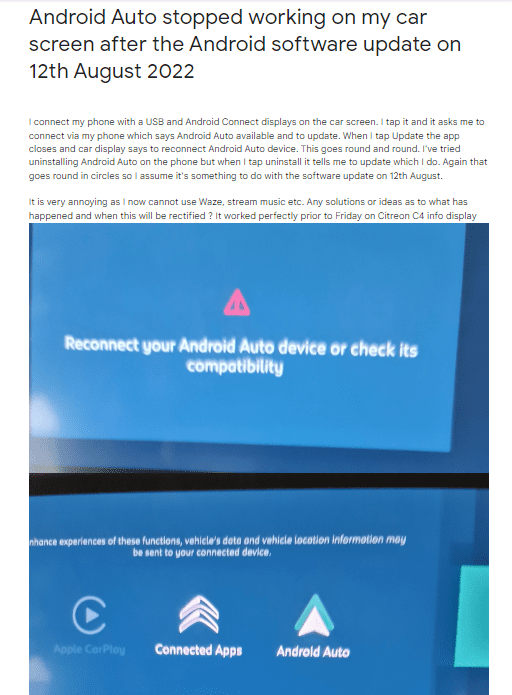 The user attempted to connect his device to the car through a USB leading him to update the Android Auto app on his phone. However, once he hits Update, the app quits, showing an "install failed" message on the phone screen. Now, the vehicle display instructs him to reconnect the device, and the annoying process continues indefinitely.
This case is more interesting. The user has been using Android Auto in his car just fine since 2019, only to find out the app is not working anymore recently. He changed his cable three times and even tried to connect wirelessly, but nothing worked. Although the phone kept charging the whole time when connected via the USB cable, the car monitor displayed a "connect a device" notification, indicating that the vehicle could not even recognize the phone.
This user recently upgraded his phone. To his surprise, the latest version of Android Auto on his brand-new device refuses to connect to the car. He used to use the app wirelessly, and this time he also tried a USB cable, which did not help either.
This is even weirder! Unlike many others, here, the user actually has been able to pair his phone with the vehicle, but not for long. According to him, the phone gets randomly disconnected within 2-5 minutes. He pulls out the USB cable, then plugs it back, and the Android Auto starts again, only to be stopped working after a few minutes. He further stated that the issue is more prominent with longer cables, while shorter ones work a little longer before they eventually get disconnected.
Some found that the phone does not display any notification or does not comprehend its connection to the car, instead believing it has connected to a charger. This is being reported for Android Auto version 8.1.626464
Source: Previously, Android Auto showed the route and destination on the vehicle screen immediately after pairing the phone for this user. However, recently he noticed that functionality was missing, and he now has to put the location either manually or by using voice command. Later this Android Auto issue worsened after a few days as the car failed to detect the phone, and a message saying "device not supported" pop up on the screen. What's more, even the Android Auto app disappeared from his phone.
How to resolve the Android Auto issue stopping phones to connect with the vehicle?
If you are one of them facing this terrible bug even after recent AA updates 7.8, leaving you without Google Maps navigation or other crucial features on your car screen, try some of the methods described below.
Clear the Android Auto cache on your phone
You can do the following to clear your Android Auto app cache, which could help you solve the Android Auto issue.
Go to Settings → Apps → Android Auto. Tap Clear Cache under Storage & Data.
Uninstall Android Auto and reinstall it
1. Uninstall updates from Google Play Service (Settings -> Apps -> Uninstall updates)
2. Uninstall Android Auto updates (Settings ->Apps -> Uninstall updates)
3. Now fresh install and update both
4. Wipe out phone settings at Vehicle Head Unit ( Smartphone ->Android Auto -> <Device BT name>(whatever your device name in Bluetooth is) and unpair from BT as well
4. Pair your phone to your Vehicle (Need to follow prompts) like its a fresh phone installation
Please note that after uninstalling the app, you should restart your phone once before reinstalling it to clear the phone's cache.
Factory reset the device
In case the first method doesn't work, you should consider performing a factory reset. However, it will delete all personal data stored on the device, so consider backing up your important files before doing so.
Try a different USB cable
Some users claim that replacing the USB cable solved the problem for them.
Update your vehicle software
Updating the vehicle software may also help you resolve the issue. Consult your dealer or the customer care line of the manufacturer for details.
Did Google release a "fix" for the Android Auto bug yet?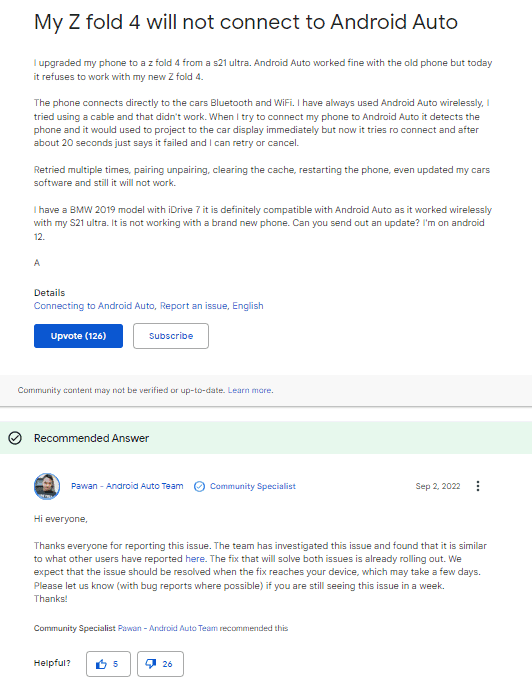 It seems they rolled out an update starting on 26th August to address the Android Auto issue, but it worked for a handful of lucky ones while leaving a large number of affected users at the mercy of the problem. According to a user who said the "fix" solved the issue, it works if you uninstall the Android Auto and the Google Play app from your phone as well as completely wipe out the device history on the car's display, and then install and update everything back.
This has left AA users wondering if Google is contemplating discontinuing Android Auto "for screens" running on cars. For the time being it's more baffling that the Android Auto issues seem so widespread and Google needs to at least roll back any changes made in recent releases until it is fixed definitively.
At the time of writing this piece, the Android Auto issue remains unsolved for a large majority despite Google's initial "answer" to deal with the bug. If you are among those unlucky people still experiencing it, please post your experience in the comments section below.