Fluctuations in Filecoin price has turned the spotlight towards it amon crypto investors. Investors have always shown a keen interest towards alternative cryptocurrencies born from Bitcoin's massive success. One of the most innovative high-risk, high-reward token Filecoin has taken the spotlight recently. If you're lagging behind, we got your back. Read to the end to know all the details from Filecoin price and working procedure to government protocol and its other prospects.
Filecoin is essentially a decentralized cloud storage network allowing users to rent out excess storage space. This leverages the platform's open-source capability where end-users can also choose to buy storage on the network. It has its similarities with Alphabet's Google Cloud. But it differs by having users pledge storage space from their electronic devices on the Filecoin peer-to-peer network in exchange for "rent". This mechanism makes it stand out from centralized storage systems and providers like Google Drive, Microsoft Azure, etc.
The recent fluctuation in Filecoin price has turned a lot of eyes towards them. Even the world's leading digital assets mining and cloud service platform- Bitdeer has announced their support for Filecoin (FIL). So what is so hot about this alternate cryptocurrency?
What is Filecoin?
Filecoin launched initially in 2017. The platform introduced itself as an alternative choice to mainstream traditional online sotrage providers. Juan Benet's Protocol Lab developed the project while they were looking to construct a decentralized data infrastructure. They wanted to create it so that both blockchain and traditional providers-developers can utilize the platform.
Protocol Lab carried on their work and eventually created a supply of of unused storage in consumer hardware as well as online data centers of contemporary businesses. As a result, Filecoin also introduces itself as a more affordable alternative in comparison to the other platforms off-chain. The project raised over $200 million within 30 minutes of its release.
Filecoin further enables its users to store a wide range of data like movies, podcasts, contract data, App data, security archives and more! It is just like any other decentralized blockchain token, except that the participating nodes process the entire data storage and not cryptocurrencies.
In simple terms, it is somewhat similar to Dropbox tool but backed up by blockchain technology.
Where to buy Filecoin?
If Filecoin interests you, first you should know about its native token- FIL. This FIL token is what will enable end-users to purchase storage space, retrieval services and any other transactions on the network.
Interested investors can choose from a number of ways to buy Filecoin. Below we have listed the common steps you'll need to follow if you're buying FIL for the first time.
Open an online account
FIL is accessible on most of the major cryptocurrency exchanges owing to its strong backing. You can buy Filecoin tokens on exchange platforms like Coinbase, Gemini, Crypto.com,Binance and Kraken. We recommend using Kraken or Coinbase according to your preference. They are really secure along with an easy-to-access user interface.
You'll need to complete all verification processes before becoming eligible to trade cryptocurrencies.
Deposit cash or use other tokens
After you are done opening an account successfully, you'll need to fund the account in order to purchase FIL. Cryptocurrencies like ETH, BTC and others can be used to buy Filecoin tokens.
You can also use cash (USD, EUR, CHF) for your transactions. Cash enthusiasts will be required to go through additional verification processes for that.
Buy Filecoin (FIL) cryptocoin!
As soon as your account gets funded, you are immediate eligible to purchase FIL. You can buy Filecoin tokens as either limit or market orders. Limit orders only goes through with your investment if the asset falls down to a price you specify. On the other hand, market orders purchase your investment almost instantly at market price.
Storing your FIL tokens
Irrespective of whichever trading platform you choose, crypto wallets are the best way to store the FIL tokens you purchase. Using a wallet helps investors to avoid risks borne out of hacking on trading platforms.
It's very important to store your Filecoin tokens in a proper wallet for its safety. You can use both hardware and software cryptocurrency wallets for this purpose.
Is Filecoin a good and safe investment?
Filecoin has recently plummeted over 50% in value back in mid-2021. But it still outperformed most of the rival alternative tokens. Some investors believe it's too late to buy FIL coin because of its $7 billion market cap value. If Filecoin is able to decentralize data, its market capitalization will continue to increase.
The platform has already secured more than 1.17 million storage deals with a total storage space of 32 million gigabytes. But Filecoin only has a few hundred clients. Many have made their cloud storage data available but people are not really using it. Therefore, if you want to buy Filecoin tokens, know that it comes with a high-risk high-reward value.
Filecoin Price – What is FIL's worth?
As of December, 2021, FIL tokens are priced at $53.12 USD showing a 0.02% drop in the last 24 hours. The current fluctuations in Filecoin price comes from a simple market correction.
When the network launched initially, Filecoin price was roughly $10 per FIL. Filecoin price has reached lows up to even $2 back in 2018. It was from May 2020 that the company started to boom in the cryptomarket. Once the company was able to pick up momentum, Filecoin price started to soar. The network has recorded an all-time high of Filecoin price at $237.24 in January 2021.
The current prices provide you a wide margin of safety, making it definitely an excellent time to make your purchase. NFT's have also gained popularity recently. If these digital assets make their way into blowing up, then the number of Filecoin users will inherently see a huge increase.
Is Filecoin built on Ethereum?
Another crypto ecosystem that has successfully proved its collaborative value is Ethereum. It is mutually beneficial as the Filecoin network is ecosystem oriented. Since the design is meant to be used by end-users, Filecoin can naturally fit with other applications, ecosystems and stacks within Web3.
In September, 2021, Protocol Labs and Ethereum Foundation have settled on an agreement. The partnership aims to provide better privacy, interoperability and scalability. The two companies will also join hands with SupraNational for the potential development of the VDF and GPU and ASIC design.
What is the Filecoin Green Project?
The Filecoin Green Project is an initiative by the network in order to prove its commitment to renewable energy. The largest decentralized data storage blockchain acknowledges that storing and retrieving data is obviously energy intensive.
As a result, Filecoin aims to set up a database using to record their energy use and proof of renewable energy use. This move differentiates itself from the traditional ways of making energy claims right now. Claims of most other cryptocurrencies like Bitcoin are based on surveys. But providing actual verifiable data can make Filecoin a pioneer in this action.
Filecoin's Governance protocol
The decentralized storage network employs Filecoin Improvement Protocol (FIP) containing a set of governing principles. They outline the network's vision, how to achieve it along with stakeholders who can take part in the execution of the process. These stakeholders ultimately make decisions on behalf of the network influencing the future of Filecoin.
Filecoin's FIP protocol can be broken down into three main categories- Technical FIPs, Organizational FIPs and Recovery FIPs.
Technical FIPs are designed to collect feedback from the Filecoin community about any technical issues. The Organizational FIPs then enables the community to discuss, propose and concord to a decision.
Lastly, the Recovery SIPs provides a forum for the community to raise, address and come to an agreement surrounding fault recovery and chain rewrites. However, the decisions are usually made under a very strict and clearly-defined set of criteria.
FAQs
1.  Why is Filecoin expensive?
On the contrary of being expensive, Filecoin price is actually on the cheaper side. Storage is an integral part of everyone's daily lives. Yet most of us go about not knowing and understanding much about how it works.
This means though the passage of time, we might see a big rise in the number of users and investors in Filecoin.
The current 50 dollars average price might seem expensive from the sight of inexperienced eyes. If you're planning on investing in Filecoin, we recommend you to wait and watch its performance over the upcoming months. With the way the price is dropping, it's hard to rule out a potential correction pushing the price below $10.
2. Does Filecoin have a limited supply?
The Filecoin supply consists of four components- the miner supply, the Filecoin Foundation supply, the Protocol Labs supply and the sale supply. The network does have a limited supply. The maximum amount of Filecoin that will ever be created is capped at 2,000,000,000 (2 Billion).
3. Which trading exchange supports FIL?
Depending on the trading exchange, the FIL coin can be traded in both fiat and cryptocurrencies. There are dedicated exchanges include the names of Huobi and KuCoin meant only for crypto to cryptocurrencies. For trading between cryptocurrencies and fiat one can opt for Binance, Coinlist, and Kraken.
4. Which type of wallets support Filecoin FIL?
Depending upon the OS and browser many wallet options are available. These include the pricey cold wallet Mathwallet, not sugested to beginners.
Hot wallets for FIL have different good alternatives available on several OS like Windows, macOS, and Linux. If you are opting for free wallet go for Lotus wallet. The commonly used ones include Mathwallets and imToken. They are free and have added advantage of availability on android and iOS platforms.
5. What is the all-time high of Filecoin price?
Filecoin price has had many highs with $237.24 being its all-time high. The 52-week low is $20.05 with Filecoin ROI of 254.43% (Source – Coinmarketcap)
6. What is Filecoin price prediction 2022?
Let us first have a look at the Filecoin history



Price prediction of Filecoin(FIL) speculates the crypto to be bullish in the coming years. With 2021 coming to close in another 20 days, Filecoin price may average out $245.33 in 2021. In 2022 we can see a 100% rise to $450.97, more than 150% rise in 2023 to $675.56 an dlikely to touch to $1500 by 2025.
Check out few prominent FIL price predictions
Time is the right time to invest in Filecoin. The year 2021 may push it up further to $257.12.
Wallet Investor
A great time to buy Filecoin as it may cross $458.22 in next 5 years!
Digital Coin Price
Filecoin (FIL) price should show a great potential and could cross $336 by 2021.
GOV Capital
7. How long does it take to mine 1 Filecoin?
Mining works quite differently from other blockchain protocols when it comes to Filecoin. Miners of Filecoin contribute to the storage capacity which is effectively used in deals with clients seeking to store data.
Every miner has a power value proportional to the amount of storage space they contribute. This determines the chances to win the right to mine a block. When you start mining block, you'll be able to earn block rewards and fees for the messages included in the block.
8. Is cryptocurrency trading legal in India?
Yes and No is the reply. The reason being Cryptocurrency trading in India has not been legalized yet by the government. However neither RBI nor the government have confirmed that it is illegal.  It was in year 2018, Reserve Bank of India (RBI) had almost banned the digital currency. But the crypto ban order was reversed in 2020 by the Supreme Court of India.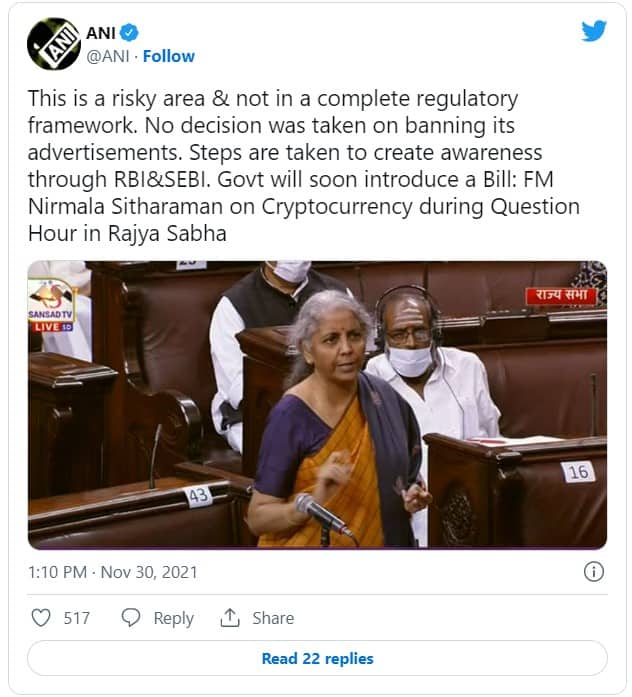 The government has now decided to give a postive regulatory status to cryptocurrenncy in the 2021 winter session of Parliament. It has decided to give a formal status by introducing Cryptocurrency and Regulation of Official Digital Currency Bill 2021. Crypto industry in India can foresee to legal investing and trading in crypto assets in 2022.
9. Can I buy crypto coins with INR?
Yes, you can buy using India Rupee. However, INR cash is not allowed for the payment. All the transactions are digital. Every holder needs to be KYC approved on crypto exchange. For that one needs to attach a bank account to the new crypto account created. One can add money and also do digital payment.
10. What can you expect from Cryptoasset' the new Crypto Legislation?
Assumptions can be based on the new legislation released. It has laid out Cryptocurrency as Cryptoasset rather than a digital currency. Securities and Exchange Board of India (SEBI) will regulate the functional crypto exchange platforms on which these Crypto assets will be exchanged.
After enforcing the Crytpo legislation law, investors cannot hold crypto assets on foreign exchanges or in private wallets. They are bound by law to declare crypto assets that was missung till date. The status of exisiting holders on foreign exchnages is yet not clear!
SEBI can impose penalties in the range of Rs 5 crore to Rs 20 crore as well as criminal imprisonment of upto one and a half years to violators. PMLA will come in force. We have to wait for finer details once it gets approved.