As the mobile device industry is rapidly developing, devices like iPhone are more and more functional and convenient. People are used to keeping almost everything in their iPhone, such as photos, videos, music or other types of documents, etc. However, its storage space of it is quite limited. At this time users choose to transfer data from iPhone to computer to release the space. But file leak happens now and then during data transfer, especially when it's processed with some online data transfer tools. Is there any chance that we can transfer data from iPhone to computer safely without file leak?
What elements determine the quality of a data transfer tool?
As we mentioned above, privacy is what most users care about most when they try to transfer files from iPhone to computer, especially for some private photos, videos or confidential documents. Taking this into consideration, good data transfer software should be able to offer encryption options like setting passwords.
Also, there is still something else we should pay attention to. Except for file leaks, erasing data during transfer should never be bearable. The image you want to transfer is an important document, but unfortunately, it gets leaked, and we know what happens next. Additionally, processing speed is another essential element. Lengthy wait is definitely not what you want especially for some emergencies.
How to transfer data safely?
At this moment you may have a better idea of what a good data transfer software should be capable of. Then how to transfer data from iPhone to computer without file leak? Here we focus on some tools that provide the encryption function and WinX MediaTrans is recommended for overall better performance. First, let's check out some main features of it below:
On this data transfer manager you can set your own password and transfer file with encryption. The risk of file leak is never a thing you have to worry about.
It transfers data very fast. Just within a few clicks it can be completed.
It will not trouble you with the problem of data being erased. None of the files you want to transfer will be missed during and after the data transfer process.
It's user-friendly for both the experienced and inexperienced users.
Flexible settings is another highlighting feature of it. You can create playlist and edit album or artist, etc. when you transfer music.
Getting to know why it's recommended, next you can see how it transfers data safely. Here we take transferring photos from iPhone to computer as an example for the tutorial.
Step 1: Click "Photo Transfer" on the main interface of this software.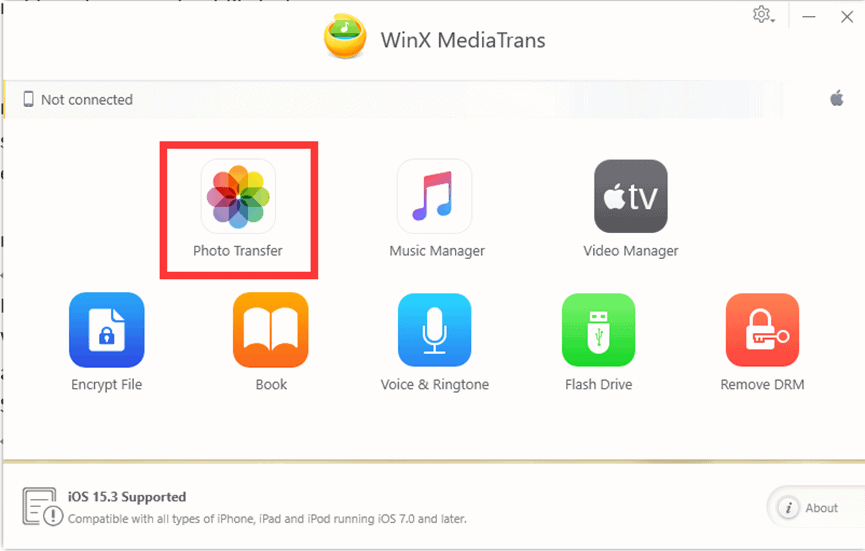 Step 2: Select photos you want to transfer from iPhone to the computer. Then click on the "Export" to move photos to the computer. If you are transferring private photos you can check the "Export with Encryption" box and transfer with a password.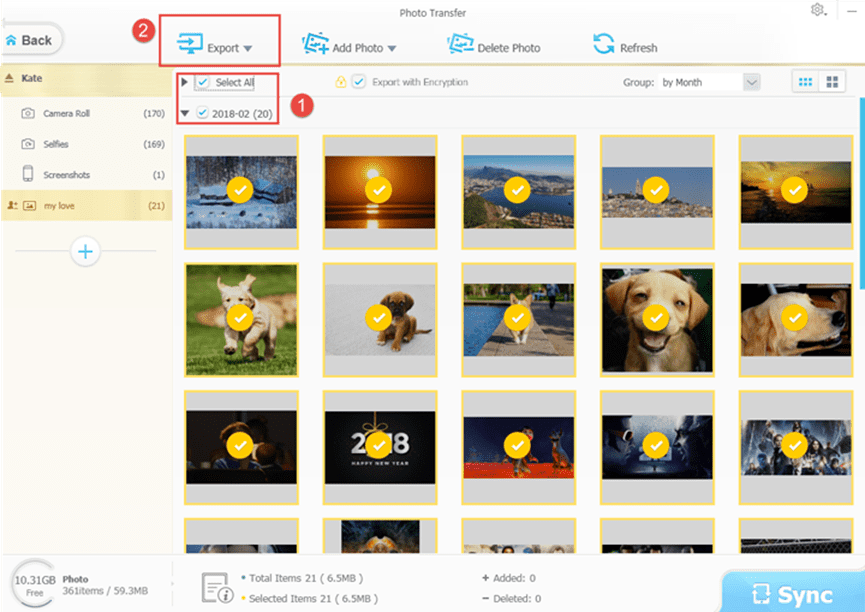 Noted: For some photos with the iCloud icons, you should first download them on your iPhone.
Following these two steps, files can be easily and safely transferred from iPhone to the computer.
Summary
To save our iPhone's limited storage space, it's inevitable to transfer the file to a computer, during which we'd better attach importance to privacy. Data transfer is inevitable, but file leak is not. WinX MediaTrans, a good iTunes alternative, is something you can choose for its safe encryption settings, fast transfer speed, zero data erased and other flexible functions.