Today, there are more than 3 billion active smartphones around the world, and their numbers are constantly rising. People of all ages use them to make payments, read the news, keep in touch with their friends, and post their life story on social media as it happens.
Smartphones even serve as an alternative to some real-life activities. In 2020, for example, millions chose online casino games instead of real-life gaming venues, even after they reopened. Online casinos like JackpotCity are a viable alternative even in normal circumstances thanks to their increased accessibility and superior game variety, all this thanks to mobile-first software and, of course, smartphones.
The vast majority of smartphones look and work pretty much the same – they have the shape and size of a chocolate bar, with a big touchscreen on the front – and they are enclosed in a metallic or plastic body that resists tinkering or upgrades. Over the 14 years of smartphone history, though, several projects have made it their goal to change this – unfortunately, with very little success. Here are some of the smartphones that could've revolutionized the mobile industry – but instead, they never became a reality.
Project Ara
Smartphones were never meant to be upgraded like computers – even though that's exactly what they are. You could only replace them with a newer model but never replace the part that you weren't happy with, like the processor or the camera. This was a thing that Google's Project Ara wanted to change.
Based on designer Dave Hakkens' Phonebloks concept, the goal of Project Ara was to make a modular smartphone with parts that could be easily swapped. To this end, the Ara team implemented a system that allowed the easy removal and replacement of modules – a battery module, a camera module, an antenna module, and so on – not only to upgrade the phone if it becomes obsolete but to customize it to every individual user's needs.
Unfortunately, the development of the modular smartphone didn't go as planned. After encountering several issues along the way, not to mention the continuous criticism, Ara was shelved by Google in 2016, ending its career before it could've even made it to the shelves.
Lenovo Wrist Phone
Today's foldable phones look like either a book or a classic 'clamshell' phone from the 1990s – they are commonplace today, even if they are still prohibitively expensive for many. Exciting as they may be, though, they won't ever be as exciting as the handset prototype Lenovo presented at its 2016 Tech World event, taking foldable phones one step further before they were cool.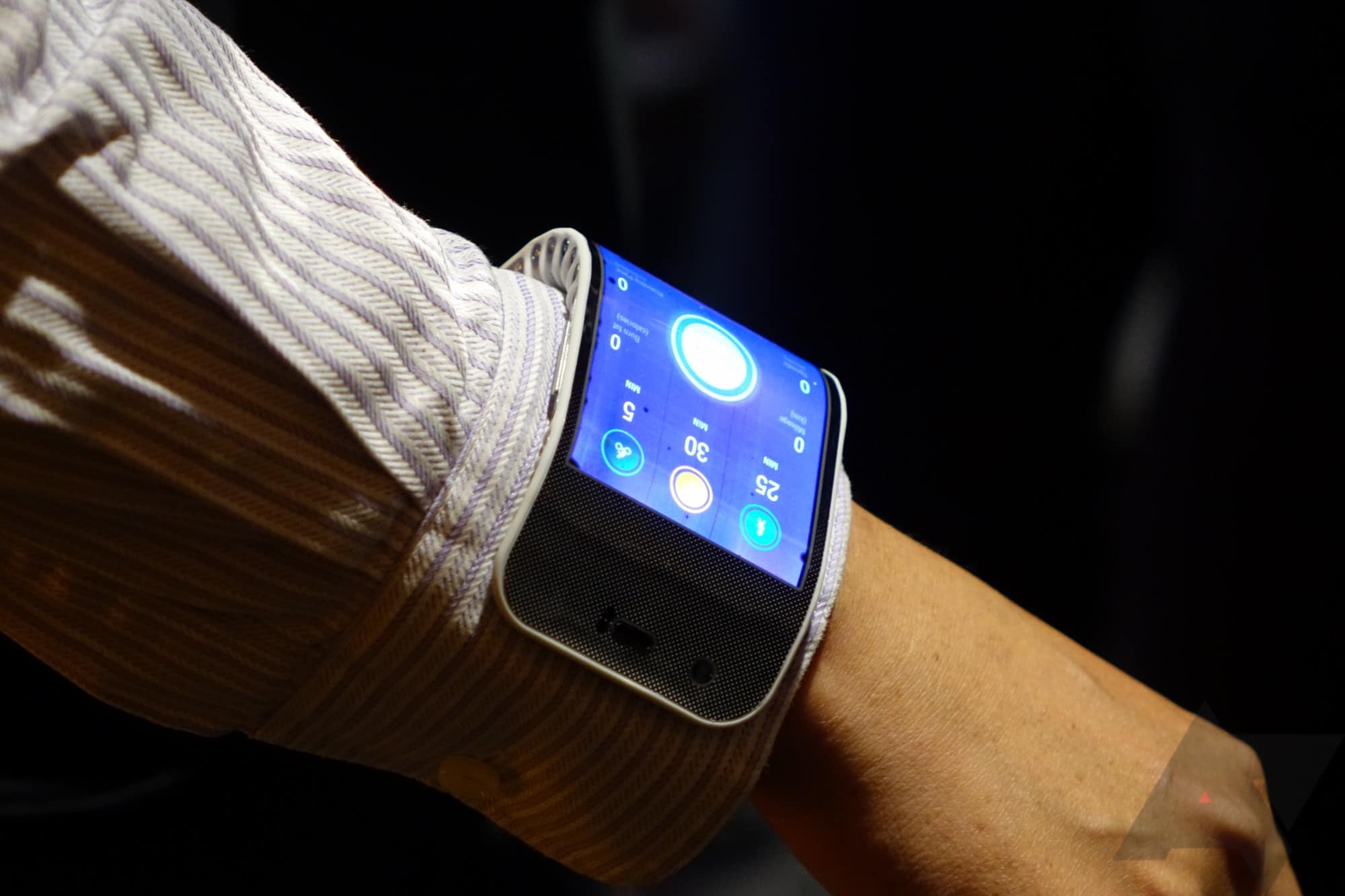 Lenovo presented its Cplus concept at the Lenovo Tech World event in 2016, just as Samsung announced that it has patented the foldable phone. It was a handset with a 4.26" screen (and a bit of an unusual aspect ratio) that you could literally wrap around your wrist, instantly redefining the term "smartwatch".
According to the event's keynote speaker, the screen wasn't much of a challenge – bendable displays have been around for quite some time – but the rest of the phone was. After all, it's not easy to create a circuit board that can be reshaped as the user wants it to.
Unfortunately, this exciting concept has remained at the prototype stage to this day, with no word on whether it will ever become a commercial product.
Oppo X 2021
Finally, let us mention a concept that may very well become a product sooner than we expect it: the Oppo X 2021 rollable screen smartphone presented last year at its Inno Day 2020 event.
The phone doesn't bring anything new to the table hardware-wise but it does take the screen to the next level: its standard 6.7" smartphone screen can be extended to a 7.4" tablet-like format with the touch of a button. This makes more sense than a foldable display, reducing the wear and, at the same time, keeping the phone's thickness at the usual level.
The Oppo X 2021 is still just a prototype, with no details on whether it will ever hit the shelves. Let's just keep our fingers crossed for this one.