Life is plain and boring without pretty filters and appealing edits. Snapchat, of course, understands it, and so does TunesKit AceMovi Video Editor. What's that? Well, it is the best video editing software for Mac 2022!     
The main difference between random social media videos and YouTube videos of established YouTubers is their video quality. What makes theirs so bright and glossy but ours dull and gloomy? It's the quality of editing.
Editing videos may seem like a tricky task. However, with proper software, even amateurs can make their way to making professional-looking content. The main challenge here is to find the right tool.
There's no way you can expect some free software to work as efficiently as the paid ones do. So, yes, subscribing to good video editing software is worth it if you want your videos to make some real effect. Do you want to put a price for the content you make? Want to earn revenues through advertisements integrated into your videos? If the answer's a 'Yes,' let us introduce you to the best video editing software for Mac 2022 – TunesKit AceMovi Video Editor. It will give a booster to your quality video journey.
An overview of AceMovi Video Editor:
Like every other standard editing software, this one too comes with the dual function of both video editing and screen recording. Precisely, it means that you will have the option to either record your content right from the screen and then manipulate it your way or, you can import a video and alter it.
The main view is pretty simple and consists of a preview window on the top of the screen and a timeline near the bottom of the screen. Those who have some experience in video editing before are already familiar with this setup. You can rearrange clips and see the changes in the preview window. Here you can add audio to your clips, apply different transitions and do all the editing jobs.
How hard will it be to get familiarized with AceMovi Video Editor?
The interface of the software is so simple and easy to navigate that even people with zero prior experience can learn in a minute. All you need is a mouse and a keyboard, and you are good to go. If you want to maximize your efficiency, it would be wise to learn all the shortcuts. Again, that's not a necessity.
Is AceMovi Video Editor compatible with all systems?
Compatible with both Windows and Mac, the requirements of the software are very minimum. It will work just fine with even a decade-old computer. One thing that you need to make sure of is to install the proper version of the software according to your system. However, we would like to add the fact that with a faster computer, the editor will perform better.
Key Features of TunesKit AceMovi Video Editor
Here are some of the key features of this great video editing software for Mac 2022:
Supports edit of high-quality videos
Compatible with every mainstream format like PSP, Xbox, Galaxy Series, iPhones, M4V, and MP4.
All the basic operations such as crop, speed adjust, split, rotate, drag, transition and effects apply, and export and import are present.
Advanced operations, as well as the recording of video calls options, are available.
A stock library consisting of different templates, tracks, images, and small videos comes complimentary with the package. You can include them anywhere in your project.
You can directly share your videos on your social media accounts.
You can choose the resolution of the screen you want to go with.
You can integrate different text elements into your content.
You can split your screen into six different screens.
How does the Interface work?
Like we have already mentioned, the interface is very easy to understand and navigate. Let's take a quick look at the options you will see on the home page.
Import Window: If the video you want to edit is present on your pc, then this is where you go. A moment of time, and you can start working on your dream project.
Well stocked, built-in library to pick different music, tracks, images, and videos from.
Editing toolbar and timeline to help you modify and edit your videos just the way you want.
Edit and Preview Window to alter and see the changes you made on particular segments of your content.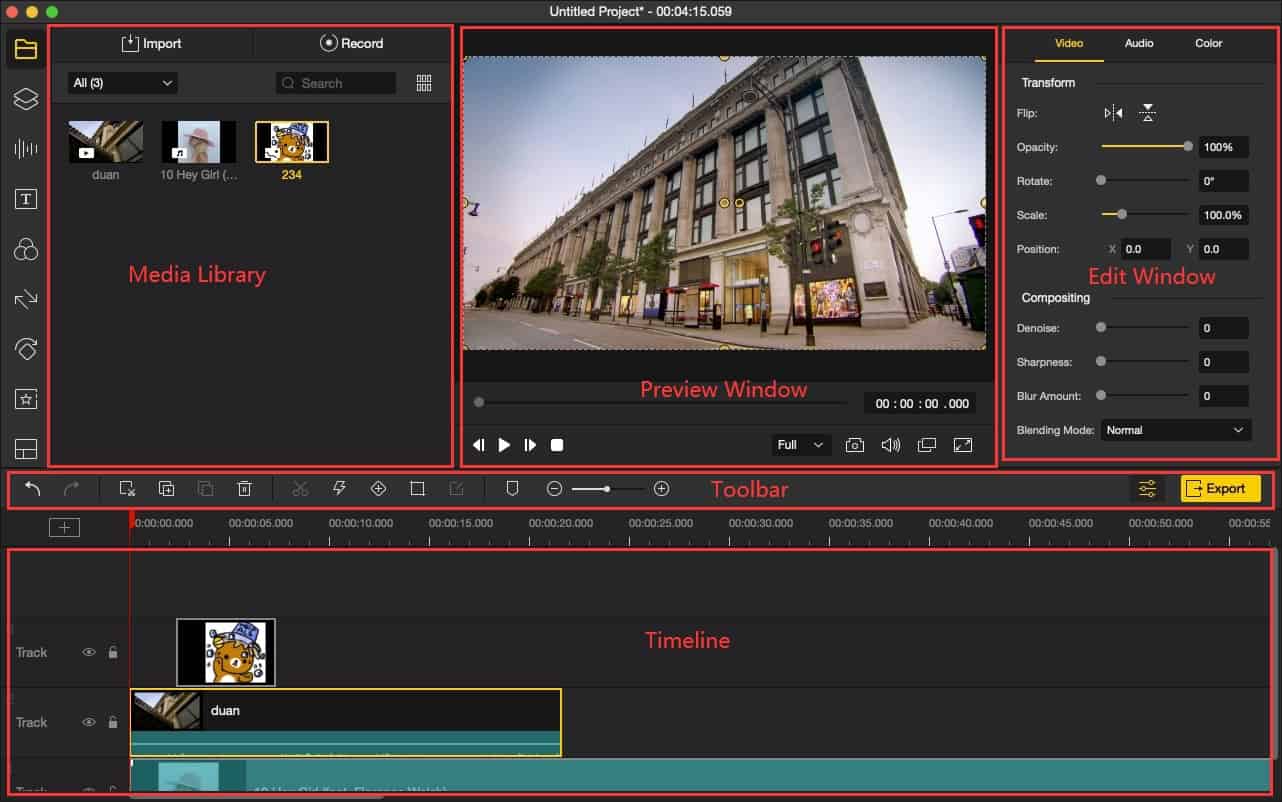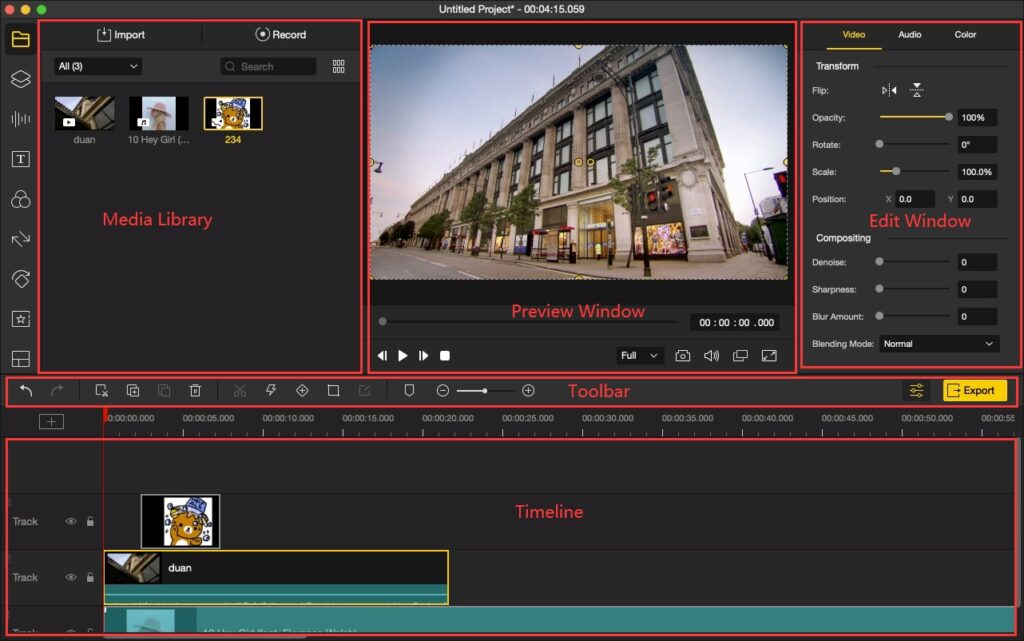 Editing Capabilities of AceMovi Video Editor
Right after you are done with the installation part of the AceMovi software, you can start with the real parts. There are two options available here. One, you can import any video from your system by going to the "import" button present on the top of the menu bar. Two, you can directly record screen activity by hitting the "record" button.
Anything you import or record will go to the media library, present to the left. From here, you can choose which file to work with by dragging them to the timeline. If the video you selected is pretty long, and you cannot edit all of it in one go, you can always save it and work at your own pace.
Toolbar
Right in the space between the timeline and the media library, you will see a small toolbar. From here, you can control all the basic functions like zoom, crop, and splits. There are even tools for marking time stamps and trimming parts of the video.
Edit, Audio, and Elements Menu
That's not just it. All the advanced editing options can be availed by clicking on the "edit" windows present in the "settings" option. Here, you will have the option to adjust the color and contrast of your video alongside volume and position adjustments. You can also choose the right effect that goes with your video and apply it with an audio track that fits from the "Audio" icon.
What else? Oh, right, filters! Well, we love them, don't we? So, AceMovi Video Editor has it. There are stickers, background images, and more in the "Elements" menu. You will find several more editing features like animations and transitions.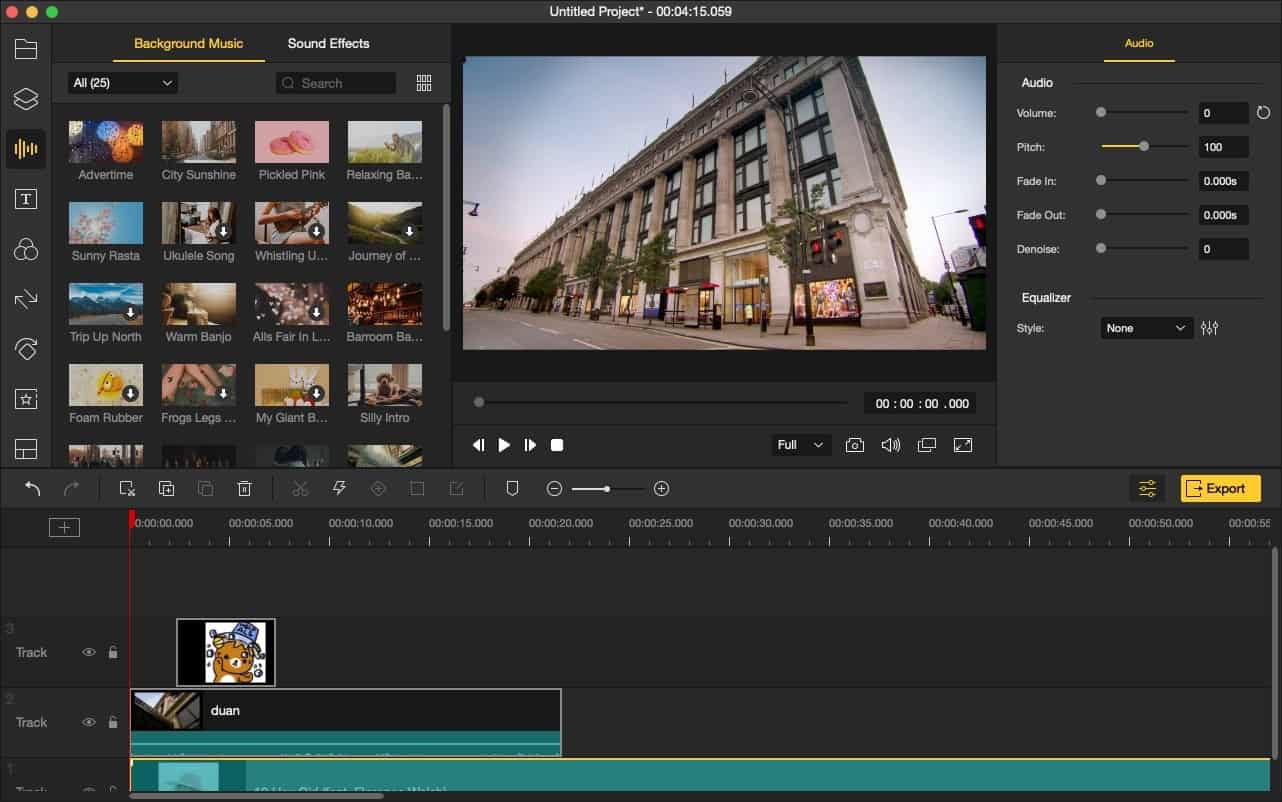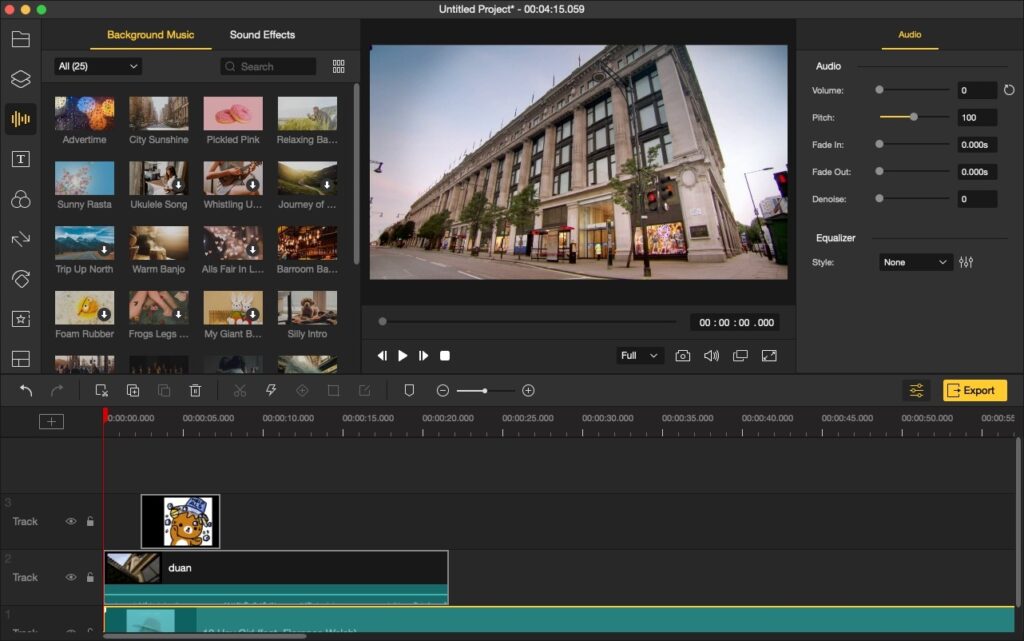 Formats and conversions
Once everything concerning the editing part of the video is over, you can finally decide the format you want your video to be exported. It can be anything from OVG, MOV to MKV and MP4 Furthermore, you can directly optimize your videos according to the platform you want to put the video on.
TunesKit AceMovi Video Editor: Pricing, subscriptions, and more…
The AceMovi Video Editor comes with three subscriptions options-monthly, annually, and a lifetime plan. Apart from this, you can also keep using their service without subscribing, as long as you are okay with having their watermark appear on the top of your videos.
Here are the prices of the paid plans:
The monthly plan- $19.95
The yearly plan- $39.95
The lifetime plan- $59.95
So, are you wondering which plan would be the best for you? Well, if you ask us, we will suggest that you go with the yearly plan, if not the lifetime plan. Why so? It's simple. Just look at the cost. The monthly plan will make a hole in your pocket if you subscribe to it for more than three months. The yearly plan, in this scenario, seems more reasonable and logical to buy. However, if you need the software for one-time use only, then there's no need in investing so much money at once and get the yearly plan. Here, the monthly plan is the best.
No matter which plans you choose, you will get the same features.
Pros and Cons
Like we always say, there's nothing called perfect in this imperfect world. Even though TunesKit AceMovi Video Editor is the best video editing software for Mac 2022, it still has its own downsides. We will now discuss some of its pros and cons.
Pros:
Easy interface.
Easy to navigate, even amateurs can learn to use the software in a minute.
Don't have any heavy system requirements to run.
Almost all major video formats are supported.
The free version too, offers all the features that the paid version does.
The stock library includes several good audios and videos.
Options for splitting the screen
Cons:
Our Final Verdict
From what we gathered through all these discussions; the AceMovi Video Editor is indeed one of the best software available right now. It opens an endless possibility for editing content. Let's quickly revisit all the features it gives through this small list:
Text overlays
Transitions and Animations
Filters and Effects
Toolbars and screen splitting
Support for all the major formats
Thus, if you want to make your videos look more appealing and professional to your audience, there's no better tool than AceMovi Video Editor. Just go to its official website to have a try before making a purchase!
For more such articles, keep following us.