Attack on Titan Episode 87, the finale to the most popular, manga-turned-anime, "Attack on Titan" is knocking. Considered to be the anime of the decade, the final season was split into two cours. Attack on Titan Season 4 Part 1 had 16 episodes with Episode 1 getting a global premiere on Hulu, Crunchyroll, and Funimation on Sunday, December 6, 2021. Attack on Titan Season 4 Part 2 with Episode 17 (Episode 76 overall) premiered on Sunday, 9th January 2022.
Attack on Titan season 4 part 2 was a TV broadcast in Japan on the NHK General TV channel. It was scheduled to be weekly drops every Sunday at 12:05 AM JST. The total number of episodes in Part 2 were 12 with Attack On Titan Episode 87 being the finale of the AOT saga. The last and final episode of Attack On Titan Season 4 Part 2 Episode 12 (episode 87 overall) release date was scheduled to drop on Sunday, March 27th 2022. Unfortunately, the finale episode has got delayed.
Why is Attack on Titan Episode 87 delayed?
The season 4 finale of AOT has been deferred in Japan's programming block. The news of postponement has been revealed on the shingeki.tv website. While sharing the new broadcast schedule on NHK General TV, it also announced that AOT Episode 87 is delayed. Though the reason behind the delay has not been cited on the site, but fans are speculating that it is due to AnimeJapan 2022, a "special organisation" event to be held on March 27th.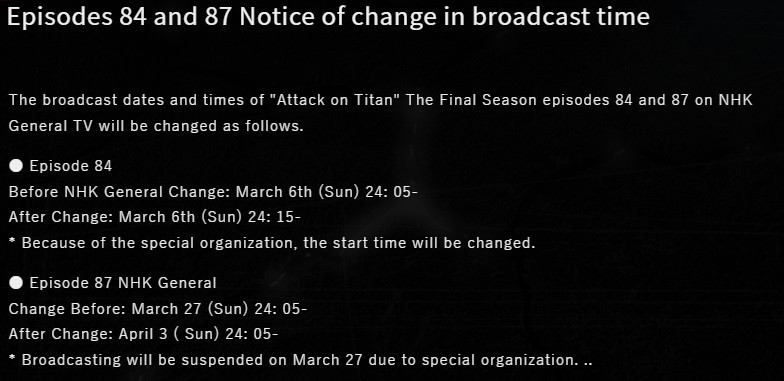 The AnimeJapan event is much awaited one as fans are expecting major announcements maybe an AOT movie or OVA or a merchandise drop during the Attack on Titan stage panel.
Unfortunately, the postponement will also impact the international streaming partner's schedule on Crunchyroll, Funimation and Hulu. It will be because these platforms stream simulcast episodes of AOT once the domestic broadcast has concluded in Japan.
Now we are aware of the reason behind the Attack on Titan season 4 part 2 episode 12 (87) delay, let's find out what date will the season 4 finale be released worldwide?
When can I stream Shingeki no Kyojin Final Season Episode 87?
Attack on Titan Episode 87 is now scheduled to stream worldwide on Sunday, April 3rd, 2022. The same has been confirmed by shingeki.tv, with the S4 finale episode to broadcast at its usual 24:05 programming block in Japan. AOT finale will premiere exclusively on Crunchyroll for premium users on 3rd April at the below time globally. Fans can also watch free on these platforms 1 week later, on 10th April, at the given times.
However, fans in certain international territories should note that the release time will be altered for daylight savings on the Crunchyroll, Funimation and Hulu streaming platforms, the described times have been adjusted accordingly.
AOT Episode 87, titled "The Dawn of Humanity" will air at 12:10 am(JST) in Japan on NHK General TV on Monday, 4th April 2022. Global fans outside Japan will be able to catch up with Eren and the gang every Sunday, after almost 5 hours since it broadcasts in Japanese.
Shingeki no Kyojin final season will be available for premium subscribers on all the 3 platforms Crunchyroll, Funimation, and Hulu. However, if you don't have a plan on any of these platforms, you can watch for free. The episodes are free to watch on these platforms a week later, i.e. on Sunday at the below-mentioned slots. The exact date and time will depend on the geographical location.
Read on to find out when you can watch Shingeki no Kyojin Final Season Episode 87 in your region on Crunchyroll and Funimation in Japanese with an English sub!
Pacific Standard time – 1:45 PM PST Sunday, 3rd April 2022 (America)
---
Central Standard time – 3:45 PM CST Sunday, 3rd April 2022 (America)
---
Eastern Standard time – 4:45 PM EST Sunday, 3rd April 2022 (America)
---
British Time- 8:45 PM GMT Sunday, 3rd April 2022 (UK)
---
Central European Time- 9:45 PM CET Sunday, 3rd April 2022 (Europe)
---
Indian Standard Time- 2:15 AM IST Monday, 3rd April 2022 (India)
---
Philippine Time- 4:45 AM PHT Monday, 3rd April 2022 (Philippines)
---
Korea Time- 5:45 AM KST Monday, 3rd April 2022 (Korea)
---
Australia Time- 6:15 AM ADHT Monday, 3rd April 2022 (Australia)
---
New Zealand Time- 8:45 AM NZDT Monday, 3rd April 2022 (New Zealand)
---
Attack on Titan Episode 87 Preview
The preview trailer of AOT Season 4 Part 2 Episode 12 was revealed at the end of Episode 11 with a brief post-credit scene.
The preview trailer affirmed that the finale episode Attack on Titan Episode 87, would be titled "The Dawn of Humanity". It will cover the 130th chapter of the original manga series.
Attack on Titan Episode 87 trailer does not show what will happen in the next episode. It is plausible enough with Studio MAPPA decided to leave an aura of mystery and to insert only old images, with Eren still blindfolded during his talks with Zeke. Eren is the protagonist of this video, and therefore it is very likely that he will be the one to pull the strings of the last episode of the series. The synopsis also confirms that the finale "Rise of Humanity" will have a focus on him.
Attack on Titan Episode Season 4 Part 2 Episode 12 Spoilers
The latest episode, Episode 86 of the entire series is titled "Retrospective. The Jaegerists hold the Azumabito at gunpoint, Magath and Keith Shadis sacrifice themselves to let Hange's group escape to Marley to stop Eren's Rumbling that is slowly wiping out the world. Annie realises that her home Liberio cannot be saved and announces that she has lost her will to fight and does not want to go up against anyone, even Eren.
Paradise Island has been left behind as Connie, Armin and others are hit with the reality that the Jaegerists were once their brothers and sisters in arms but will die a meaningless death now that the Rumbling has taken over.
Attack on Titan Final Final Season Episode 87 will be titled "The Dawn of Humanity". The episode will adapt Chapter 130 of the manga which will showcase the actual terror of the rumbling after the army of titans has crossed the seas and reached other countries. The episode will have a lot of flashbacks of Eren's memories with Zeke and Historia and a possible hint to one of the prominent theories in the fandom.
Eren may be the parent of Historia's child. Eren's memories take him to plan the Marleyan invasion and finally to his memories of Carla's death when the titans first breached the walls of Shiganshina. The World Union Fleet prepares to confront the Rumbling, their efforts are shattered when the titans rise from the sea along with Eren as the Attack Titan with the Founder's power. The Rumbling has truly begun.
Fans are expecting Studio MAPPA to announce an Attack On Titan movie or a new part of the AOT Final Season, as an epilogue of the story of Eren Yaeger. Share with us what you wish in the comments below!