Launched in 2019, Pixelbook Go is a flagship product from Google. Pixelbook Chromebook's 2nd gen model has many compelling features that cannot be ignored. It promises battery life of up to 12 hours, non stop use. Being sleek, portable and lightweight with no requirement for stoppages to recharge, it is just perfect for outdoor usage.
However, there is one hardware-related defect, Pixelbook Go Broken Hinge, that is catching up with the users. There are no critical complaints with respect to software, however, the hardware is giving nightmares to Pixelbook Go's fans.
One can find reports for 2019 as well as 2020 Pixelbook Go models where users are complaining of a creaky hinge or a hinge prone to break. It is located on the left side of the Pixelbook Chromebook. For many initially, when they make a note, the hinge appears to have moved out. It is almost as if slipping out and therefore warping/bending the screen a wee bit.
Many users have reported hinge popping out from its place and not ready to go back in. The screen stops working after Pixelbook Go broken hinge. For users, it is more "an $850 paperweight, which I have owned for less than 3 months." Those who still have the screen intact with a creaky hinge, find crackling noises while making any movement of the screen, irrespective of the mode.


On reading the complaints, the common thing that has come out is the duration of usage is less than 6 months. In their daily use, not "misuse" or "accident" case to clarify, the laptop flap snapped away on opening.
After endless chats with support, Google has refused to cover the broken hinge under its Pixelbook Go warranty. The pretext of refusing a warranty is that snapped hinge is more of a "normal wear and tear, "accidental" or "cosmetic" damage, or "misuse" of device. Google continued to refuse to honor the warranty on flimsy grounds.
The store people were also helpless because they considered Pixelbook Go Broken Hinge to be a premature failure of hardware. Pixelbook Support suggested the users take the faulty devices to UBreakIFix and pay for the charges from one's pocket.
However, it did not solve as UBreakIFix said it is out of their scope to fix a broken hinge and was a known bug. Although UBreakIfix has an arrangement with Google for reduced-cost replacements, they said that affected components of Pixelbook Go were not available anywhere. Some users have reported the Pixelbook Go screen replacement cost by UBreakIFix to be $1000 whereas the laptop in itself was $879. 
With increasing complaints, Google's response was to connect Pixelbook Support directly with all details.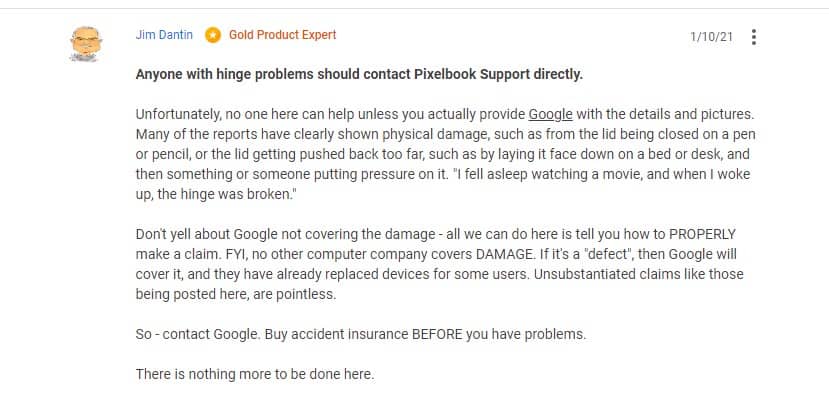 With people going to and fro on the forum, the issue finally got acknowledgment from Google in Februray 2021.
Few people are turning out to be lucky after resubmitting their trouble ticket. All the complaining users would wish for a recall of defective units for free replacement or repairs by Google. For some it has started turning out to be true. Check it out yourself

There is no official confirmation from Google on sending out replacements for the defective units. However, it is advisable to keep your tickets ready and be on the safe side. Till then stay tuned and share with us your experiences.