Netflix has ventured into the world of culinary experiences by opening its first pop-up restaurant called "Netflix Bites." This unique dining establishment showcases creations from renowned chefs featured on popular Netflix shows like Chef's Table, Iron Chef, Is It Cake?, and Drink Masters.
Located at Short Stories Hotel in Los Angeles, the pop-up Netflix Bites restaurant opened its doors on June 30th. It offers an exciting opportunity for fans of these shows to immerse themselves in a culinary journey inspired by the delectable dishes they've seen on their screens.
Netflix described the Netflix Bites pop-up as a limited-time experience where guests can finally indulge in the flavors and culinary artistry showcased in their favorite series. It brings together the synergy between what is on the screen and what is served on the plate.
Experts in the retail industry see Netflix Bites as a marketing opportunity that caters to devoted fans while also attracting new viewers. This fusion of entertainment and dining provides a unique "retailtainment" experience, tapping into consumers' appetite for media and potentially driving growth in the streaming industry. If Netflix Bites proves successful, it may inspire other streaming platforms to explore similar ventures.
At the Netflix Bites pop-up restaurant, patrons will have the opportunity to savor delectable dishes prepared by a lineup of renowned chefs from various Netflix shows. The participating chefs include:
Curtis Stone, Dominique Crenn, Ming Tsai, and Andrew Zimmern from "Iron Chef: Quest for an Iron Legend"
Rodney Scott and Ann Kim from "Chef's Table"
Jacques Torres, the head judge from "Nailed It!"
Nadiya Hussain from "Nadiya Bakes"
Mixologists Frankie Solarik, Julie Reiner, LP O'Brien, and Kate Gerwin from Netflix's "Drink Masters"
"Bringing my love of food to people across the world is one of the biggest thrills of my life but this screen-to-table experience of giving fans a taste of what happens on camera is just awesome," said Stone.
With such a diverse group of culinary experts, Netflix Bites promises to offer a wide range of flavors and culinary delights for guests to enjoy. It's a unique opportunity to experience the creations of these talented chefs and mixologists, bringing the tastes and expertise from their respective shows directly to the dining table.
Overall, Netflix Bites promises to offer a memorable and immersive dining experience for food enthusiasts and fans of Netflix culinary shows alike.
What are Netflix Bites reservations and booking prices?
Netflix Bites, the pop-up restaurant, has started operations on June 30th, offering dining experiences daily from 5-10 p.m. PT. Additionally, on weekends, guests can enjoy a brunch menu from 10 a.m. to 2 p.m.
While the specific menu details and pricing have not been disclosed by Netflix, it can be expected that the offerings will feature culinary creations inspired by the shows and chefs associated with Netflix.
The location of Netflix Bites is at Short Stories Hotel, situated at 115 S. Fairfax Ave. in Los Angeles. This venue is conveniently located near The Grove, where Netflix previously opened its first pop-up retail store in 2022.
At Netflix Bites, you have the option to choose between dining on the patio or in the dining room. Booking slots are available every 15 minutes, starting at the hour (00), 15 minutes past the hour (15), and 45 minutes past the hour (45). When making a reservation, you can select the desired slot based on your preferred time and date.
To secure a reservation at Netflix Bites, individuals can visit the website www.netflixbites.com or make a reservation through Resy, a popular reservation platform.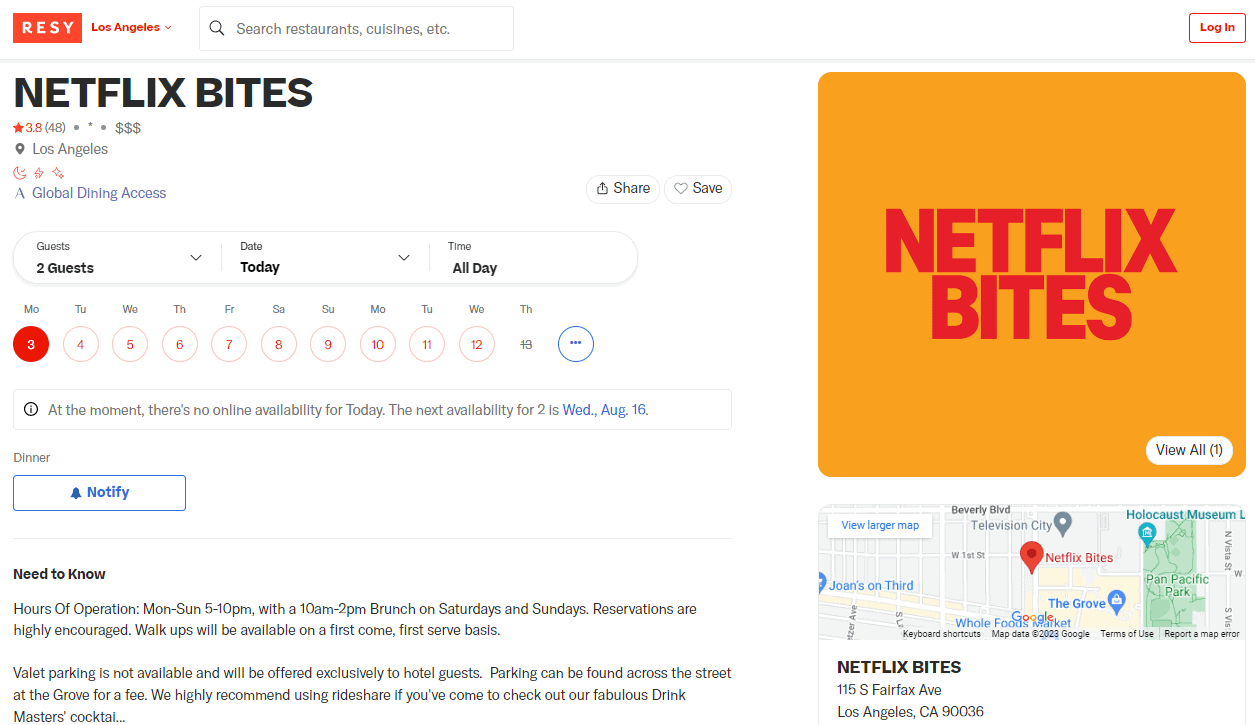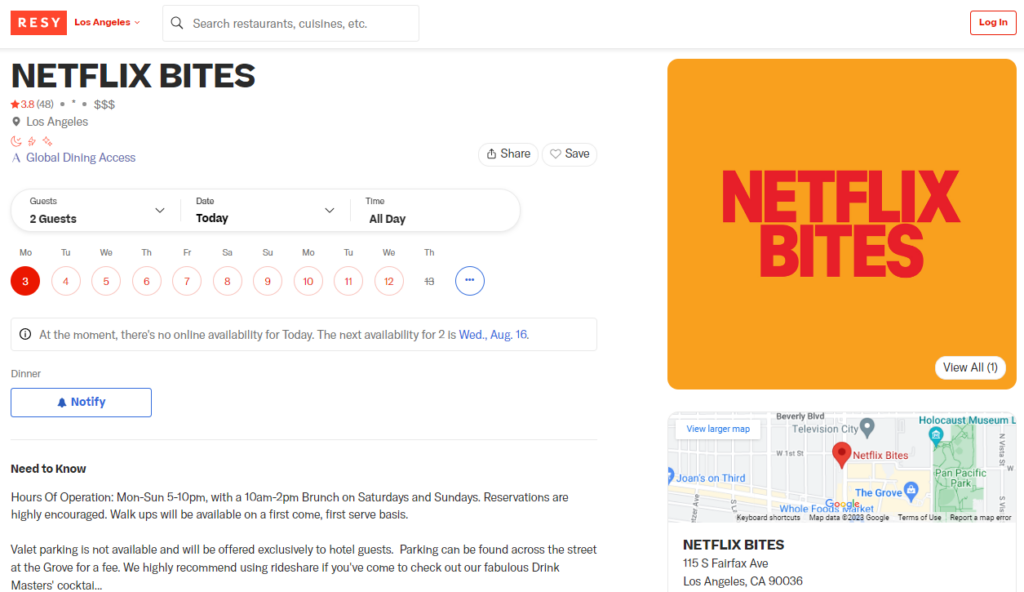 The booking cost is $25.00 per person. For a party of two, the total booking cost will amount to $50.00. Depending on the size of your group, you can make a reservation for between one and seven people. Simply indicate the number of guests in your party when making the booking. Reservations require a nonrefundable deposit of $25 per person, which will be applied toward the final bill.
To secure your place at Netflix Bites and make a reservation, click on the desired time slot after selecting your preferred date. Enjoy your dining experience!
What is the Netflix Bites restaurant's nearest availability?
The nearest availability at Netflix Bites is on Wednesday, August 16th, 2023. While the restaurant is currently fully booked, there are still many available slots displayed for that date.
The restaurant operates from 5 pm to 10 pm on weekdays. However, on Saturdays and Sundays, they also offer an exclusive brunch menu from 10 am to 2 pm.
The menu at Netflix Bites features delectable dishes from renowned chefs such as Curtis Stone (Iron Chef: Quest for an Iron Legend), Dominique Crenn (Chef's Table), Rodney Scott (Chef's Table: BBQ), Ming Tsai (Iron Chef: Quest for an Iron Legend), Ann Kim (Chef's Table: Pizza), Nadiya Hussain (Nadiya Bakes), Jacques Torres (Nailed It!), and Andrew Zimmern (Iron Chef: Quest for an Iron Legend). With such an impressive lineup, you wouldn't want to miss the opportunity to book a table.
Keep in mind that Netflix Bites is only open until the end of September, so it's important to act quickly to secure your reservation.
Josh Simon, VP of Consumer Products at Netflix, expressed excitement about the collaboration with these talented chefs and the creation of an immersive dining experience for fans of food shows.
Do not forget to share your experiences with the readers of PhoneWiki!